What is this mod?
H.E.V. Mark VI is a mod of HL2 using the Source Engine 2013 code base that seeks to add new gameplay elements and tweaks to Half-Life rather than simply provide some new levels in the Half-Life universe. I have already implemented changes just about anywhere you can imagine, from enemy ai to gun feel, even to the HEV suit itself. This is a mod centered around moving a lot and shooting a lot, in some ways closer to the original Half-Life than HL2.
The mod will feature brand new music done from my great friend Teran. You can check his work out here: Soundcloud.com
Full disclosure before I get into the details of this project, the content you see here is all a work in progress and subject to change. I am also using various free to use models and sounds whose creators have made them open for mod use. I'll put up a full list of all the exact things I'm using in the near future but for now I will link to the major source of almost all of these changes, which would be work from 586 Studios and DP Films: Gamebanana.com
New weapon recoil/features
To put a bigger emphasis on moving constantly, I have removed limitations on sprinting and made the base default movespeed a good amount faster than the default walk but not quite as quick as HL2's sprint. On top of this the new suit in my mod is capable of carrying medkits which the player can use with a button press, and has regenerating armor which protects the player completely from bullet damage. I made these specific changes because I felt that hitscan damage is inherently just a bit "unfair" in the sense that if the player became too hurt with no medkits around they really did not stand a good chance at surviving in a lot of situations. You really can't dodge bullets, especially if your enemies are at the end of a hall with no side entrances, so you'd basically be doomed. Now the player has a small buffer and the chance to heal himself if he's managed to hold on to his health kits, giving them at least a small chance to make a comeback in a bad situation.
However, the shield will not enable you to camp all day whenever you're hurt. Non hitscan damage will still damage you permanently and I have made many tweaks to enemy ai to make them more aggressive and given them brand new tools to force you to keep moving.
Manhack Grenades!
On top of this I am interested in adding my own enemies to join the fray, one of which is already close to being finished:
Vortigaunt Slave Enemy
The Vortigaunt Slave is a new enemy based partially on code from the original vortigaunt, but with brand new schedules and an entirely different attack. I always felt like Vortigaunts made for a cool enemy idea and I thought it would be interesting to see the slave concept used in conjunction with the Combine, however I figured if the soldiers use hitscan weapons their Vort companions should have something the player can dodge. I'm very happy with where they are at this point and they're pretty much close to being totally finished barring any bugs I may run into.
Help needed!
Before I get into details on what kind of help I'm looking for in this project, I'll say a bit about myself so you know I'm not just an "idea guy." I am not a totally inexperienced dev, with about 2-3 years of experience teaching myself how to map and program for the source engine. I do not consider myself extremely skilled but I certainly know how to work with the engine and I've already made a number of changes to the code I am very happy with. I am extremely committed to seeing my own game ideas come to life in this project and I firmly believe they are not too ambitious. I am looking to enter into full time indie game development one day and I'd like to use this project as a chance to get good experience with working on a game with a team,.
I have a previous mod release which I am building off of here. It's a bit on the janky side and I've spent the majority of my time recently working on improving my ability to code, ie removing that jank, but if you'd like to give it a look feel free: Moddb.com
That all being said I cannot do this whole thing alone, which is where you can come in. Anyone interested in helping can contact me here directly or email me at darbtoliver@gmail.com. Multiple examples of high quality work is the best way to get yourself signed on!
In order to add a new enemy, I need a skilled character animator
The enemy I'm specifically needing help with is the cremator, using a redone model from Deviant Pictures Films.
In the past I have tried rigging the model up myself with its old animations, which worked to an extent, but it had clipping issues with its legs and just looked janky to me. So now I'm looking for someone who can do a much better job than I ever could and do some custom animation work as well. This is the one big thing I really cannot do by myself so I am willing to pay commission (my budget right now is around 300-400 dollars) for help if that's the motivation you need. However I will need to see a portfolio of your work to know you're up to the task if money is put on the table.
The model in question can be found here: Facepunch.com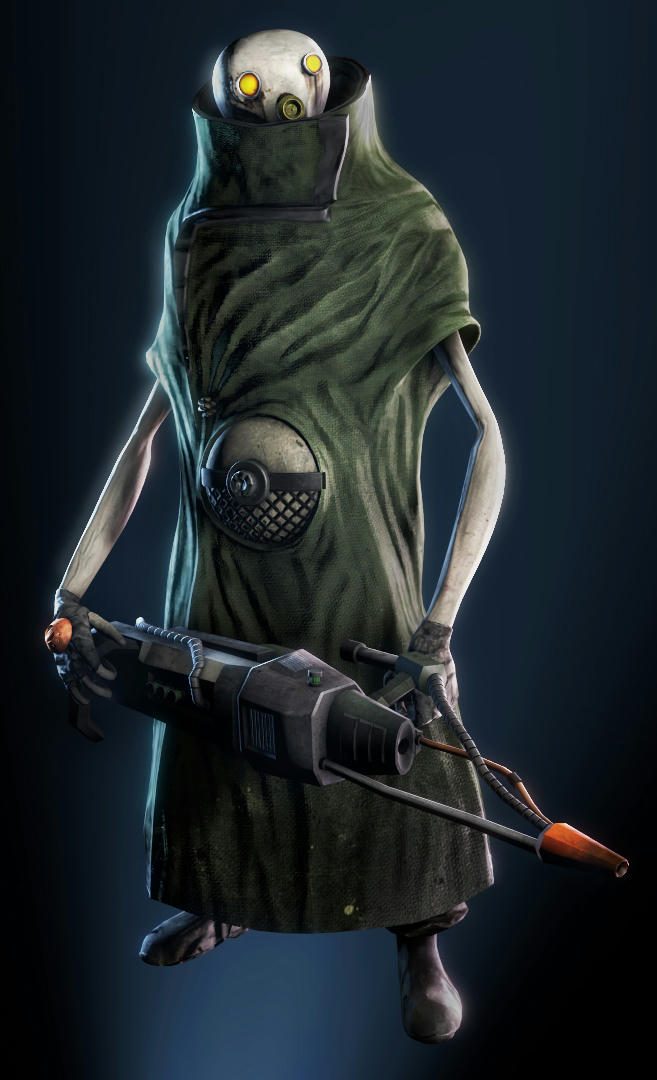 I could use help programming
I have been teaching myself to program for a while now, mostly just through modding the game, and I've gotten to a point where I've been able to do the grand majority of changes I wanted to make. I'm even confident enough to be able to do my own ai work for the most part, however there are some bits I don't totally understand, stuff that seems simple but just seems to elude me like changing how the Hunter's charge attack works. If you're a good programmer and interested in helping, contact me and I'll give you a list of various odd issues I've had.
My levels could use improvement
I've been working with hammer for a couple years now, enough to where I feel fairly comfortable working with it and I can generally get a look out of an area that I want. That being said I am definitely not exceptionally skilled at it yet and I'd love to get some help with my levels, mostly visual although I am open to hearing criticisms of the level design itself from anyone working on the level. I will need to see examples of your work if I'm going to take you on due to the fact that I am looking for mappers that are a good deal more experienced than me.
Other small bits that could help
As I go through making all these changes to the game, small visual additions are going to be needed. I can mess around with particle effects if I must but I would greatly appreciate help from someone more skilled with that system. I don't exactly have a giant list of specifics at the moment but there most certainly will be as I make progress. On top of this I'd like some some improvements to ui to reflect the changes I've made, like some kind of Halo like bar to reflect the armor's status, and a better crosshair as well. I'm also always open to anyone who wants to submit new props that would match HL2's style.
Final Words
Now after reading all of that you can see that I have a decent level of ambition for this project. I'm not aiming for anything crazy like a dramatic 6 hour long story with lots of voice acting, but this is definitely a project that has eaten up a lot of my time. Up til now I've been able to work on it basically like a full time job, but soon I will have to at the least start working part time to pay bills. I am strongly considering starting a patreon campaign after I have a good deal of content to show off in a big reveal, but before I do that I'd like to hear what anyone following this thinks of that, good or bad. Ideas for backer rewards, what to not do, etc. Any feedback on that idea is useful!
Thanks a lot to anyone who actually bothered to read any of this, I hope my passion for what I'm doing has come through here. No matter what I am dedicated to producing something of significant quality out of this and I look forward to giving you guys a real solid look at the game in the future.