SPOILERS. Just sayin'.
Perhaps it's just me, but, while I adore the concept and how everything works in this mod, I will say that I got a bit both of a love/hate thing for this mod (at times).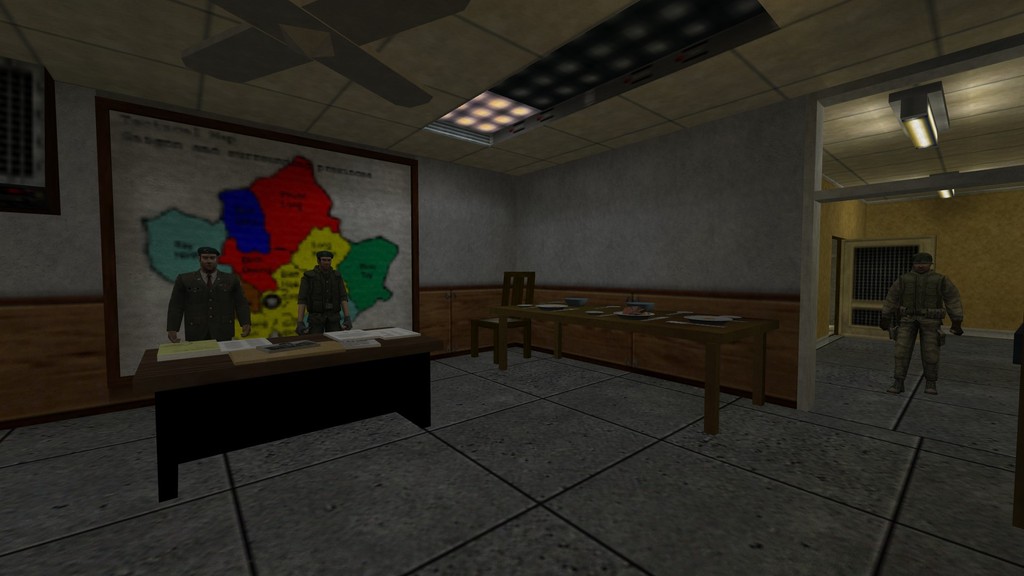 While I haven't personally seen the movie yet (which I probably should), this mod is apparently what would've happened if someone actually tried making an Apocalypse Now "game", when I think about it, one could've just simply remake the movie verbatim, but this mod decided to take the alternate approach, by making the journey go as wild and balls off the walls crazy as possible.
You're some random captain named Percy Freeman, and you're sent by the US high command to terminate some renegade jerk called Kurtz with extreme prejudice.
All seems fine and simple, you travel with the chopper, Wagner blasting as chaos unfolds around you before you land, then things start to go very wrong, and not just the right kind of wrong, its beyond the capabilities of wrong (in a right way, of course).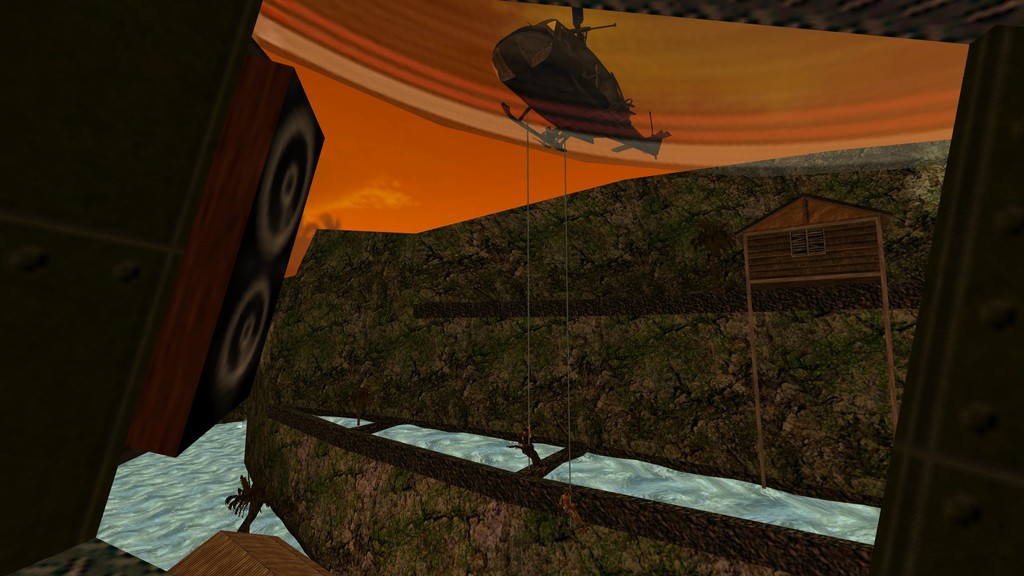 I've always been a sucker for total conversions, and this one certainly does not disappoint, with the Vietnam war theme being used full force, you'll have pretty much most of the stuff commonly used and fought there (with a few extra additions, of course).
Of course, this being Heart of Evil, the enemies that you fight will not only be just simple gun-toting charlies, you got betrayed by your own soldiers, the SPX aliens and zombies join the fight, then it just gets higher and more ridiculous, gorillas that jump around at you, superzombies, invisible snipers, ending up with fighting Kurtz with you using super jump and a machete to battle him, variety is certainly out of the question here.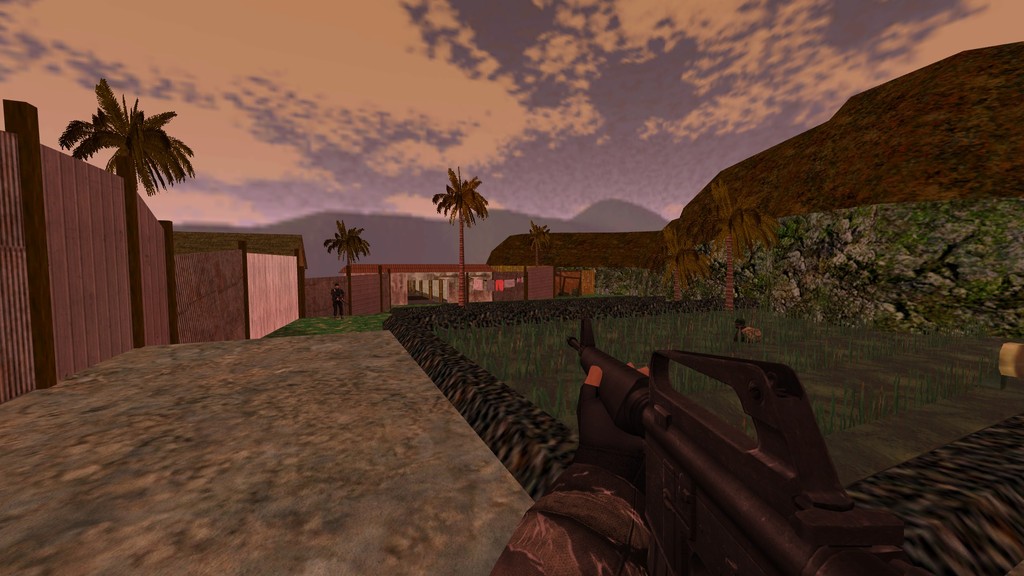 The brushing and texturing itself is nice in some areas, there's also some additions of models and sprites (trees and bushes) to spruce up the place, there are a few areas that are unimaginative (like the maze) unfortunately, not to mention some texture mishaps here and there, see-through void walls can come more than expected in these terrains as well, but the overall look methinks is quite nicely done.
There's also some parts where you sit in a vehicle for a map while stuff happens around you, these sections are quite cool, but something about Half-Life/Goldsource and its persistence in breaking those sequences is unfortuntate, in the most frightful way sometimes, ever got gibbed suddenly while riding a truck? It's understandable why the remake, Napalm Edition, chose to remove them.
The new weapons themselves are nice, you got the whole bag from the trusty ol' machete, an M16, the pig M60, all the way to a chainsaw! Some of their properties are kinda odd though, like how some of the weapons don't recoil when fired or how powerful a couple of shots from the 1911 is compared to concentrated bursts of machine gun fire (then again, balance and personal preference might be playing a part in here).
There's even a neat mechanic where you can decapitate some enemies by hacking at their heads with the machete, this thing only works on humanoids though, and you might even cause some trouble for yourself doing that, like how hacking the superzombie's heads away only gets them to bleed through their now non-existent heads and you can't shoot them in the head anymore for extra damage.
The level design takes the non-linear route, you go to a hub areas, where you then can do objectives in a random way, get one thing here to go there, then lead Barney to the occasional points where you need him and have him do his thing, this sounds good on paper. But then things start to get confusing.
Getting lost in some of these maps can be a real problem sometimes, with a lot of paths converging together and some areas being similar, some of the puzzles in the mod can even be downright Sierra levels of "WHAT!? HOW!?", the bomb, the plank, I'd list them all, but this article might just look even more like an essay at that point (it already is, isn't it?).
Having an ingame map (doesn't even have to be a radar-overlay-modern-game-cheap-cheat kind of map, location maps like in Thief 1/2 can be massive help at times) would've probably solved some of the roundabout stuff some players might experience on their first playthrough.
Don't get me started on some of the gameplay design choices, the chumtoad maze was just awful slow, I ended up opening up the map in a BSP viewer, drew a map, and just followed that instead. Then in subsequent playthroughs I got lazy and host_framerated (a time scale cheat) the blasted thing.
There's also the fact that you sometimes need to carry some AI partners with you around, Half-Life's pathfinding AI is known to be quite miserable sometimes, and having an entire mod dedicated to it might just get someone's hair whiter than gray, though thankfully the mod does include some commands for followers, which is atleast a nice little bandage for the dozen gunshot wound.
The ending itself is whack, but somewhat fitting for the mod I guess.
The voice acting is fine, not too magnificent, not too bloody awful, the misc NPC talks can be fun to hear now and again (if they don't grate you, that is).
Overall though, I enjoyed it, even the more chaotic additions like The Village of the Damned and The Alamo, would put it in my hall of fame.
Napalm Edition is alright, while I think there's some things wrong here and there (the backward doors bothered me more than most), I do appreciate the massive work it must of take to remake the mod.

While this remod has some improvements, like doing the world models and hires-ing the more lowres models of NE, most of its base is basically NE, so, thanks to those guys.
I hope you all can enjoy the remod.
Thanks for reading.