Play Half-Life Alyx anyway you like!
Even on a Steam Deck!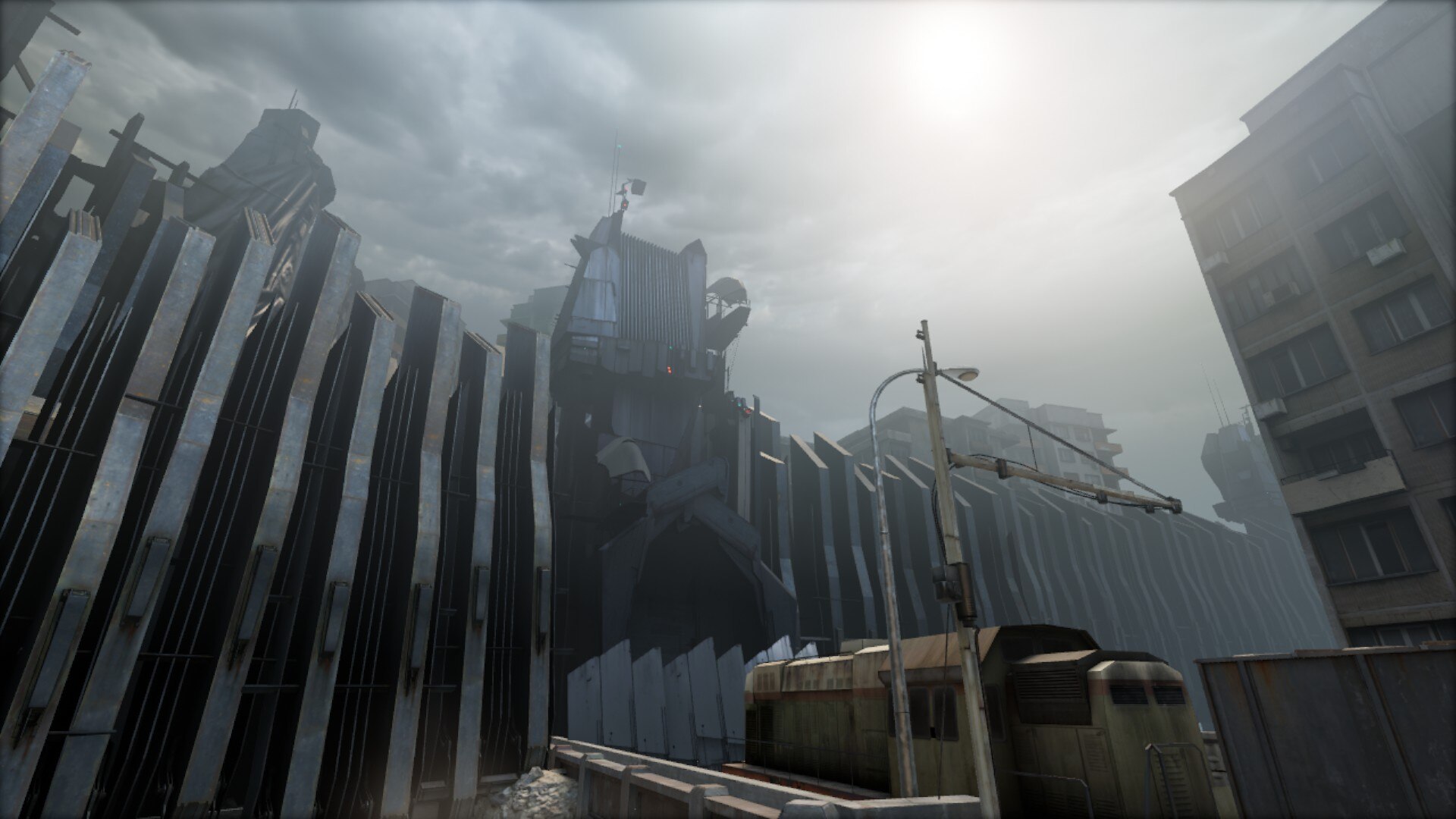 The Half-Life Alyx NoVR mod aims to allow anyone to play this amazing game however they like. This is no substitute for the amazing experience this game provides in VR on a headset like Valve's Index. However, for those with health concerns, motion sickness and other limitations from experiencing it in VR this is a great alternative! It is also a great way to replay the game anyway you like! With its extremely easy install (no drivers!) it makes Half-Life Alyx more accessible than ever.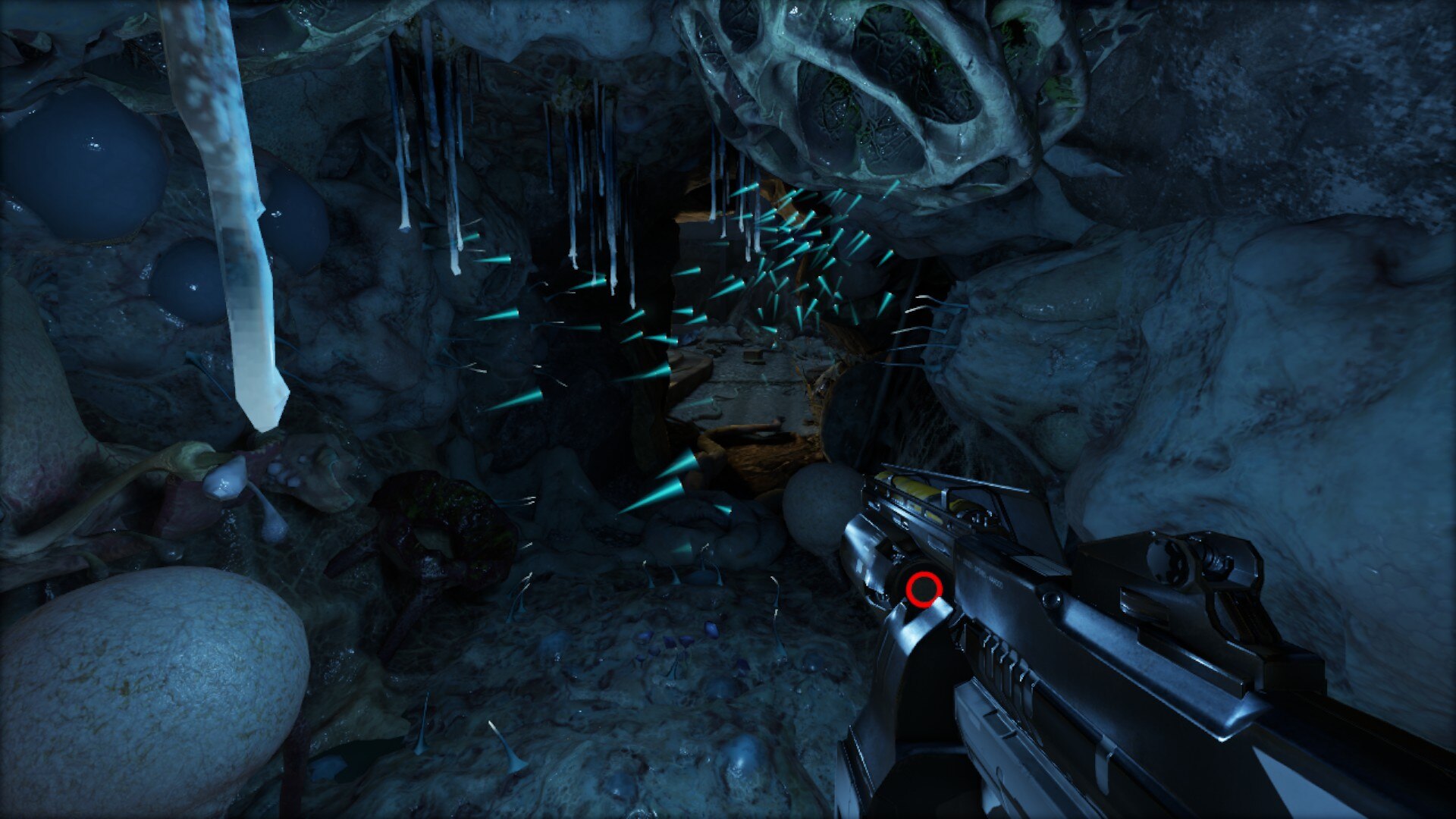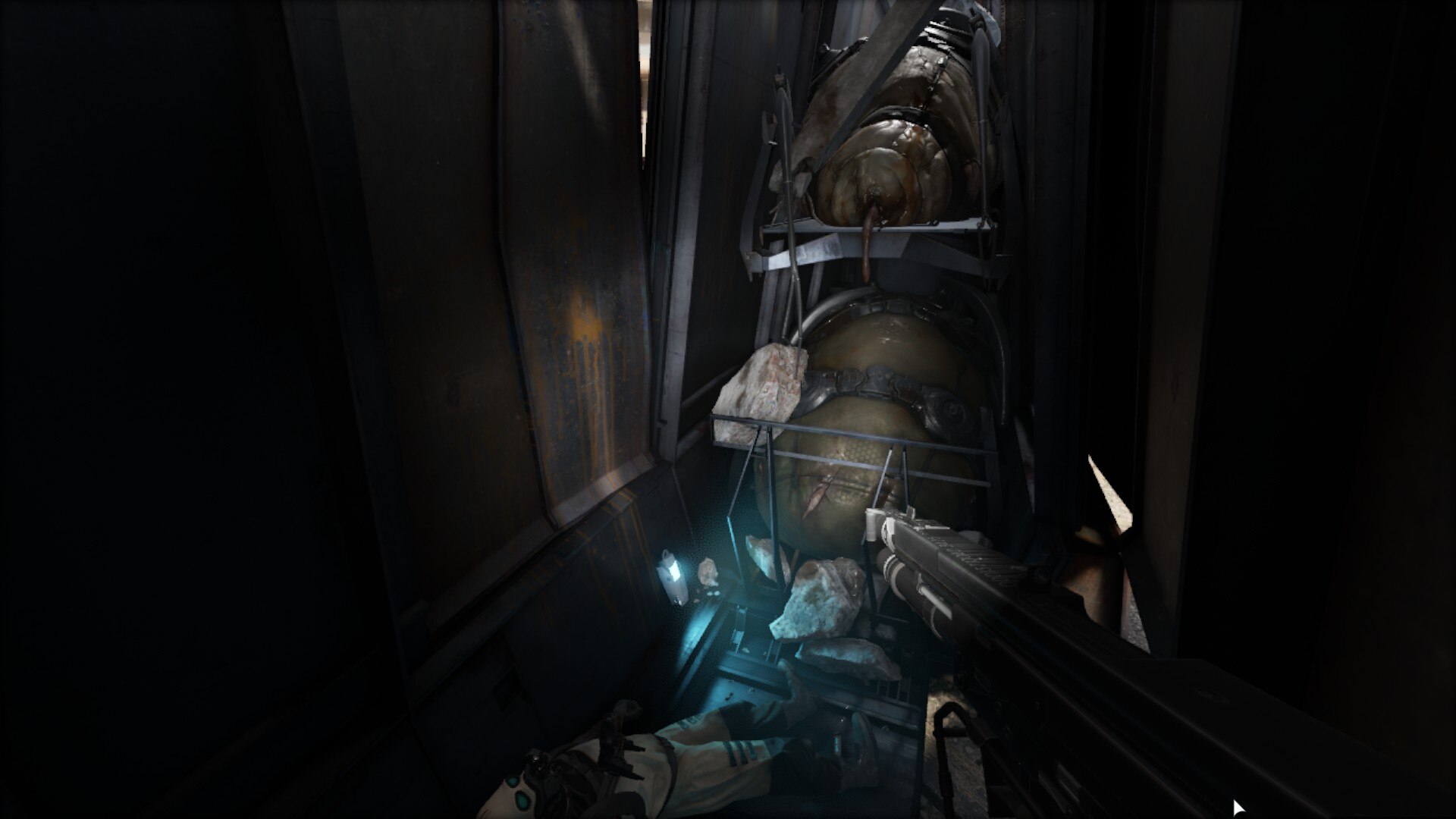 In-Game Screenshots of Half-Life Alyx NoVR
Currently the mod allows you to complete the game up to the first parts of Chapter 7, with 11 chapters total the mod is nearing a playable state from start to finish. Let's go through just how easy and flexible this NoVR mod for Half-Life Alyx is!
Easy and Flexible Installation
To showcase how easy to use and flexible this mod is, we thought showcasing the mod running on a Steam Deck would really drive that home!
Now first off you will need a copy of the game purchased through Steam. Then download the mod here:
Simply copy the "game" folder to the folder you have Half-Life Alyx installed through Steam. Then simply add these launch options under properties to the game before launching it with the mod:
Then start the game!
Extremely easy and simple. If you want to add access to the console and setup the game to the native resolution of the Steam Deck add these launch options as well:
-console -vconsole -w 1280 -h 800
With this the game is now ready to be launched! But…we have also created a custom controller layout for Half-Life Alyx NoVR for the Steam Deck! So go to controller options for the game and you should find it in the Community Layouts. Here are all the details to find it along with the link to the controller layout.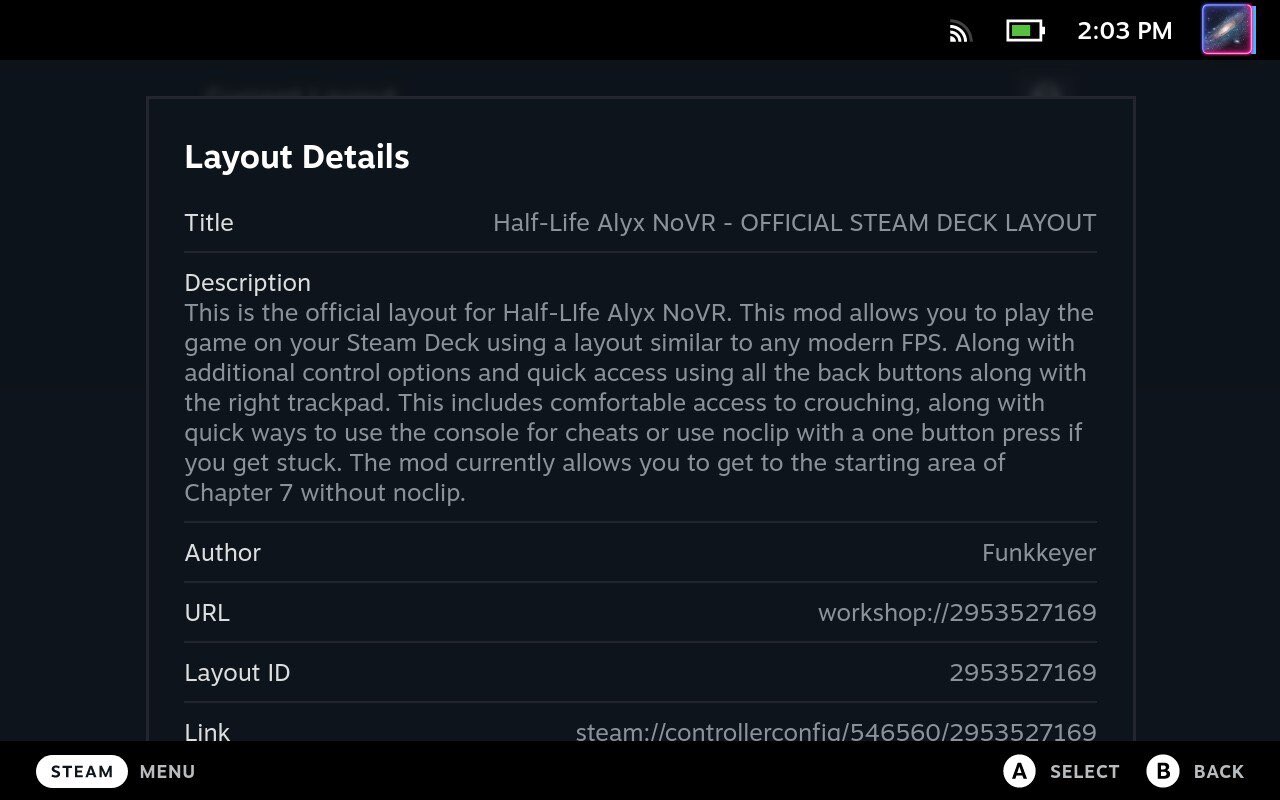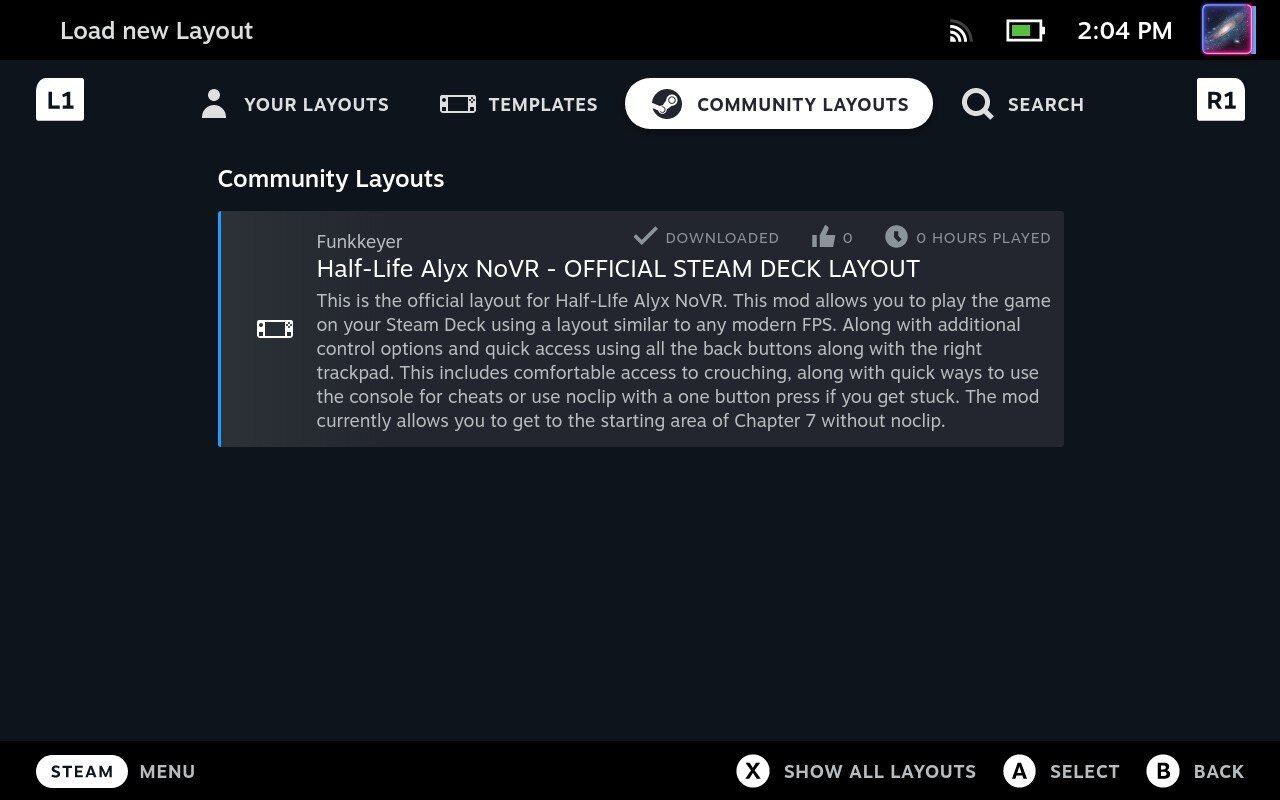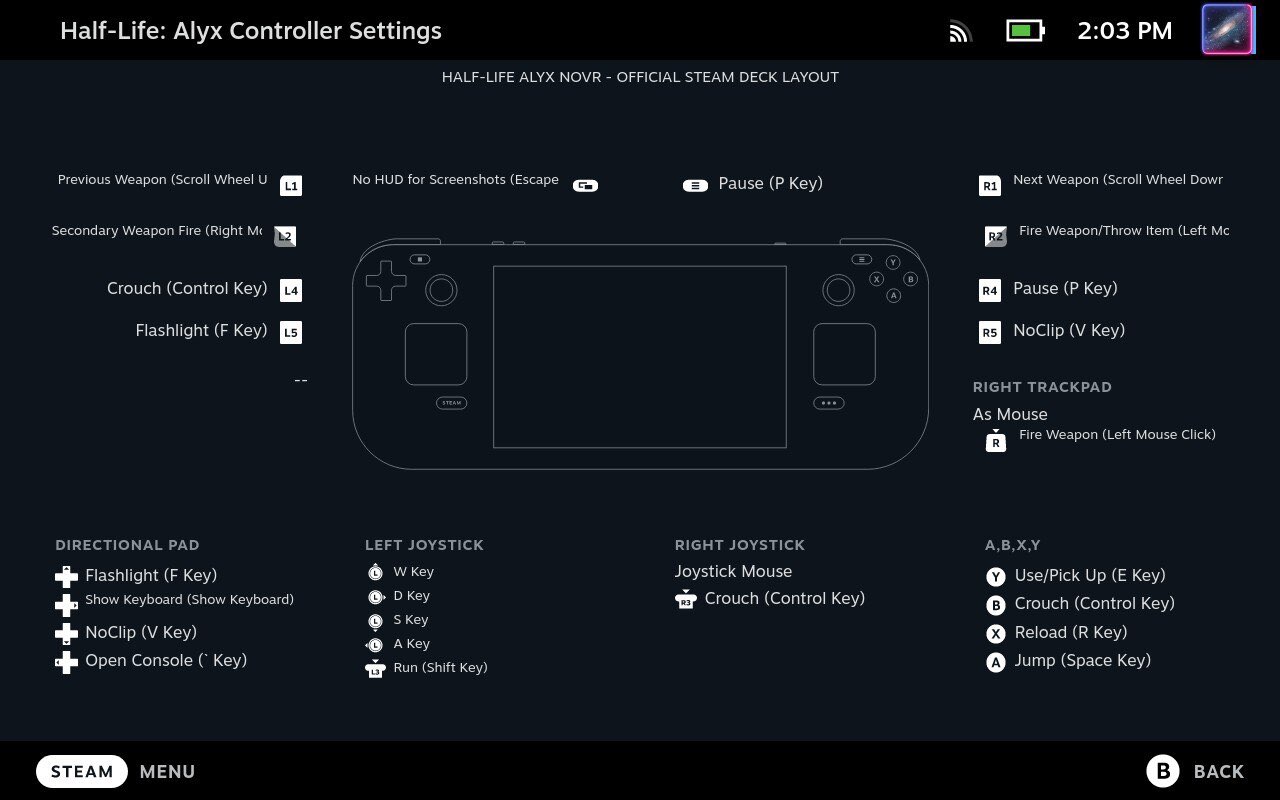 Steam Deck Controller Layout for Half-Life Alyx NoVR
This layout can be customized however you like and is a great template to start the game with and work from there. As for performance with the Steam Deck, the game is running at 800p60fps at Ultra Fidelity (all in game graphics settings maxed), with roughly 2.5-3ish hours of battery life when playing Half-Life Alyx NoVR. Source 2 is running very well on Steam Deck and bodes well for Counter-Strike 2! You can play it in handheld mode or connected to your 4K TV or a monitor and playable with a keyboard and mouse. Of course a high end gaming PC will run it easily, just check the minimum and recommended specs for the game on Steam! Those specs are a bit higher than what you will actually need since the game is not running in stereoscopic 3D, and therefore much less demanding.
Current Progress and Future Updates
Currently the game can be completed to the start of Chapter 7 without having to use noclip. If you choose to continue there is quick access to noclip with one button to continue on. With 11 total chapters the game is currently 60% playable with NoVR with future chapters being completed week to week. The goal is to ensure you can finish the game and get to the ending first. Then fine tuning the gameplay entirely. So far many adjustments have been made to make all features playable.
Currently these mechanics are unavailable and will be added in the future:
-Combine Fabricators (for weapon upgrades)
-Secondary weapon fire
-No Gravity Gloves (manual pick up/drop/throw)
-HLA HUD (currently uses the HL2 HUD)
-Some achievements won't activate that require the Gravity Gloves and achievements in and past Chapter 7 haven't been tested yet
Gameplay Showcase on PC and Steam Deck
Here are a few videos on YouTube that showcase the latest update running on a high-end PC and another video with some off-screen gameplay footage of the game running on a Steam Deck.
We hope you enjoy this amazingly flexible way to play Half-Life Alyx!
Engage with the Developers and Community!
Please come join the developers and community to help provide feedback and troubleshoot bugs and more. Check out the Git where the mod is regularly updated with experimental branches, join the Discord server, check out the YouTube channel and more! See you there!
Check out the public Git for regular updates and test branches: Github.com
The YouTube Channel has tons of Gameplay Videos to check out: Youtube.com
Follow the project on Twitter: Twitter.com
Join the Discord to chat with other players, provide feedback and get troubleshooting:
Purchase Half-Life Alyx on Steam today!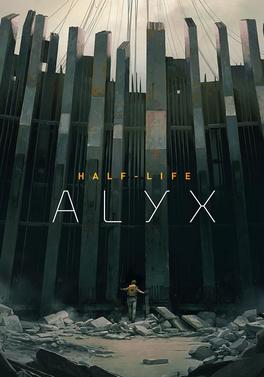 All screenshots in the article were taken on Steam Deck! Here are some more to enjoy!