Welcome to the Grimm: Strategy and Survival Guide, Traps and Pitfalls!
Traps and Pitfalls
The first question I asked myself when I played Grimm was, why would anyone with a sane mind place deadly traps in an area where people live? The answer is of course, that this is not a place where people live, but the place where souls that have no place in either Heaven or Hell go to. This is Purgatory... the place where monsters live.
Before going into dangerous areas, save your game!
Advanced Dashing Techniques
You don't need to defeat all enemies. Sometimes running beyond them and to the next area is your best choice of action, use dashing and running to gain immense speeds and leap further than you thought possible. By pressing the 'walk backwards' key during mid flight you can slow down and time where you will land.
The moment where you press the dash key, after jumping, has a lot of influence on how the jump will go. If you press Dash right after pressing Jump you will jump less far than if you wait until the last moment. Both methods have their use. Press Dash quickly for smaller, more dosed jumps, and press it as late as possible to jump as far as you can.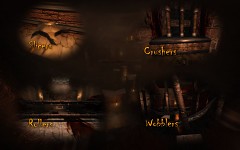 Trap types
Purgatory knows several kinds of traps, there are basically five categories: Crushers, Slicers, Spikes, Wobblers and Rollers. Crushers do exactly what their name suggests, when you step under them they will crush you. Slicers are knives or blades that are attached to the walls. Rollers are wooden beams that will knock you over if you hit them. And wobblers are objects that move from left to right in a circular motion. Spikes are just that, metal spikes that pop out from the ground. You can walk safely over them as they are pressure sensitive. But if you stand the spikes will come up and kill.
Each trap requires a certain style to bypass. Depending on the skill level you selected they can move either slow or quick. They do the same amount of damage on all skill levels, though.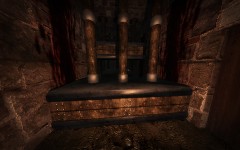 Crushers
You can walk right up to crushers and wait for them to go up, then walk on to the next. Crushers are most likely the easiest kind of trap in Purgatory but they seem to give the biggest adrenaline rush. There are visual clues as to where you can stand or not, if you see barrels that haven't been destroyed yet you know that you can stand somewhere safely. Always sprint when moving under crushers. Make sure to look what's behind the last crusher, especially in harder skill modes, there might be more traps waiting at the end, so plan accordingly!
There is an alternative way to walk past some crushers, instead of going under them, try to go over them if there's enough space!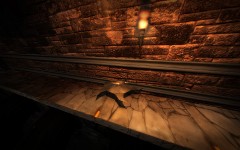 Slicers and Knives
Slicers can be most easily circumvented if it's you that's following them instead of them following you.
They will often move faster than you so let them move away from you, never towards you. Never touch the knives, they will always cause damage.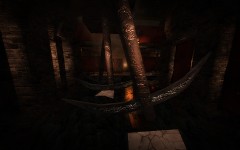 Wobblers
They will knock you off your path if you don't plan your jumps right. Wait with moving until they are just out of your way and you should have enough time to move past them. Touching them will not cause pain so if one does knock you off your path you can always try dashing your way to safety. It might give you the extra boost you need!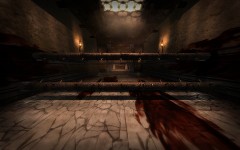 Rollers
These are the most difficult kind of traps. There is often no system in them where you can count to such and such, then jump. The only way is to look and wait for an opening. Be patient! A quick rush through is often a rush to death. Each trap with rollers behaves differently, do not assume that the same system applies to all of them. When the beams move out of sync you'll need to imagine your path through before moving. Never touch rollers or walk in to them, they will always cause damage.

Other uses for traps
Most demons in Purgatory aren't that smart, why not use those pesky traps to your advantage? You can always run past the demons and into a trap to lure them in. Don't be surprised when the smarter ones learn your tricks after a while though!