Welcome to the Grimm: Strategy and Survival Guide, Difficulty Levels Explained!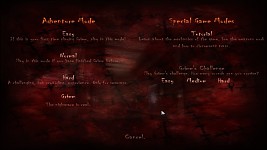 Grimm actually knows four different difficulty levels, ranging from 'easy' to 'grimm'. And you can set the difficulty separate for traps and combat. If you want you can have easy traps and difficult combat, or vice-versa. If you want to play Grimm 'as was intended' then set both traps and combat difficulty to 'hard' or 'grimm'.
Each difficulty level grows exponentially in difficulty, meaning that each difficulty mode is significantly harder the previous one. If you have never played Grimm before I recommend to play on Easy or Medium skill levels first, even if you are an experienced gamer. Using the Scythe and navigating the traps using Dash takes some practice and skill.
Each skill level requires a different way to play the game. Where you can make haste in both easy and medium skill levels, a speed run in Hard is nearly impossible to do. Each trap requires planning, observation and good platforming skills to navigate. Many aspects of the game adjust automatically depending on difficulty level. Choosing a skill level affects the following aspects of the game (among others):
- Monster placement, speed and health
- Traps, speed and trap intricacy, the amount of traps.
- Pickups like health, ammo and special items
The next (third) release will hopefully incorporate separate difficulty settings for combat and traps. This way players can choose to have easy traps but difficult combat, or Vice Versa.
Below I will explain the exact influence that difficulty levels have on Grimm: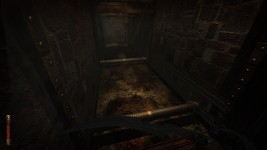 Easy (Consolized)
This is the recommended way to play Grimm for most casual players new to hack & slash games.
If you play other games on Normal then play Grimm on easy. It will still be a challenge and a lot of fun to learn to use the weaponry and scythe combinations. The screenshot on the right shows a trap from the third map with two beams.
- Monsters -10% health over their default
- Items +10% chance that items are spawned when breakables are broken
- Traps move 15% slower and there are fewer, less intricate, traps
- Traps deal less damage
- Extra bricks, steps and helpful bits are added so the player can jump across traps easier and navigate the world easier.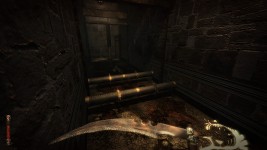 Medium
This is the difficulty mode that Grimm was developed on.
Monsters, items traps and all extra's are at 'default' level. Meaning there are no adjustments in this difficulty level.
The screenshot on the right shows a trap from the third map with four beams (the player had just ran past the first one).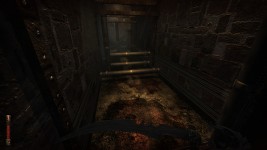 Hard
This is the recommended mode for die-hard gamers.
The screenshot on the right shows a trap from the third map with six beams.
- Monsters +15% health over their default
- Items -10% chance that items are spawned when breakables are broken
- Traps move 20% faster and there are more (and more intricate) traps
- Traps deal more damage
- Extra bricks, steps and helpful bits are removed, no help is given at all