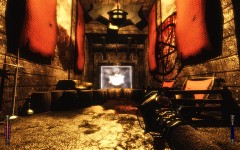 It's been a while since the last update!
I was saving all this goodness up till I had new things to show... and boy do I have new things to show!
Two new enemies and lots of finalized areas coming up in a huge screenshot update that was made to the images section.
I have been working on updating and adding the final detail layers to the maps that were released. All other maps are now somewhat in a playable state. I've added some pretty cool stuff to the game which has helped development. One of the things I've done is to add randomization scripts to all breakable objects. This gives me a lot of speed with mapping as I can just slap two entities all over the place and the game decides what to place there on it's own accord. Goodies are spawned depending on the players inventory, meaning that spikes for the stingstaff won't be given until the the player actually has the Stingstaff.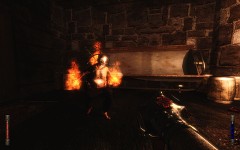 Ok. First up we have this bad guy.
He shoots what you could best describe as land-mines. They tick to make their presence known. But that's not comforting or helpful. It just tells you that you need to get out fast.
The Ventril enemy (can be considered the main cannon fodder in the game) has also been redone from scratch. The initial idea was always to use organic enemies, the skeletons were just placeholders, and with these new enemies the games' true colour are beginning to show, finally.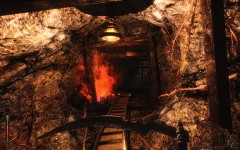 Most areas of the second map, especially the trainrails part has been extensively detailed and finished up, and I finally got around to placing some decent decals and the vines you would expect in a deep underground tunnel. You will find screenshots of these, and other areas in the media section, so check it out now!
Then last, but certainly not least: The second release of Grimm which will be released on the 11th of August!