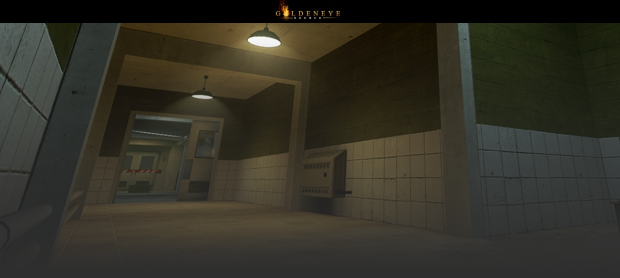 This update will document some breaking news from the wider web, detail some final works that explain our incoming implementations, and finally to announce our own breaking news. A release date you want?


Coming in at #4 (scroll down the link to see us) is none other than GoldenEye: Source, being the only full conversion modification to be listed in the fan art article by website Cracked.com as being a bettering through fan-art of the original. Although that was never our real goal, we just wanted to give the world and modding community at large a worthy update and continuing of GoldenEye fun and fanaticism!
Check out the article and like our relevant links on Facebook regarding the article, and feel free to keep it buzzing about with any means you choose! Also, we have noted they linked to our 9 screen gameplay video from 4.1. The comments are showing new interest from Youtube users and a fair bump in views! Nice news for everyone involved in our community and Enzo.Matrix; our co-creator who made the video.



The goal of the objective icons is to integrate the current gameplay scenarios objective, like the Golden Gun in MWGG, directly on-screen. The objective icons are unobtrusive and constantly point to the direction of the objective when the player is not looking directly towards it. Scenarios can define custom text that is displayed above the indicator arrow to distinguish actions the player should take. Scenarios can also filter icons so that you will only see them if you are holding a particular object or are on a particular team.



Teammate Icons rendered overhead help ease players into teamplay scenarios in GoldenEye: Source. Since we are remaining true to the original game and do not use colored overlays or different skins to distinguish teammates, new players often found it difficult to tell between teams. These icons are intended to alleviate that confusion. We have also included team based voice chat icons to maintain consistency.



As we roll out these updates you will see 4.2 has seen face lifts and tweaks aplenty from Fourtecks and all of the level design team. Facility has been given an extensive revamp this release. Given both a visual and architectural face-lift. Always a beautiful map, this update really makes you feel like you're playing in a Russian chemical base. New hard chiseled lines, and a very harsh 'cold' feeling throughout. Followed by a couple of brand new halls and routes that alleviate choke points. Though trust us, this map is still cutthroat with it's team based and deadly edge.
Here are some screenshots of it in action:
---
As always, you can follow us more closely at ourcommunity hubs! We love your contributions, and excitement. Continue to give your opinions, and get involved with our discussion areas!
With dedication comes reward, in a game that is always evolving and releasing. Made by the fans for the fans. As always, we are taking applications for our open positions, and Community Manager role. Mature and dedicated folk head Here to Apply

bonus facility screens
My007heaven.net
My007heaven.net
Sincerely,
Team GoldenEye: Source.