In 2012 Rick and I took my old design documents for a mod called Project Brazil and ported them over to New Vegas. In May 2013 we released Part 1, then took a year off in 2014. In 2015 we dusted it off, started tearing it up, simplified the scope, and began working on one of the largest mods ever made.
7 years later, after 58 monthly updates here on ModDB, it is done, installers tested, and preparing to release on October 23rd, 2018.
It is very exciting times around here. FNC has been testing since last May with a small group. This week we've been testing with a larger group. Basically just finding any last minute things we can polish off to take some rough spots out of the otherwise glassy finish on the mod. BETA 200 won't be perfect, but it'll be damn close. We're still relying on open beta to have the community join us in making patches and reporting issues. Still worth downloading and playing day 1, but if you want to check back in after a month or two, our final 1.0 vesrion will go live December 14th-15th.
Now -- We've been getting a lot of questions , so lets get everybody is on the same page.
The Frequently Asked Questions!
Number 1: Is this on Xbox?
NO. That is technically and legally infeasible. I wish we could, but we cannot. Sorry.
If you can figure out how to make it work, more power to you, but I'd imagine it would be outstandingly difficult if not impossible. The licensing fees alone would be devastating, so even if you could do it, it'd violate EULA.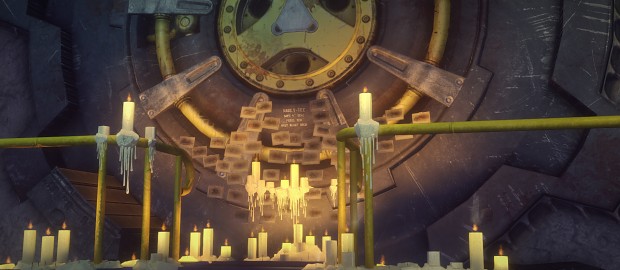 Number 2: Is this for Fallout 4?
NO. This is a Fallout: New Vegas mod, now conveniently on sale on GOG.com!
The amount of effort porting FNC to Fo4 would equal the time spent making it. Roughly: 6 years. Not happening. Unless you have a stack of dollars and your name rhymes with Ethesta and you want Fallout 5 to be in New California. Then hire me, the answer is yes.
Number 3: Is this a standalone?
No. You need New Vegas. It starts off on your New Game menu. You select New Game, it pops up like this: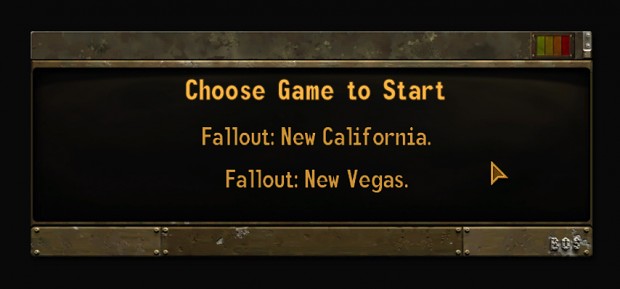 You can start New California or New Vegas. FNC is not like a DLC, it's basically a new game. New start, new world, new player character, all new map -- never even touches New Vegas til the end.
And yes, you will be able to travel to New Vegas after our ending credits. No, you will not be able to take your New Vegas Courier back in time 20 years and play as the Star Player.
Number 4: What's this mod about?
When you start New California you're treated to a sick new Intro Video explaining the backstory.
Set in 2260, 20 years before New Vegas and 10 years before Fallout 3,you are the Star Player. An adopted tribal wastelander living in Vault 18. That is where you grew up, surrounded by the events following Fallout 2 just a few decades before you were born.
While playing a game of Vault Ball choose to Tackle or Dodge in the opening moments of the game.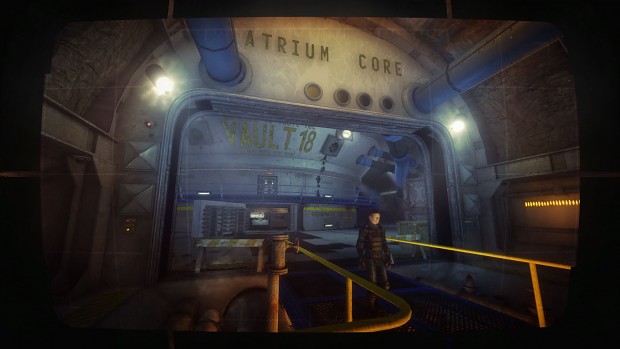 Tackle starts you on the Path of the Warrior and reshapes your story in Vault 18. Who you are, what people think of you, and how you behave are all up to you after that. You open up the option to join Vault Security or Maintenance in this path.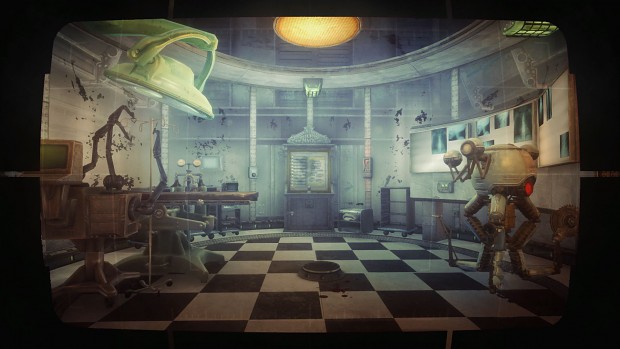 If you Dodge, you start the Path of the Scientist. You wake up injured with a busted leg and limp through the prequel, helping your robotics teacher repair the Vault's computer network and discovering another side to the story not seen in the other path.
After going to bed that night you're hit with this cut-scene. You life gets turned upside down and you're forced to pick a side between Vault Security or the Enclave, (or as a coward or psychopath,) and you must fight for your side and escape the Vault before it explodes.
This video is very old footage but it gets the point across!
After that you are allowed to enter the wasteland and Vault 18 explodes behind you, after which you are free to explore with (up to 6 companions - 2 robots - a robot dog and some companions - alone - just 1 or 2 companions.)
You eventually find the New California Republic and/or the Elsdragon's Raider Alliance. You may join one or the other as a Free Agent, a Raider Slave, an Enclave Sleeper Agent, or a psychopathic killer hell bent on genocide (ie: killing everything, because that appears to be quite popular.)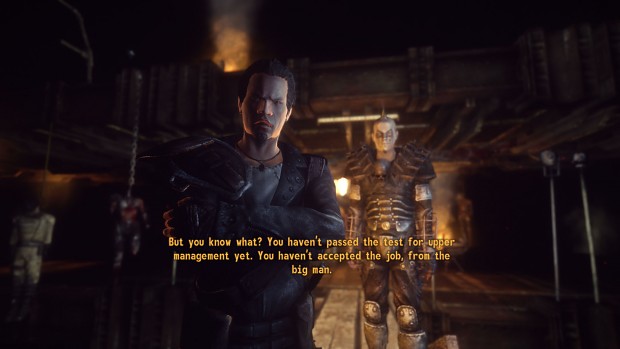 Number 5: How big is this mod? (Map Size, Number of Quests, etc?)
Stats:
2 Prequel Character Establishing Quests. 2 Prequel Main Quest Arcs.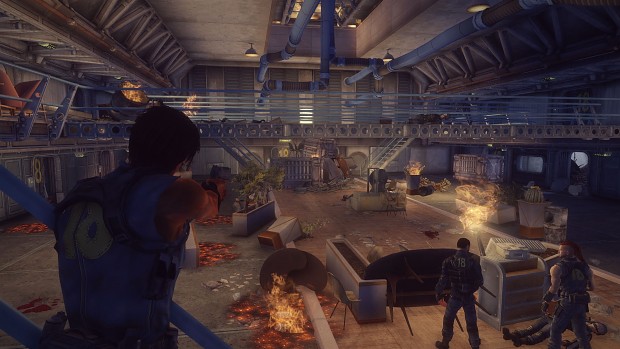 8 Possible Companions with their own quests.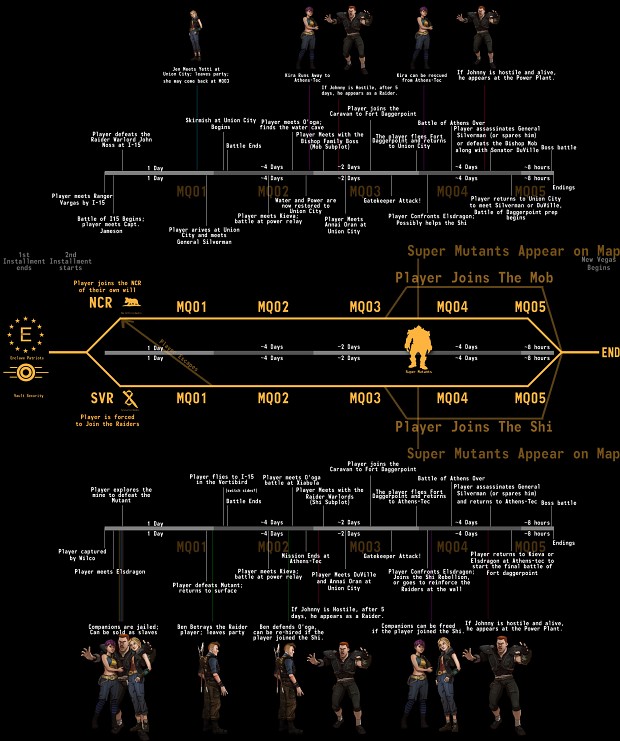 2 Opening Main Quest paths.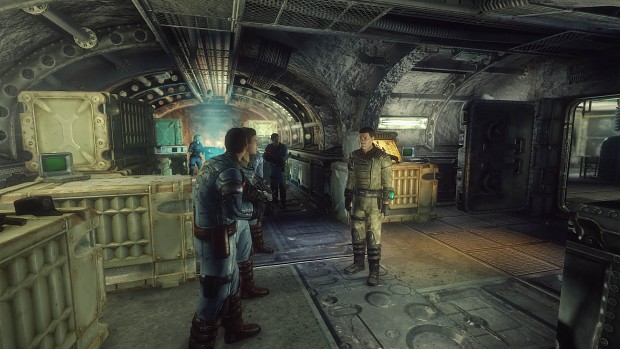 5 NCR Main Quest paths with 3 endings.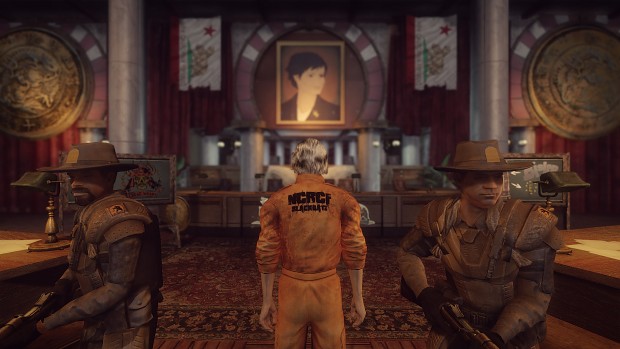 5 Raider Main Quest paths 2 endings.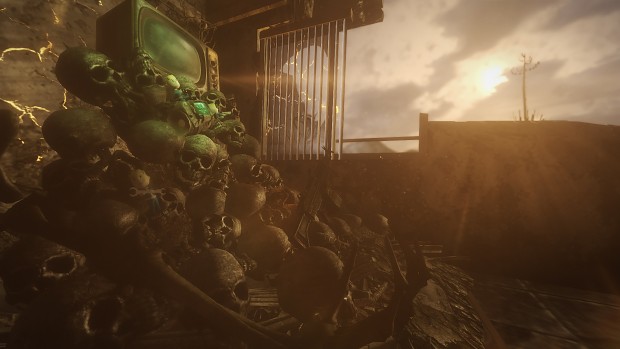 A quest to switch from Raider to NCR early in the Raider story.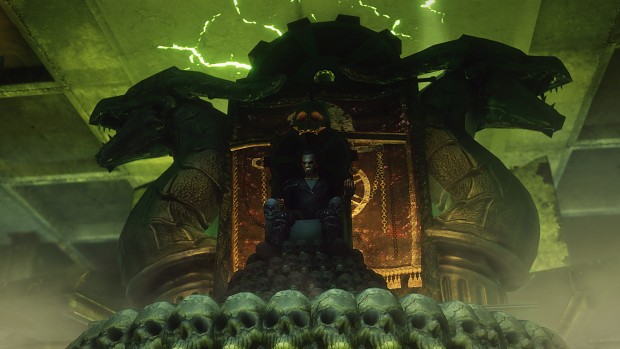 A quest to Join the New Reno Bishop Family Mob with 3 endings.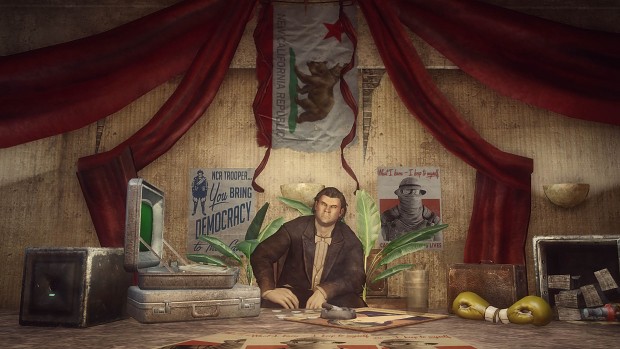 A quest to Join the Rebel Shi and take over the Raider Alliance with them with 2 unique endings.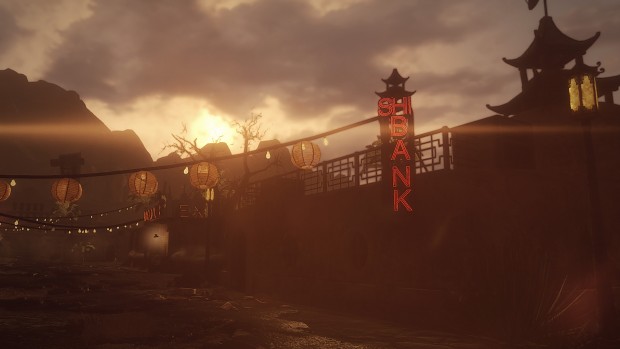 A quest to join to Super Mutants and skip half the mod with a unique ending.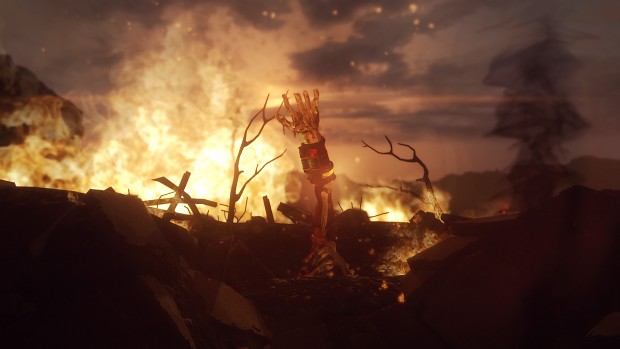 A quest to play an Enclave double agent with a unique ending!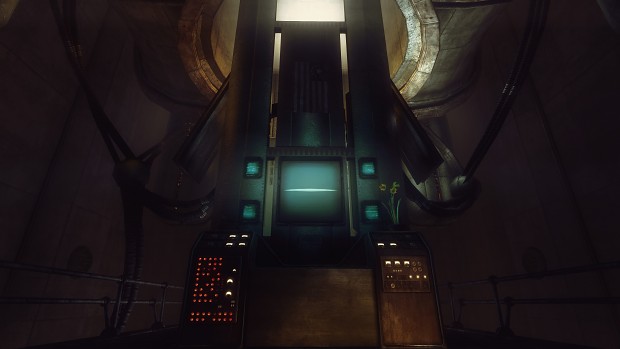 A "kill everything" unique ending for players who intentionally shoot everything on sight.
Basically every major choice creates some kind of branching story arc that could be a whole game by itself.
Total voice assets: 16,970 lines. From 52 Voice Actors.
More weapons and armor than you can shake a gecko's tail at.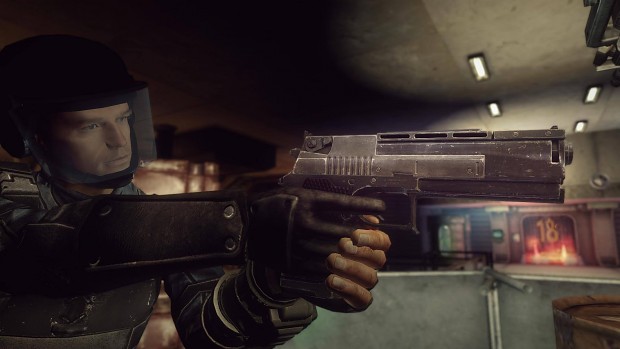 There are also two unique radio stations featuring all original songs and some cover of 50s tunes, and and a Punk Rock Raider Radio full of wasteland tunes for your raiding pleasure. Both NCRR440 and DETH981 have DJs commenting on the story and Fallout lore as you play it.
You can preview our Radio on Discord!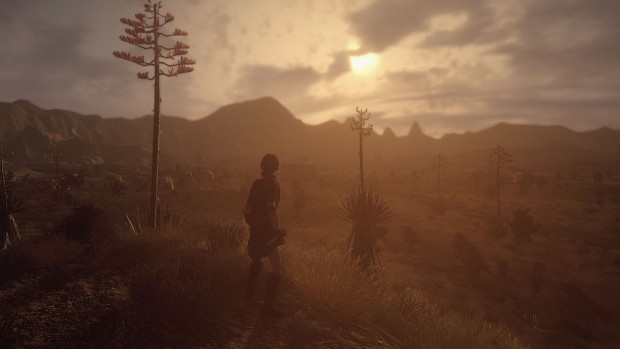 Our map on top of the New Vegas map. Yeah. That' s pretty big. About the scale of Fallout 3's map with some fat trimmed off the square.
Our map is far far less dense with quests, but the quests tend to be clustered realistically around populated cities and towns. (Perfect if you are a modder looking to add your own material to our map.)
Our map is called "The Pass," between the HUB and the Boneyards, or between San Bernardino and Hesperia in the real world.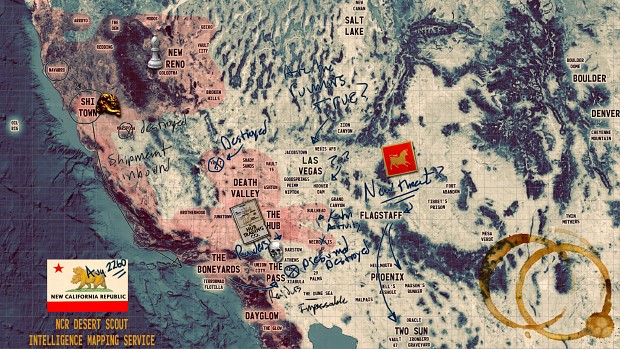 We're the X under the skull. This is just a loading screen, not our whole map, but our story references most of these locations in the dialogue.
Number 6: How long is it?
Depending on your choices it can be between 8 and 30 hours. Because there are so many re-playable paths, you can stack that up even longer.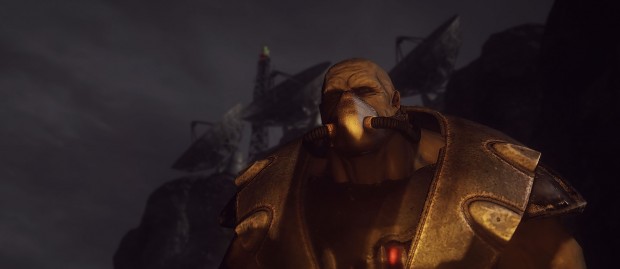 Number 6: How big is the download?
6.9GB for the whole vanilla package.
3.3GB for the Highres textures.
Will be available on Nexus Mods, ModDB, and a Torrent.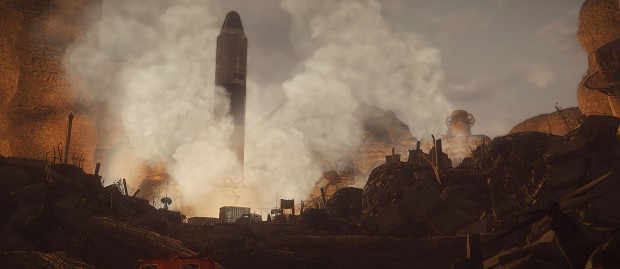 Number 7: How hard is this to install?
Easy. So easy.
Use Nexus Mod Manager (vers 0.65.10 only), Vortex Beta, Mod Organizer 2, or Fallout Mod Manager.
Download our Main Files. Put them somewhere. Open your Mod Manager -> Load the mod in your Mod Manager -> Install. Done!
Steam versions of New Vegas suck. You'll need the 4GB patch found here. GoG.com comes Pre-Patched so you don't have to!
Then you're done. Easy.
Number 8: Does this require the DLC / Any other mods??
No. You only need the 4GB Patch.

BUT -- we have a list of recommended mods.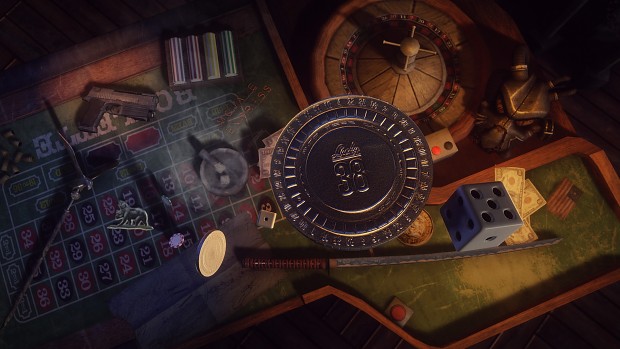 Number 9: Is this mod compatible with...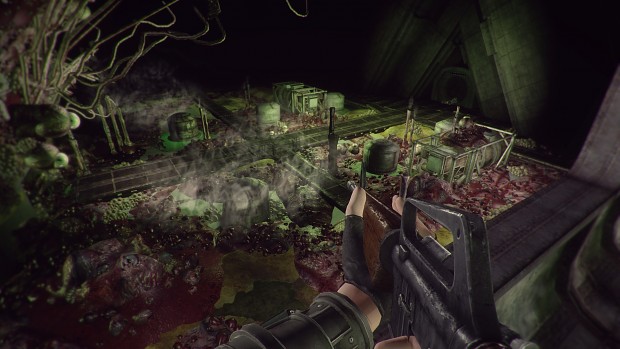 Number 10: What are the minimum requirements to run this?
You need a computer with at minimum 4GB of RAM. 4GB will cause crashing, so go higher ideally. You ideally want, and this is the most important, a really fast HDD or an SSD, and your process should be greater than Quad 2.4Ghz with a GPU with at minimum 2GB VRAM. After that you're good to go. It's not a huge PC requirement, just more power than New Vegas needs. That slow hard drive will constantly get you though, especially on a laptop. Don't ask me to list computer parts, ask reddit or our discord help channel.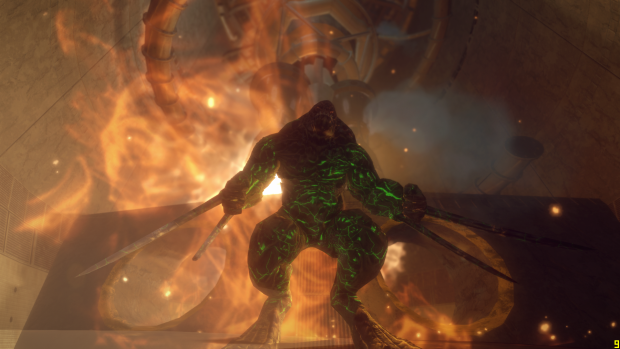 And that about wraps it up!
Some people grossly underestimate how massive FNC is! Some people gross overestimate it. But in the end, you'll just have to play it. It is very rich with Fallout lore, packed with characters that are memorable and interesting, has many deeply immersive moments, epic battles, wild plot twits, it looks great, and players will be hapy, I'm sure to finally get a rich non-linear single player role playing game back in the original West Coast close in spirit with Fallout 1 and 2, between 3 and New Vegas.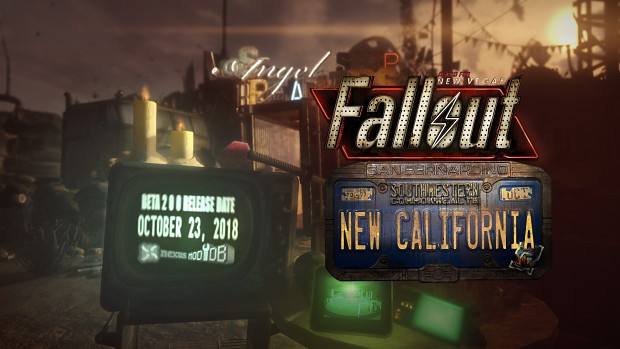 And just 6 days left to wait. :)
We have a new game on the horizon too!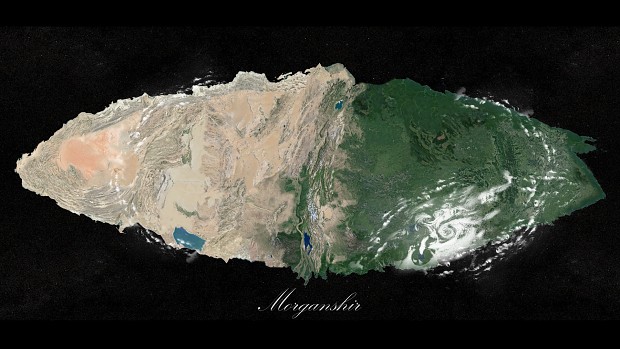 It'll be a top down 3D isometric Survival RPG set on the ruins of an alien megastructure. You start our freshly abducted from Earth with no directions and little explanation. You'll have to gather a tribe of fellow survivors and brave the harsh wilderness and face off with medieval empires and alien organisms. A little bit Fallout 1 and 2, a little bit Rimworld, all on Unreal Engine.
I could use a couple 2D artists on the new team right now, and you can donate to our Pay-Pal to help me afford the start up expenses. We have a bunch of veterans we've worked with before that want in on this, so I need to begin crowd funding after FNC is all wrapped up so we can afford to focus just on this project.
And as always...
You can read more about our progress on the Design Documents Found Here. In the mean time, you can keep track of us on ModDB, Fallout Nexus, Facebook, and our Discord. We've got a thriving online community centered around each one.
Cheers
Brandan Lee
Project Lead