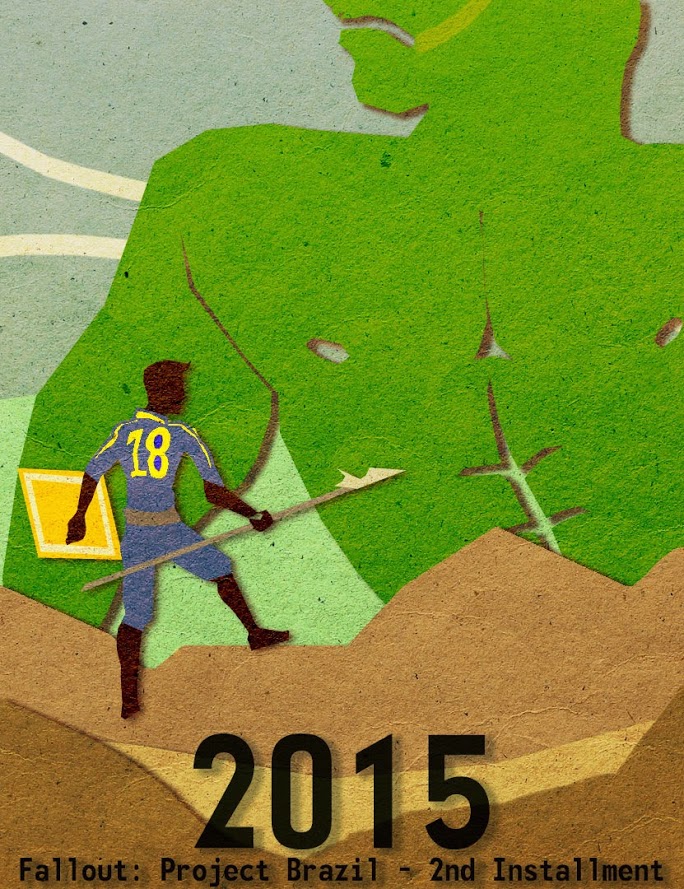 New Year - New Resolve.
So 2014 pretty much blew past in the blink of an eye, and while a lot of work was done, we kinda fell off the rails there for a while. But! We've been back online for a while now and began making progress. We have the story in the GECK, some interesting new plot twists, and a long way to go.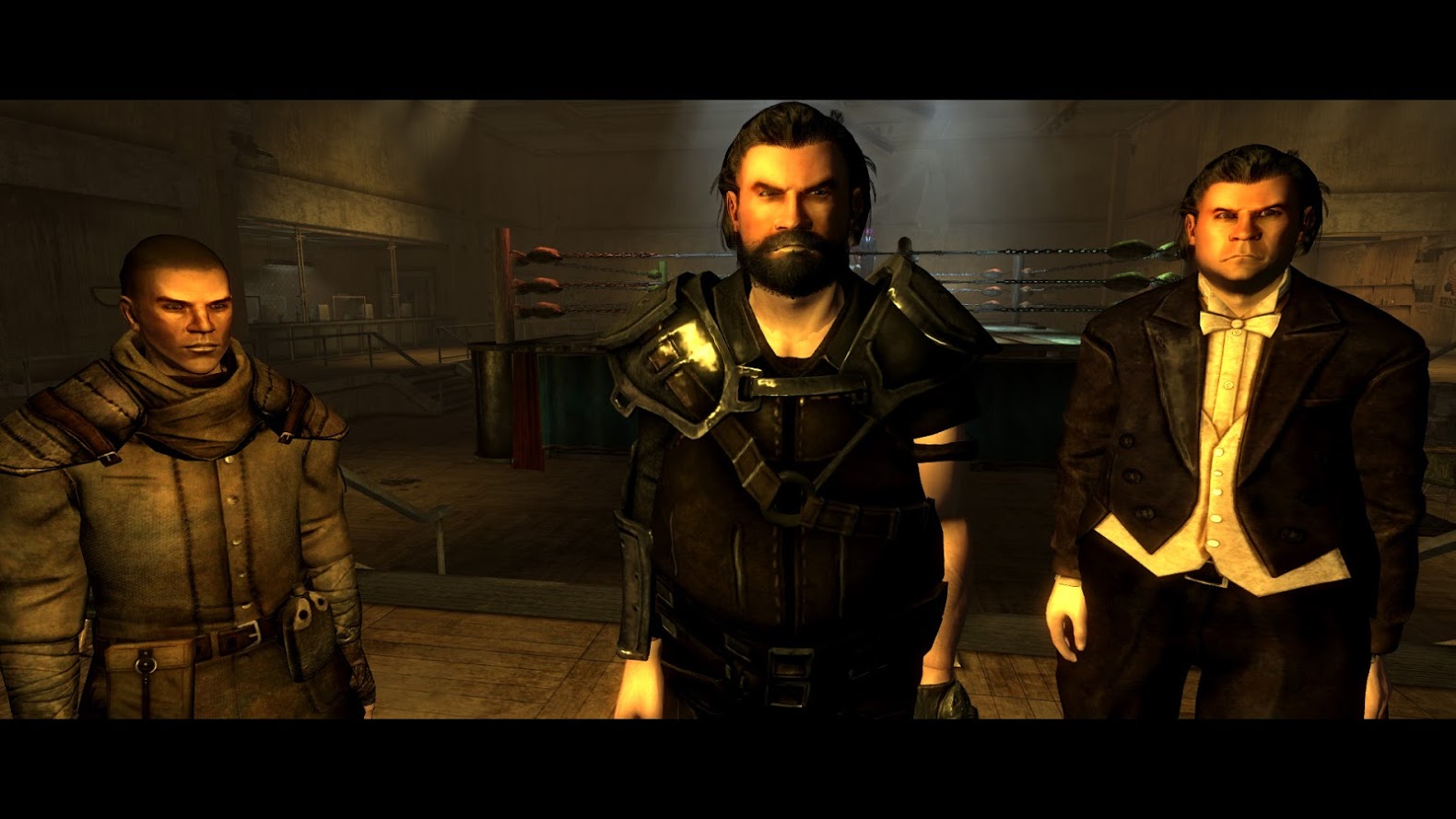 We have handsome new characters!
Now with FCO compatibility!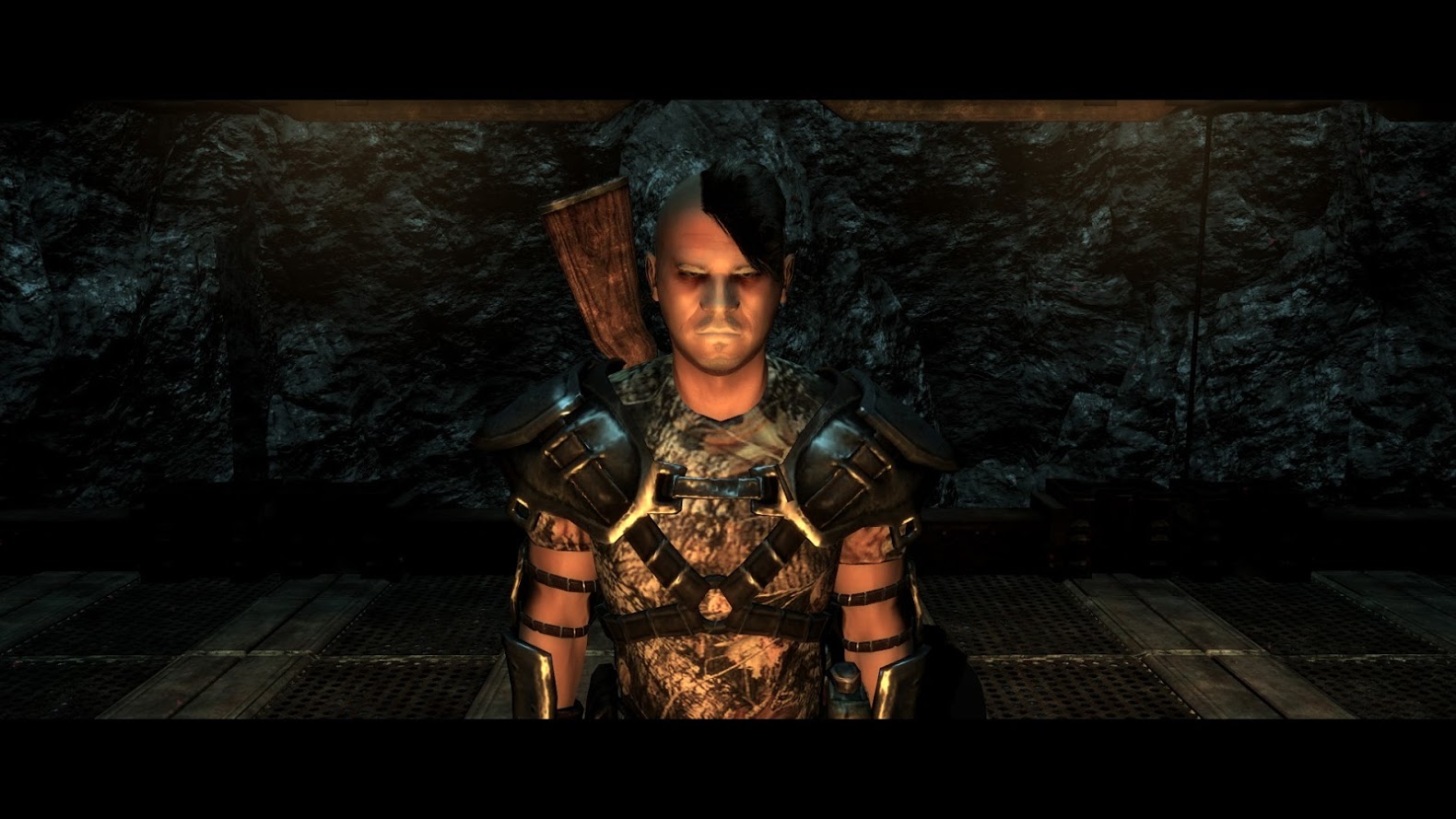 New Bad guys!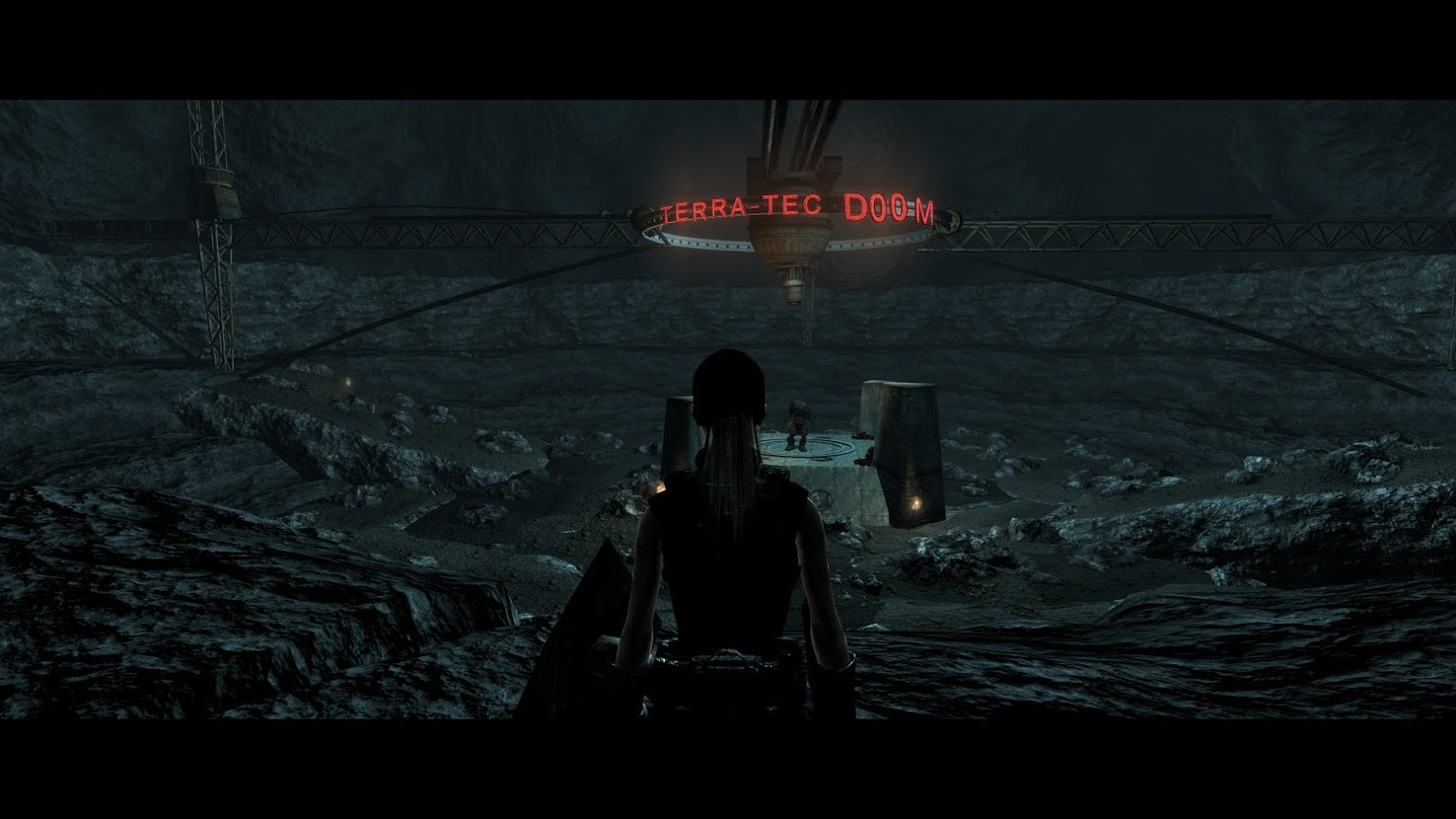 More Unique Story Locations!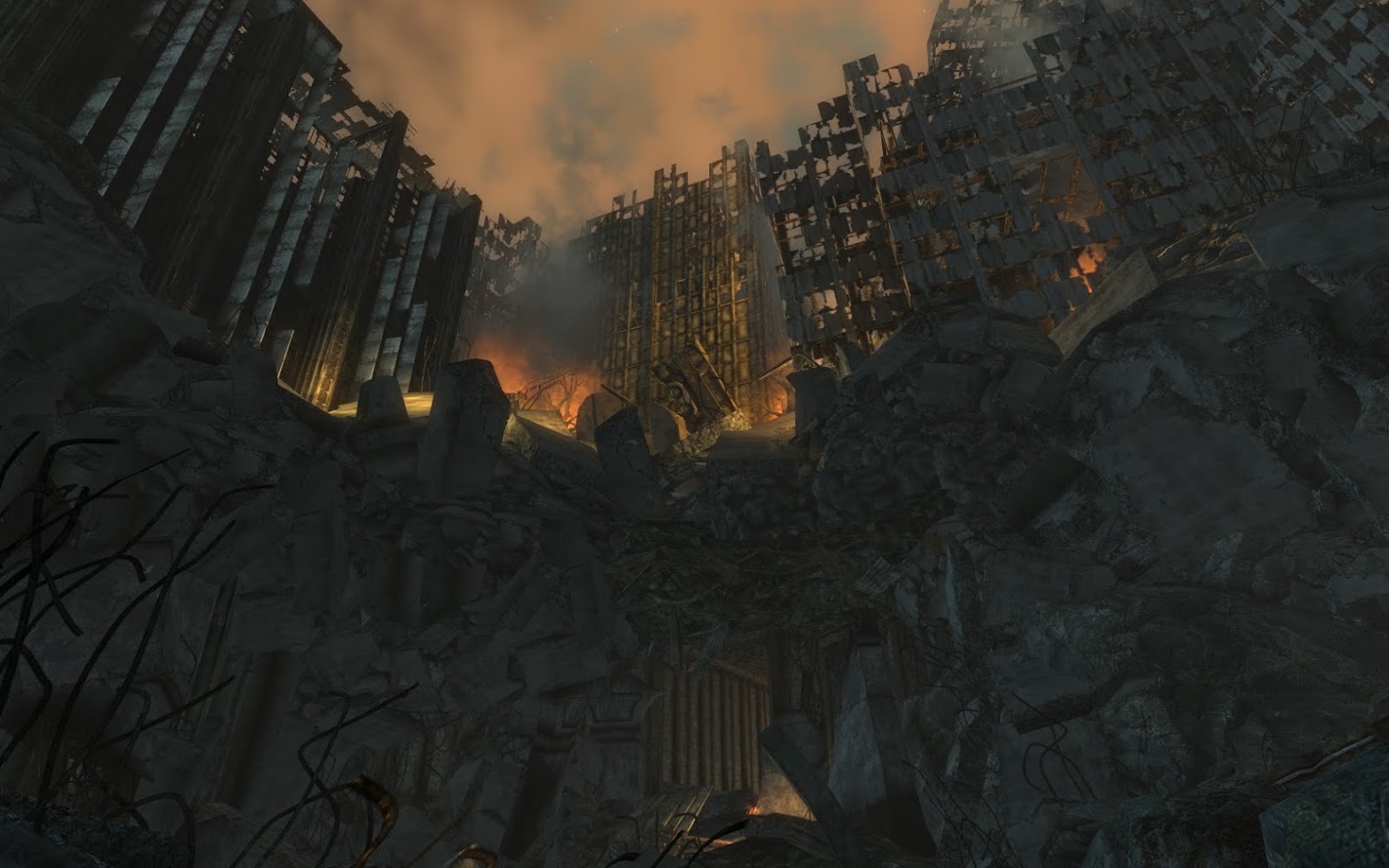 We finally have an excuse to use this place during the Boss Battle!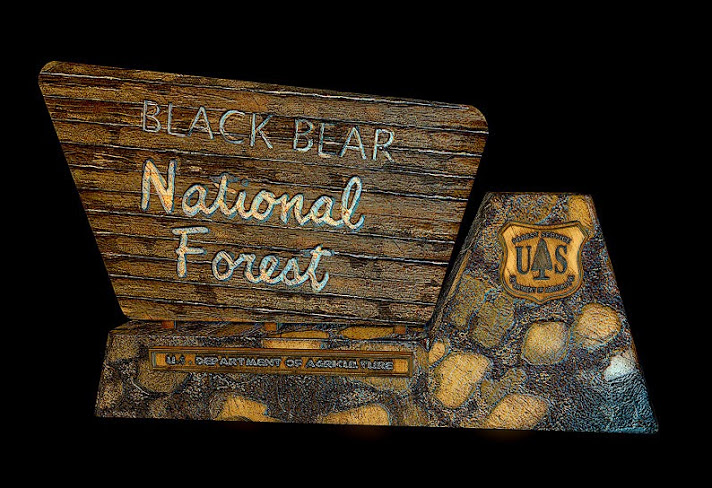 And this sign~!
If you were to go back to 2011 and tell me that in 2015 I'd still be working on Fallout: Project Brazil, I'd probably have a heart attack. That is a long time to be working on anything. But, as history shows, here we are.
We are currently down to just two coders, one of which is our venerable RickerHK from the 1st Installment, and our other mate only drops by every few months or so. We lost Freddie to the responsibilities of real life, along with Marco.
That leaves us with a bit of a problem, since I, Brandan Lee, am not a programmer. I chose to play a 3D Art & Designer cross class character and rolled a 4 on programming. That means that after Level Design and Quest Dialogue Writing are finished, I get to sit on the bench and be a cheerleader.
When I open my email in the morning, my heart either soars or gets crashed depending on whether there is a team update waiting or not.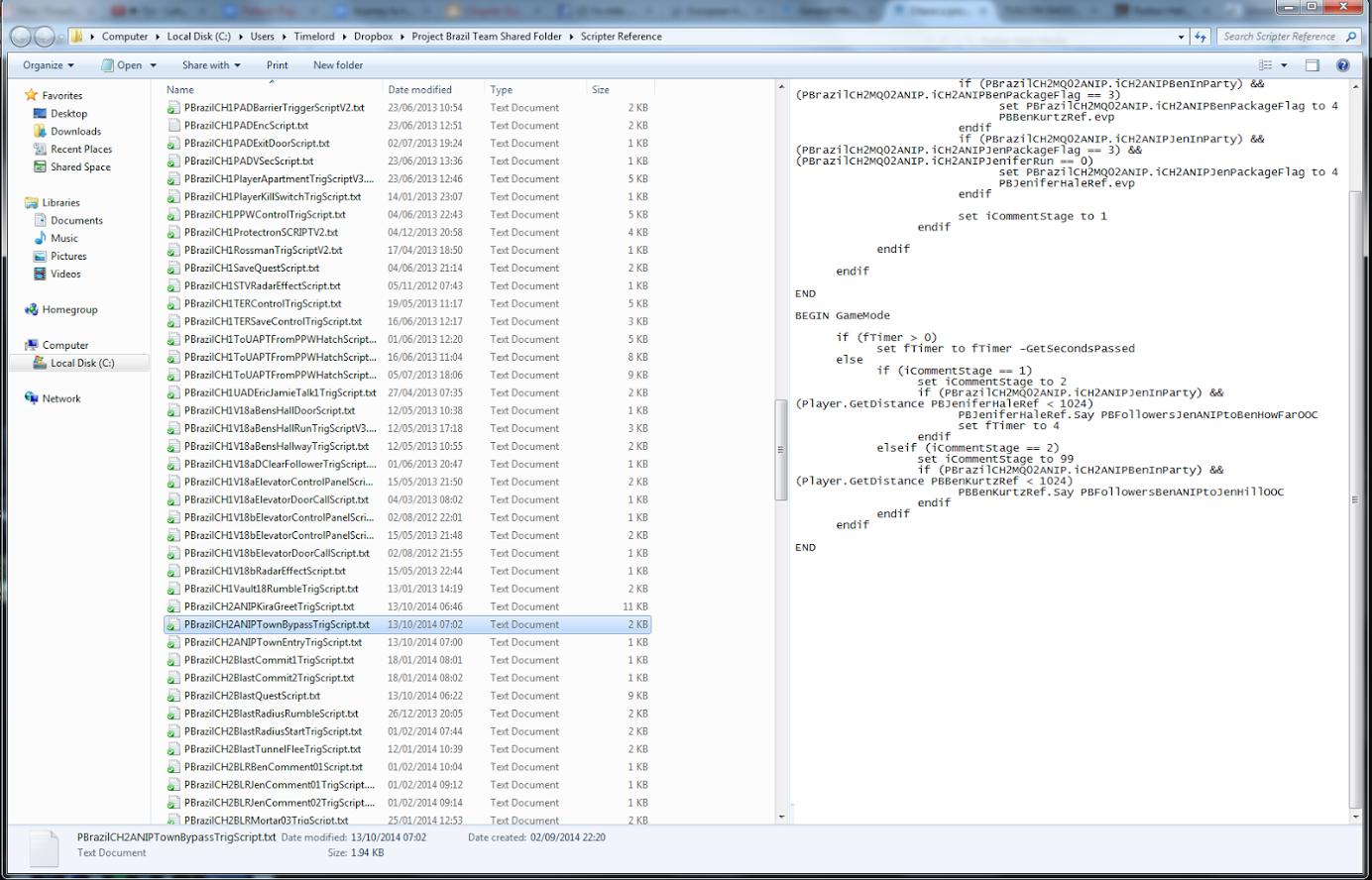 Never have you seen a lad more happy to get a wall of text on Christmas morn'!
Currently, the story of F: PB in the GECK is just... it's just too damn big. It is a VERY deep story, 7,000 lines including part 1, encompassing 15 Main Quests full of major branches, 5 Companions, and about 8 side quests! It took Steven and I months to finish getting the text alone into the engine, and I'm still missing a chuck that's in the form of Google Documents and not in the GECK. I recent brought JoshBadWriter on board to help tackle it.
I assembled it as though it were the best game we could possibly make. I ripped it apart, I minimized it, I cut out the 3rd installment, and hacked and slashed until it was this: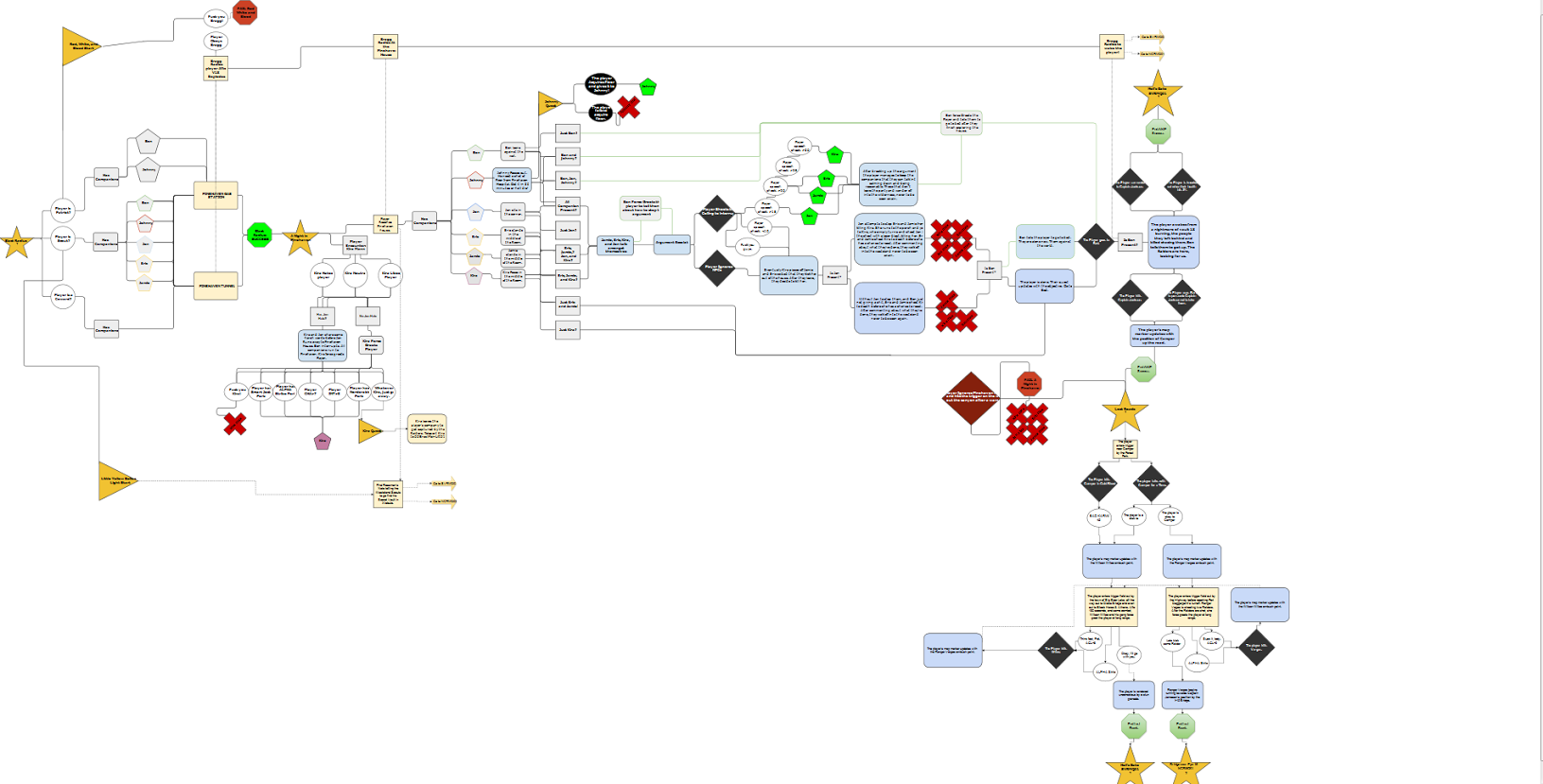 This is the first part of the 2nd Installment, the famous "A Night in Pinehaven," which starts right out of Vault 18. This is where all the decisions the player made in Vault 18 get summed up. All the companions, the Enclave vs Wasteland Scouts, and the player finally grows out of their Athlete / Nerd bracket and becomes a Warrior / Scientist.
There are 6 possible companions, and we decided to account for them all right here. WE had to distill 6x6 combinations (36 variable sets) down to 12, and then we got it down to just 9.
I did a poor job of documenting this late in March, so it left Rick in a tight knot of established variables and condition checks in the dark. That was my bad. We went through a serious burnout phase that lasted the remainder of 2014 after this monster hit us. I'm kicking myself for designing this thing, no matter how cool it is. Damn.
It then connects to the next part: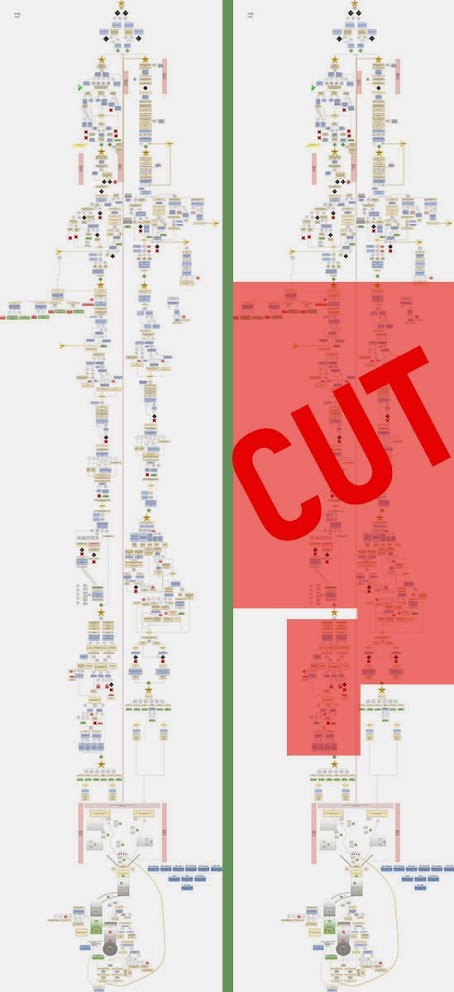 This is the 2nd Installment Main Quest Story Line Flowchart.
-MUAH HAHAHA! I DARE YOU TO TRY AND CLIMB MY SUMMIT FOOLS! I AM UNCONQUERABLE!-
"Nothing lasts forever, Aku! Your evil days are at hand!"
We decided at the start of the year to trim this down. The flowchart on the left shows all the content we had planned back when we had things like momentum and energy! :p The one on the right shows what we're going to do to get F: PB released this year. There are still major branches and lots of details, but it's more on par in scale to the 1st Installment.
I'm bringing GePalladium from the Vanessa Mod on-board to take over the companions, so Rick has better time handling the Main Quest.
The story on the left was designed with Project Brazil being a really significant mod team in mind. I wrote all the dialog and planned the quests to be done by new coders that would join after the huge thumbs up from Bethesda and Obsidian. After all, we got a lot of promises from some really incredible people.
For all the work we did, we were really well rewarded with positive reception when the 1st Installment launched. We had a lot of time, since I was unemployed through a big stretch of it at the end after leaving Crystal Sky, and the other team mates were pretty settled. But that help we were banking on? Never materialized. Lesson learned there.
That was okay, because the team was still together. We didn't need new folks anyway.
Since the first installment was my yardstick, I figured that we learned a lot, had better managed our assets, and had laid the foundations to make the rest of the game stitch together fluidly - the next part would be a breeze. All the levels were done, all the characters ready, and the story was written and edited... so there was no more waiting for assets to move down the pipeline! Smooth sailing, right?
Mmm, not so much. Real life had other plans. Between some of us being put in the hospital and others getting big day jobs, keeping up with F: PB was a real bear. So we all decided to take a break and recuperate.
I actually took some time off to build some star-ships for a new indie Role Playing Game game I plan on announcing after F: PB is finished:
But, after a good long vacation, we're back on the horse. After Fallout: Project Brazil is on track and we have more programming to show, I'll update everyone again.
You can read about our progress on the Design Documents Found Here. In the mean time, you can keep track of us on ModDB, Fallout Nexus, or Facebook. We've got a thriving online community centered around each one.
Cheers
Brandan Lee
Project Leader