MSDOS Combat
MIlitary
Security
Deniable
Operatives
System
In it's most basic terms it is a combat relation system like Rock/Paper/Scissors.
The Relationship is a Follows:
Military Beats Security
Security Beats DOps
DOps Beats Military
Military:
These are the kinds of forces trained to fight conventional war and represent the majority of units currently in the game.
Capable of Capturing Enemy Cities
once the appropriate technology has been researched.
Security:
These represent your Police and Protector Types, that can hunt down and discover Invisible DOps Units
As well as providing 'Military Happiness' through protection and oppression when stationed in cities.
Deniable Operatives:
These represent your Mercenary, Black Ops and Undesirable types.
Deployed as Deniable Assets
who can enter enemy territory, fight and cause destruction and mischief without declaring war and without connection to their 'Sponsoring Faction'.
Many of these units are invisible to all but Security Forces.
They will be able to employ guerilla style ambush tactics to overcome enemies of superior strength, using hills and forests and urban environments to conduct ruthless hit and run missions.

Strength/Weakness
Each Combat Type
Currently has a 25% Strength Modifier
both Positive and Negative against their counterparts.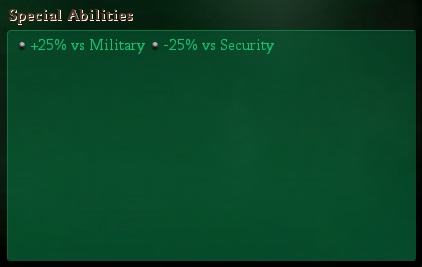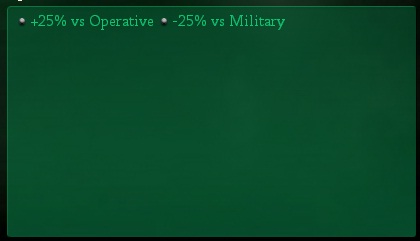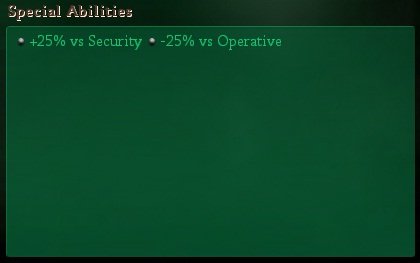 Border Security
Borders are no longer as secure as they once were.
Deniable Operatives can now enter any factions territory
regardless of whether they are at
Peace or War
If you want a secure border, YOU have to make it secure.
New Improvements such as Watch Towers increase the site range of units stationed within them.
So to guard against univited guests you will need to station security personnel at key locations and intervals to stop trespassers and guard again Black Operations.

Order and Chaos
This System is being developed to try and create a more realistic environment in establishing Law and Order in a World of Lawlessness and Chaos!
Violence Reigns Supreme
No One Is Safe
You will be forced to make difficult decisions about what to protect in the early days of your faction.
Will protect your Workforce, Your Most Productive Improvements, or Your Resources?
Will you simply hide behind your walls and watch it all burn?
Will you be the one Terrorising and Destroying Civilization in the Wastes?
We are working towards creating an environment where you cannot have it all and will be forced to make tough decisions on your path to
Taming the Wastes
DOWNLOAD ALPHA3 HERE
Visit Our Forum for More Info and to Give Us Your Feedback!