Bringing The Fallout Universe into an empire building genre, take control of one of the Wasteland Factions vying for the power and control of the wastes. Guns, Melee, Power Armour, Gunships, Espionage, Diplomacy. What tools will you use to Tame the Wastes? Blood will be spilt and empires will be forged, because we all know. War Never Changes....
To Celebrate the 1000th download of the Mod, We have a special PatchBoy1000 Patch!
1000 Downloads!
To Celebrate we present the
PatchBoy1000 Patch!

Alpha5 Main Download

2 New Playable Factions:
Vegas and Legion
Speicialists Galore With Buildings for them to work in!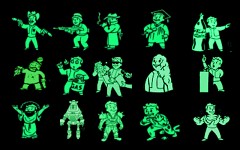 As well as a temporary fix for the Civic Traits system
(Still very much WIP but no more contiunous Popups Hopefully!?!)
Have Fun Wastelanders!
Remeber to Feedback!