Greeting Total War players! The most innovative mod for RTW is coming back this summer! XC4 was released in 2009, 10 years ago. It has been a long road for the mod since but the next iteration, XC5 is now very close to being ready for beta release. Over the next few weeks we hope to outline the all the main changes the mod has undergone. Extended Cultures has always focused on gameplay and as could be expected, there has been substantial effort put into deepening the game mechanics and ensuring a challenging game. However, visual improvements have also been made to both the stratmap and the game's battlemaps, UI for buildings has become much more varied than it was before, a host of new units have been added and several old units have been jazzed up. Stay with us and I promise you won't be disappointed.




The change that will no doubt jump out at you in XC5 is the addition of Charge's Stratmap Textures. I'll let these textures speak for themselves

:
Those of you who are familiar with XC4 may notice from these images that settlement distribution has been reworked and (hopefully!) optimized in XC5.


The second big change has been the faction rework. Extended Cultures previously used several "superfactions" to make sure that many of the minor powers of the Hellenistic and Roman eras were properly represented. However, these superfactions were a bit of a waste as they weren't much fun to control for the human, effectively reducing the number of playable factions the mod had. XC5 has implemented ways of buffing the Free Peoples faction (the "Rebels") so that settlements under their control are no longer as easily taken as they were in vanilla. This has allowed the superfactions to be converted into new, proper, fully playable factions. The Eastern Kingdoms, the Independent Keltic Tribes and the Independent Greek City-States factions from XC4 have been removed. The Kingdom of Saba was also removed as it was very isolated and there were better options. These 4 factions have been replaced by Epirus, the Massylii, Gandhara and a faction never seen before in RTW modding, Tukhara.

The Kingdom of Epirus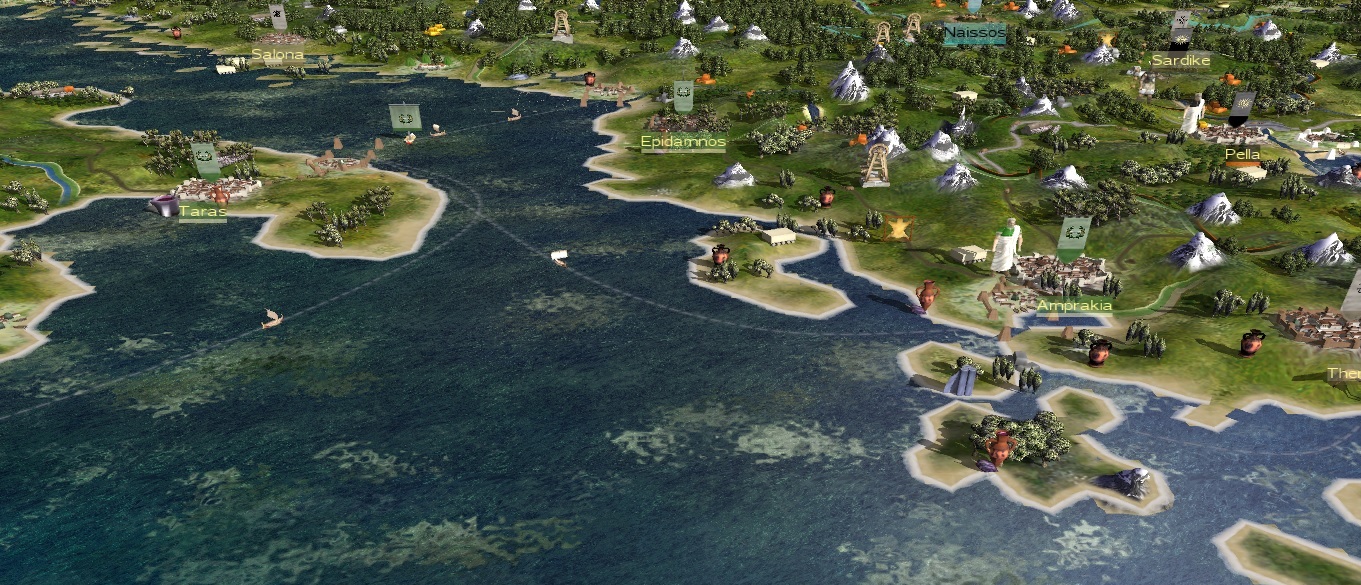 Description: Living at the frontier of the classical Greek world, Epirotes are often considered closer to barbarians than true hellenes as their traditions were quite different than those of their southern neighbours. Hardened by constant fighting against their barbarian neighbours and guided by the wisdom of Zeus through his oracle at Dodona, Epirotes are a people used to heroics. Guided by the myth of Achilles, their kingdom gave birth to Megas Alexandro's mother Olympia and more recently to his relative Pyrrhos, a general of great skill and even great hunger for adventures. Having come to the aid of the Polis of Tarentum, his battles against the rising power of Rome are already legendary and his exploits in Sicily struck terror in the hearts of Carthage.

Unfortunately his tactical brilliance has not being matched by good strategic acumen and now Pyrrhos has to face a resurgent Rome with a greatly depleted army while his subjects in Megale Hellas are now restless after years of war and deprivations. The last chance for building a great western hellenic empire lays now at Beneventum, where only a true feat of Alexandrian skill can turn the tide. The line between being remembered as a great king or a reckless adventurer has been drawn, now is the time to push into greatness or fade away...

The Massylii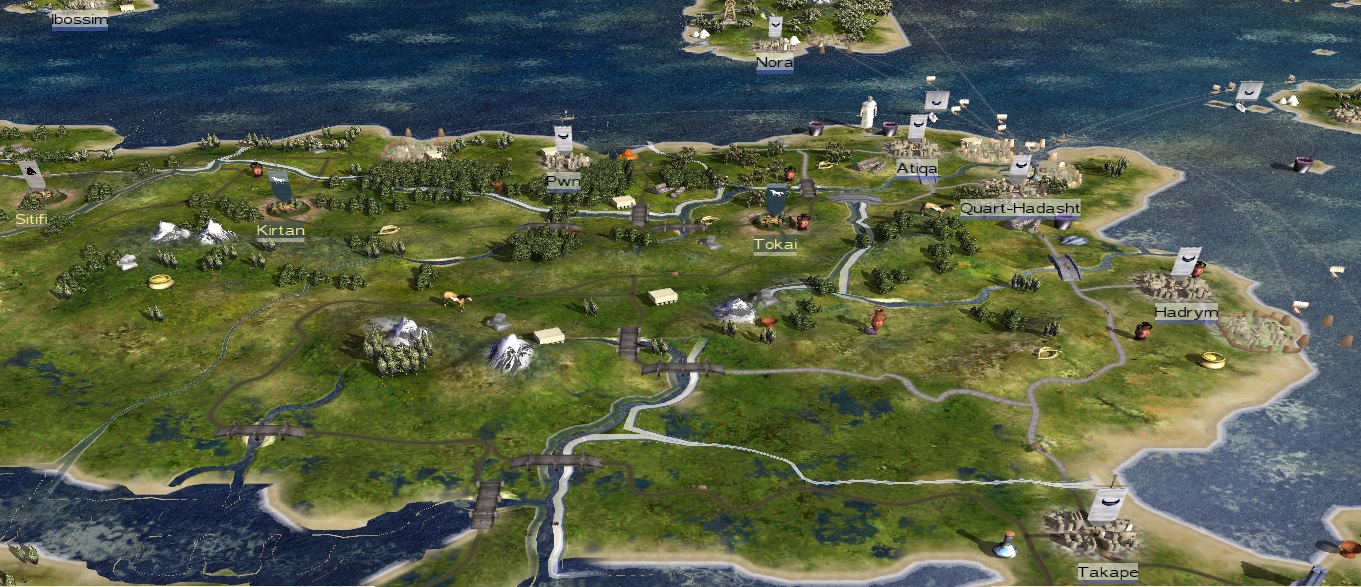 Description: The Massylii were a Berber federation of tribes of eastern Numidia which was formed by an amalgamation of smaller tribes during the 4th century BCE. One of the earliest natives to trade with the settlers of Carthage, they saw their relationship blossom with time as the Punic power grew stronger and stronger. Its fabled light cavalry was one of the most sought after mercenary units in the west mediterranean, able to turn the tide of battle and bring despair as guerrilla raiders.

Now the tribes faces greater challenges. To the west the Masaesyli remain a great match and rival for the plains of Numidia, while to the north Carthage grows steadily into becoming a powerful empire. Luckily, their attention is now diverted north, where the memory of Pyrrhus is still fresh and the rising power of Rome is becoming ambitious. The Greeks in the east seems worried into their endless internecine struggles, but should one power rise above the others conflagration is sure to follow.

The time for small tribal Kingdoms is ending, but destiny is not set in stone. Carthage while strong is not without divisions and alliances to the north could be made. The west is still open although conquest there will be costly indeed and to the south more independent tribes could be brought to the fore. The road from a meager tribe to a respected power is hard and perilous, a strong and devious leader could make the difference but the risk of becoming a vassal will remain great indeed...

The Satrapy of Gandhara

Note that the Indus is a navigable river, allowing fast transport throughout India for those who decide to invest into a navy...
Also, in the spirit of friendly competition, let me point out that XC5 will have more regions in India than even Europa Barbarorum 2...



Description: The Gandharans are a proud people, used to be at crossroads of great empires. The name Gandhara is of Sanskrit origin, people were settled since the Vedic times on the banks of Kabul River down to its confluence with the Indus. Gandhara was located on the Uttarapatha and was a centre of international commercial activities. It was an important channel of communication with ancient Iran, India and Central Asia. The boundaries of Gandhara varied throughout history. Sometimes the Peshawar valley and Taxila were collectively referred to as Gandhara and sometimes the Swat valley was also included. The heart of Gandhara, however, was always the Peshawar valley.

Chandragupta, the founder of Mauryan dynasty is said to have lived in Taxila when Alexander captured this city. According to tradition, he trained under Kautilya, who remained his chief adviser throughout his career. Supposedly using Gandhara and Vahika as his base, Chandragupta led a rebellion against the Magadha Empire and ascended the throne at Pataliputra in 321 BC. Gandhara was acquired from the Greeks by Chandragupta Maurya After a battle with Seleucus Nicator. With the completion of the Empire's Grand Trunk Road, the region prospered as a center of trade, until the end of Bindusara's reign. Bindusara's death in 273 BCE led to a war over succession. According to Divyavandana, Bindusara wanted his son Sushim to succeed him but Ashoka was supported by his father's ministers.

In the midst of the rising chaos and being cut off from the heartland of the Mauryan empire, Sushim is now in a difficult position at the helm of unruly people, but wherever crisis arrives, hidden opportunities may appear. Perhaps now is the time to look elsewhere for greatness. To the east there will surely be a looming invasion, but rising turmoil in the west among the Yavanas might weaken then again. The north is a barren land but also home to hardy soldiers difficult to rule but of great value in battle. Gandharans and Kambojans themselves are fine soldiers who can draw from nearby military traditions and being a crossroad means that mercenaries are always looking for opportunities nearby. An ambitious and capable leader might become a new Chandragupta or vanish into the sands of history, only time will tell...

Confederation of Tukhara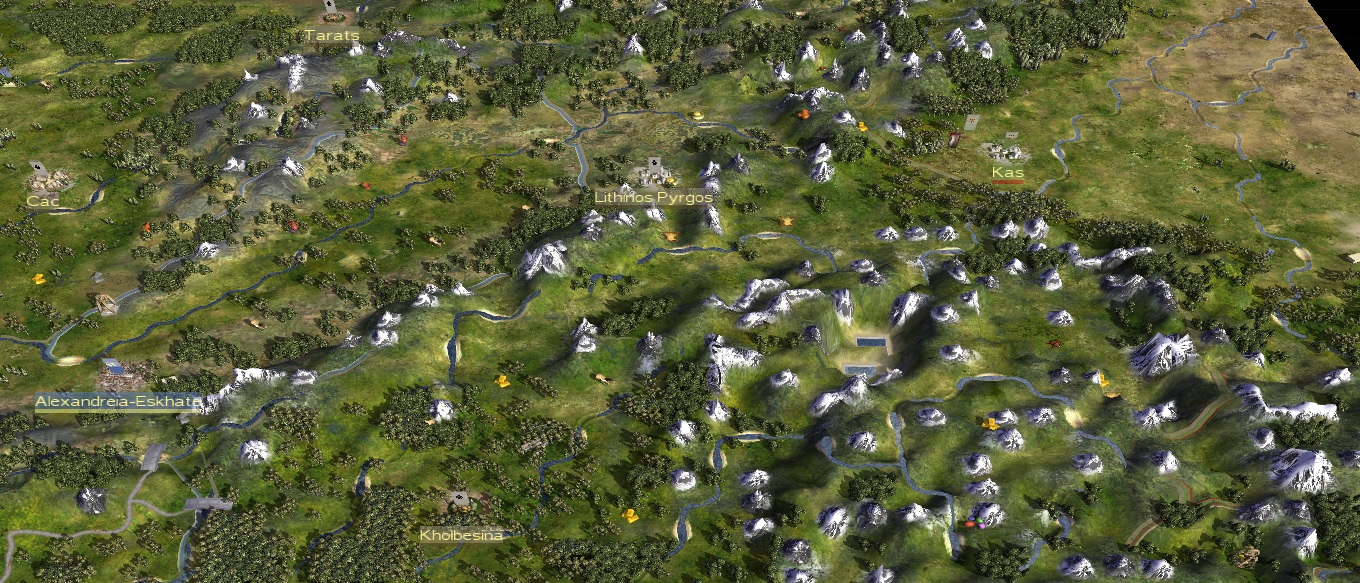 Description: The Tukharan, or called by people of the Fareast as people of the Moon clan (Yuezhi) were confederation of nomadic people who control trade between China and western regions. They were major suppliers of horses and jade from Tarim basin to China and silk from China to area west beyond heavenly mountains of Imaus (Tianshan-Pamir-Himalaya mountains complex). Status of Tukhara in their world was stable but present loom with uncertainty. Warring State period of China is near its conclusion, geopolitics would change, would this be threat or opportunity? There is also rising competitor confederation in the east that much stronger and more warlike than Tukhara that block their way in the East as well. Would land beyond heavenly mountains be our people's future?


* * * * * * * * * * * * * * * * * * * * * * * * * * * * * *

Next week we will be showcasing the rosters of these new factions.