Dain in Edain 4.5

Greetings, companions of Edain,
As work on the 4.5 patch progresses steadily, we want to share some more of the upcoming changes with you. In addition to spells and siege updates, we hope you are excited to hear that you will also be able to command overhauled leaders of the dwarves: we are talking about Dáin, who got a new concept for both his Erebor and Iron Hills version.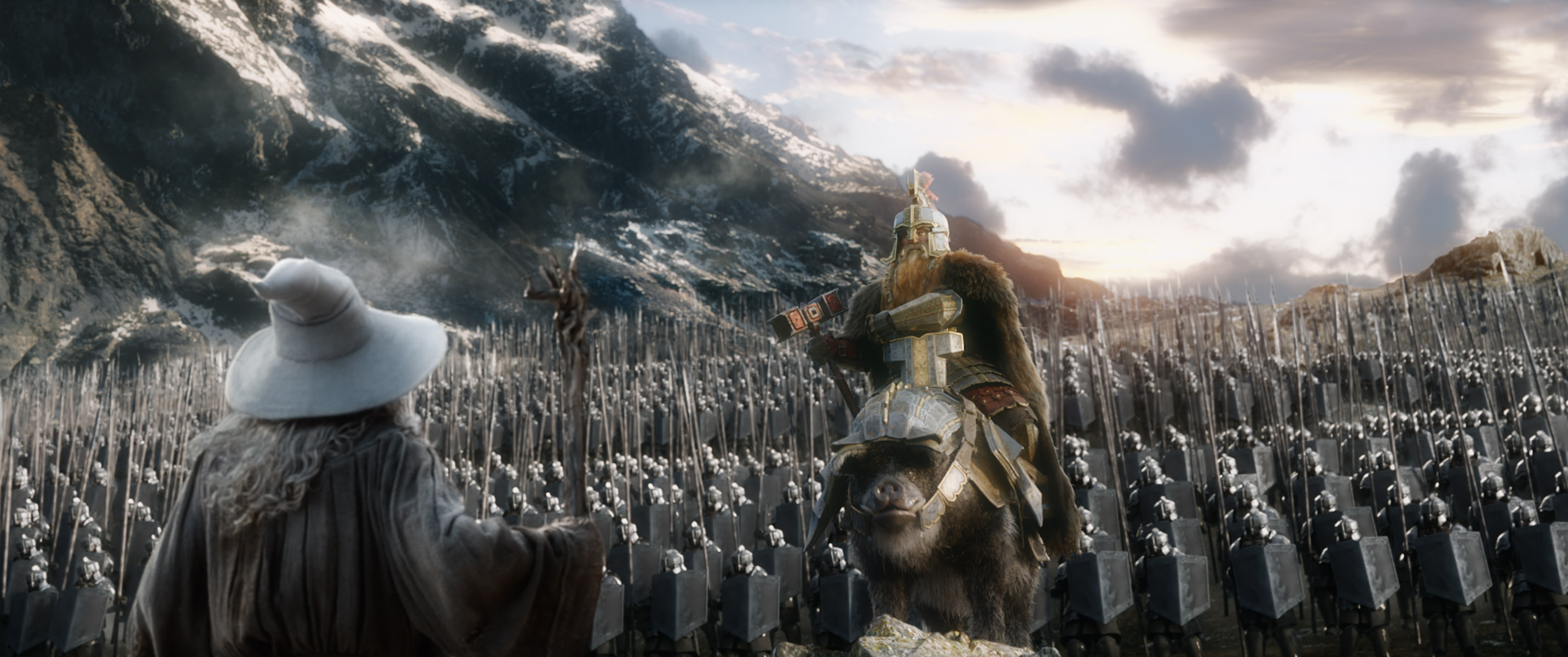 Dáin Ironfoot
His previous role as a defensive leader didn't really suit the young, hot-headed commander of the Hobbit films. Moreover, in terms of gameplay, the community has voiced a desire to change his role several times, so that Dáin adds more to the Iron Hills than just even more armor. For these reasons we decided to turn him into a mass-slayer, making his indomitable character and his lust for battle the centre of his concept. However, he should nonetheless represent the identity of the Iron Hills: as a heavily armoured faction, the realm's forces excel in long and draining battles. Dáin underlines this in the 4.5 version in two aspects: first and foremost, the longer the battle rages, the more powerful he becomes; on the other hand, he also contributes to keep the battle going on by making it harder for the enemy to escape.
Level 1 - Rising Rage: Dáin's rage increases with every attack against enemy units or heroes. After five attacks, he deals damage in an area and gains +30% armour. After 10 attacks, his strikes throw enemies to the ground and he can't be knocked down himself. Rage wears off after 20 seconds.
As a Dwarf, Dáin does not possess the magical prowess of the Istari, but he can certainly do something else all the better: hit hard. The longer he fights, the more bonuses he gets. Befitting the defensive focus of the Iron Hills, he requires some time to unleash his full combat potential. Yet, once he has fought his way into a bloody frenzy, only few foes will be left standing. This flaming rage not only makes him more effective in pure melee combat, but it also affects his other abilities, which also receive additional bonuses when Dáin reaches his maximum wrath.
Level 3 - Rupturing Strike: Dáin attacks the target enemy with such strength that he cracks open the ground around him, knocking all nearby enemies off their feet. It leaves behind a shattered area, slowing enemies by 30%. Slow doubles with full rage.
Like all Dwarves, Dáin has the disadvantage that he's not very fast on foot due to his short legs. This ability allows him to make up for this for a brief amount of time. It is useful both offensively and defensively: Rupturing strike can make it harder for enemies to flee or cover Dain's own retreat.
Level 6 - Dáin's Boar: Requires full rage. Dáin briefly mounts his boar. Not as fast as other steeds, but deals increased trample damage. It doesn't slow down when trampling enemies on shattered soil.
What would Dáin be without his boar? Unlike other mounts that are mainly used for transportation and quick movements, we decided to give Dáin a more interesting alternative. If he fought long enough to reach the top of his rage, he can summon his boar for a while and target enemy archers or swordsmen. In case he used Devastating Blow beforehand, he becomes an unstoppable death machine.
Level 10 - Host of the Iron Hills: Dáin temporarily summons several battalions of Iron Breakers to his side, depending on his rage. On his boar, he summons Ram Riders instead.
Level 10 retains still the iconic summon, albeit with a few minor variations. On one side, the number of summoned troops changes depending on how angry Dáin is; on the other side, he summons Ram Riders on his boar, instead of infantrymen. It's therefore exactly the ability you need in a close battle, which can easily be decided by summoning several elite units.
In conclusion, Dáin Ironfoot brings several important benefits to his faction which renounces offensive potential for its resilience. He can deal more and more damage the longer the battle rages on and force adversaries to face his indomitable Dwarven infantry rather than retreating to safety. He himself also embodies the aforementioned theme more clearly: not intimidating at first, but bloody tough - and barely stoppable after things got started.
King Dáin
With the Kingdom Under the Mountain, we have Dáin at an older age, and we wished to represent a pivotal development in his character, while holding firm to a few key elements. The old Dáin is no longer such a brutal fighter himself, but he has gained more experience as a commander and authoritative ruler. For that reason, his role changes from mass slayer to a supportive leader. However, he is still an easily irritable Dwarf whose fury is terribly dreaded by his enemies. According to the strategy of Erebor, these traits now express themselves differently: unlike the Iron Hills, this Dwarf-nation deals as much damage as possible and aims to force its foes to their knees quickly rather than exhausting them over the course of a long confrontation. Accordingly, we tried to give Dáin a proper skill set.
Level 1 - Burst of Rage: When attacking an enemy unit or hero, Dáin grants +100% damage to nearby allied units and makes them fearless for 15 seconds. Can only be triggered once every 90 seconds.
The duration of the buff that Dáin grants his warriors was reduced to just 15 seconds in Edain 4.5. To balance things out, it is now twice as strong! The Dwarves of Erebor may do even more damage in a short time right from the very moment battle is joined. Whenever Dain's outburst is triggered, he speaks louder and cries either ''Baruk Khazâd!'' or ''Khazâd ai-mênu!''
Level 3 - Charge Command: Dáin places a temporary banner next to the targeted enemy unit. The closer allied units and heroes get to the banner, the faster they move.
Similarly to the young Dáin Ironfoot, the king still commands an ability that can compensate for his Dwarven slowness. While Rupturing Strike primarily allows you to keep the enemies entangled in a fight, Charge Command is meant to force your opponent into a fight in the first place. By marking a target, allies are able to effortlessly close the gap between them and their enemies in just a few seconds.
Level 6 - Dáin's Boar: As long as Burst of Rage is active, Dáin can temporarily mount his boar. While mounted, he triggers a new Burst of Rage with every attack against enemy units or heroes without needing to recharge.
As already mentioned, we did not want to design the boar as a mere means of transportation, but rather to give it an active role. On the back of his boar, King Dáin can briefly renew the boost of his outburst and even spread it over broad areas, riding from one spot on the frontline to another. Nevertheless, the leadership is not eternal, so you should get the most out of the limited time. The prerequisite is again that Dáin is currently enraged.
Level 10 - Battle-wagons of the King: Dáin summons five upgraded battle-wagons to the target area. One for every Dwarven realm, and one with banner and beer barrel respectively.
King Dáin stays true to the spirit of all united Dwarven kingdoms by momentarily summoning five chariots, even from the other two kingdoms of the Iron Hills and the Blue Mountains. Even though they do not stay for long, they can cause massive damage within very short time. Opponents who are not prepared and have recruited too few or no spearmen at all can risk to be caught by sudden surprise. And, of course, a mobile well and additional chariot leadership are useful in all cases.
Alas, battle-wagons are still under development, so we can't tell you what the special upgrades of each kingdom will do yet. But we'll gladly give you a little taste of the future anyway: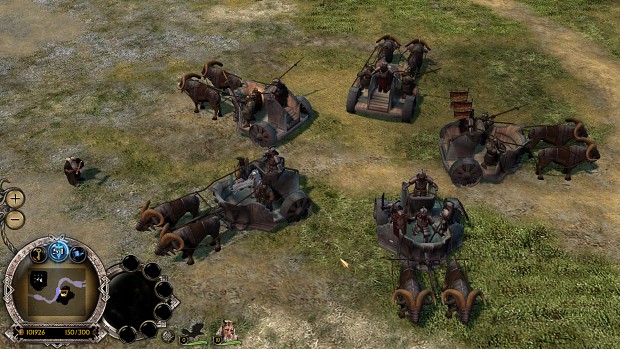 We're still working on his Ring forms as well. If you have interesting ideas to propose, do not hesitate to let us know!
We hope you'll enjoy the update and give your precious feedback on the matter!
Your Edain Team