Hello dear Space Marines!
I'm very sad to acknowledge that we totally missed the scheduled release date for Doom Infinite. Heck, you might have noticed that much. Let me skip to the meat of this post: if you've been eyeing our mod for some time and we disappointed / angered you by not releasing it when we thought we would: we're sorry. If you're still reading this and share some of the initial interest in this project, even if we failed to deliver in time: thank you!
Before I dive into explaining what happened and what's going on with Infinite, let me just clarify one thing. I (difficultoldstuff) love working with people, but no team is perfect. Sometimes somebody has a party with a hangover that lasts months. Sometimes somebody has a baby. Or a depression. The point I'm trying to make is that "we", as stated in this and past posts on the matter, are a very lose group of friends, each contributing something precious and fun. But sometimes it's so damn hard to work as a team, to even make one. In a bit of explanation fever I wanted to say that the "team" behind this project is mostly one person. That'd be me. From concept, to art to coding and meticulously testing what I managed to learn, to pushing the project and pulling release dates out of my... teleport sector.
I'm not trying to put myself in the center of attention - far from it - it's really important for me to boldly thank anybody who ever contributed or expressed any kind of reinforcement or criticism. Without people interested in Doom Infinite there probably wouldn't be anything that we currently achieved.
This project is really precious for me personally as a Doom kid, scratching the scar on my leg on E1M8 later to discover my bloody hand after finishing the map and freaking out. For me there's no better game to enjoy and lose myself in. Being a huge fan for such a long time finally inspired me to make one and only mod / wad in my life: this one.
Not being certain of how fun is it to others, trying to perfect the mechanism, balance things out, learn how to tame ACS or ZScript, how to even pack WADs together... It took time. Doom Infinite was in development for about 8 months now. 8 months without any financial support, evening after evening. Sometimes mornings. And afternoons as well.
During this time a lot have happened. I don't want to go into details here, because what good would it really be? You probably know the drill - it's another story of money, car crashes, strip clubs and overdue mental breakdowns. Life.
Nonetheless, the work that has been done will not go to waste! No code was lost, no assets were destroyed, there is no greedy developer, no lootbox drama. Damn, but there kinda are lootboxes... The project is moving along and is very close to being finalized. Right now I'm playing with an idea of an "early access" / demo version being uploaded (once some of the most jarring kinks will be polished). Considering the workflow on this project that might be beneficial if anybody wants to spend time on giving some feedback. More news about the demo soon, I promise! (was about to upload it today, but the fear of it being half-baked is constantly drawing me back)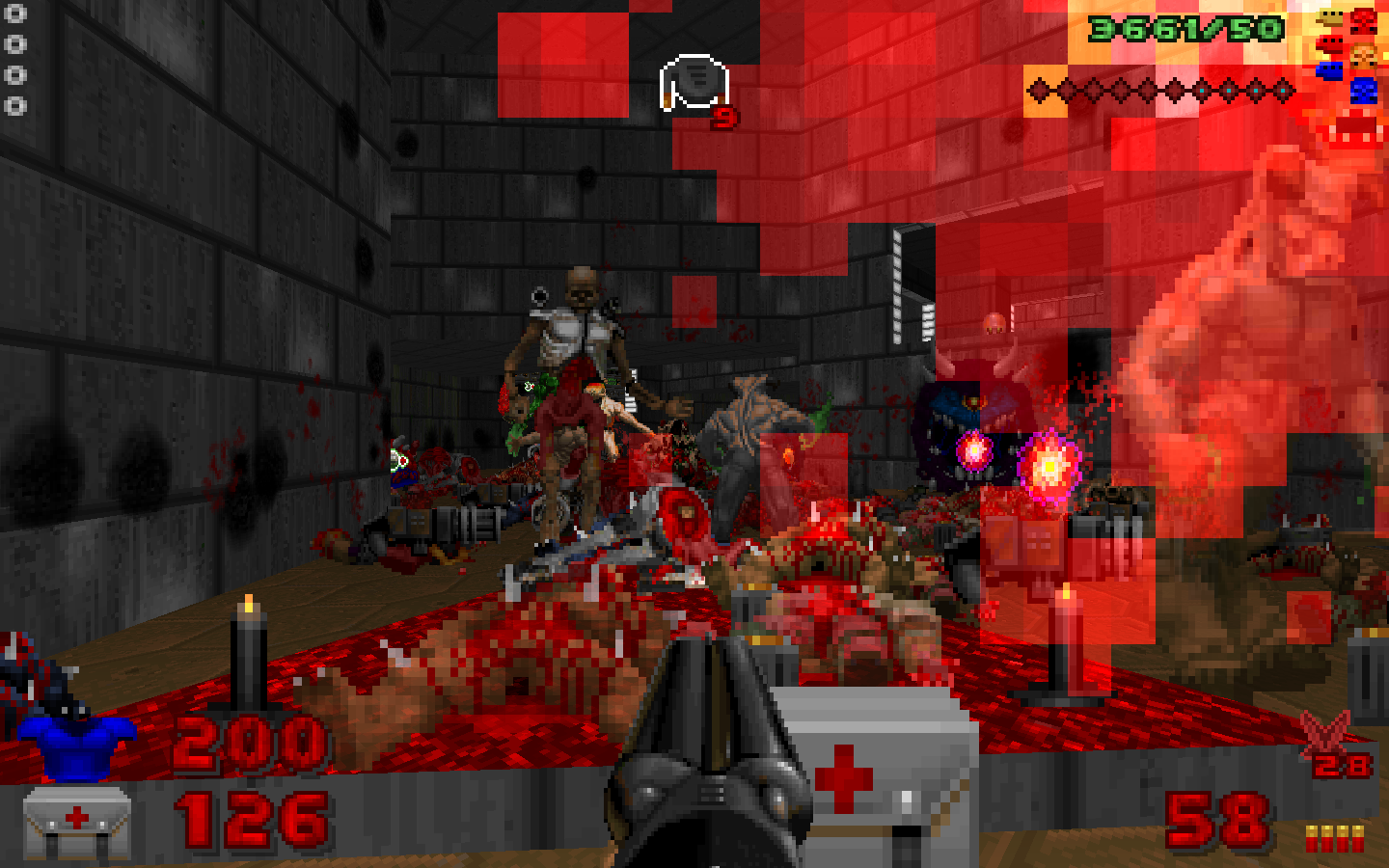 Anyway it's time some hard facts! Doom Infinite:
is a rouglike (random powerups, "permadeath", monsters & items spawning around, etc.)
is a hardcore mod /wad in which you will die a lot and be happy about ituses GZDoom 4.2 (might work with older versions but no GZDoom 3) (once I made it work on a Vive!)
features 50+ permanent, stacking and interacting powerup items (some of them you can use on command) (more coming!)
pits you against ever-growing waves of hellspawn, dependent on your current level
will feature a bonus "endgame" set of semi-randomized levels (aka mini-wad, 35% done)
will feature the Infinite Arena mode, in which you focus only on killing stuff and surviving
was planned to have coop mode, currently not developed
doesn't take cheese to kindly
is fun on streams
has monsters that can spawn with randomized traits (depending on your level): regenerating, fast, stealth, reflective...
Again, I apologize for broken promises. Maybe giving myself a deadline wasn't that smart to begin with. Creating this mod is a constant adventure, but hopefully one with a happy end. Thank you for your time and support! More updates soon!