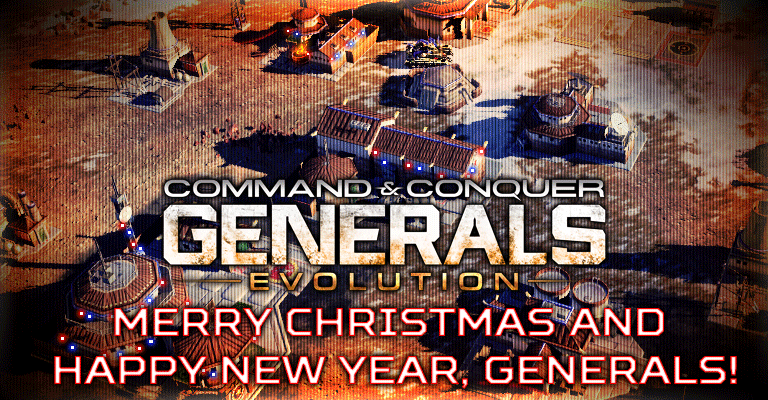 C&C : Generals Evolution : New Year Celebration And "Crysis On The Coast" - RC1 Map-Mod Release!



Hey guys, it's me again, a guy who uses same preset for every news! ( including this sentence ), even in 2016! It's me Gunship Mark II, I would like to wish you Happy Holidays and a Happy New Year!
If you think that sentence above was bullshit - i won't blame you, but instead i will offer you something awesome that we prepared for you - Crysis On The Coast - RC1 Map-Mod
Crysis On The Coast is a combination of a map and mod. A Map-Mod, yeeahh... So, let me explain then. Yes, this is not RC2, it's still in development and needs more time to be released. To not feel guilty Sgor00 decided to make a map for RC1, so you may enjoy it while waiting for RC2 to be released. I really liked his idea and his map and I decided to add a little something from myself, which includes a lot of visual and audio enhancements similar to RC2 quality. We both hope you will enjoy this small New Year's gift from us. We both tried out best, we both put a lot of work into this and we hope you will like what we did.

Sgor00 has put a lot a ton of effort and heart into this project, so he wrote a story for this map, which will be the lore for all GenEvoRC2 missions. Here's it :
Two years after the Zero Hour campaign. Global Liberation Army had fragmented and China were dominating the whole continent. US forces went back home to healing their wounds. A Few days ago we found high activity near one of our naval bases on the Saudi Arabian coast near Tiran Island. The GLA are capturing this area and harassing us! They are trying to takeover our base! General, you must protect the base at all costs! This is the last supply route leading to our forces with in the sector! Good Luck General, we are counting on you.
You need to launch this map-mod from RC1 version of the mod, this is not the standalone release.
I made a small trailer for it, check it out if you want
As for RC2, well, it's still in development, and still needs more time to be ready for a release. Things are going great with it, so don't worry much about it.
As for me, well, i won't gonna lie, life's being pretty tough, for both myself and my family, hell, for whole country. Apparently this happens when your country is ran by clowns and pseudo-patriotic garbage. I still have no job, or source of income, I've been freelancing a lot this year to help myself and my family. But, i haven't been able to do it without support of some people which offered material support through private messages, their donations helped me and my family to live through this year, and i will never forget their kindness, if not their help - RC2 would be made by someone else or even cancelled. You're true heroes and you will always take place in my heart.
That's pretty much it. If you want to support our work for it to be more future proof, then I'll leave a Patreon button bellow. Thanks again, Happy New Year everyone!