Hey there,
I'm not too sure how many people really remember what happened two years ago but yes, it was the day CWC saw the light of day.
Back on 03/08/2004 all this started. Little experience, little server, little forums. Now we can say that what was started as a "will-be-done-in-6-months-project" has grown to a fullscale TC for ZH. We're happy with what we've achieved so far and we hope that what you saw was enjoyable as well.
Our counter says this website had 443832 total hits, thanks for that and be sure to check back as often as possible.
Now enough of that babble and back to business. It's the Russian high-production tank and, I might add, a cruel fellow on the battlefield: the mighty T-72. Besides that, the Russians now have their full arsenal ready for a good fight, their unitlist is done...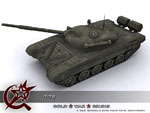 So long, enjoy your stay, and into another two years!
The CWC-Team