Hey there,
today we have a major update for you. We're proud to present the M109 "Paladin" artillery as well as ingame shots of the M2A1 "Bradley".
Here's the mighty Paladin:
And here comes the Bradley:
Seems that both Abrams and Bradley got pretty beat up there... brutal Russians!
There's also a little preview of Cold War Crisis in the well-known german magazine "GameStar":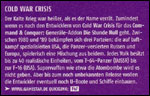 Translation can be found inside this news thread.
By the way, we're still looking for voice actors,
come on in and join the US Army then.
Greetings,
the CWC-Team