Hey Crazy Mod fans,
Today we have four new renders for you to see. Two for the USA, and two for the GLA. It's a double double unit update!
The first unit is the USA Pancake Crusader: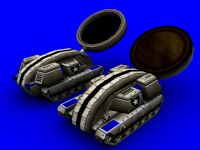 The USA Pancake Crusader is the melee version of the Crusader tank, featuring a massive Frying Pan which can be used to flatten light vehicles and tanks. It can also attack Overlords, Super Units, and Structures, but it cannot crush them in a single hit. Infantry of course are completely annihilated by this weapon. Available from the Melee Commandset in the USA War Factory.
Next up is the USA Fan Truck: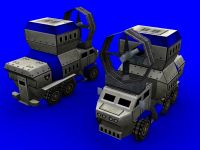 The USA Fan Truck is another melee unit, but does not attack using conventional weaponry. Instead, it relies on its supercharged hovercraft fan to blow enemy tanks sky-high. However, due to the nature of the weapon, the Fan Truck can never level up, can never kill anything directly, and is useless against Infantry and Structures. However, seeing an Emperor tank fly across the map makes it completely worth it. Available via the special USA War Factory Melee Commandset.
Now we have a couple GLA units. First up is the Monster Technical: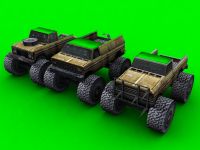 The Monster Technical is the Demolitions General's technical replacement, with added armor and the ability to crush vehicles. However, it has a slower speed and added cost to compensate.
The second GLA unit is the Scud Launcher Launcher: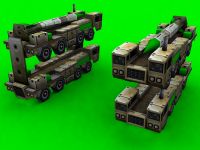 The Scud Launcher Launcher is an upgrade for the Scud Launcher, allowing it to launch another Scud Launcher into the target. Fired Scud Launchers do +25% damage and can launch Scud Missiles at targets within their range. This upgrade is built per unit as opposed to a global upgrade.
There's plenty more to see in the renders section, so feel free to take a look there as well.
-Jordan