Today's post will be a bit different than you'd normally expect, since I'll be posting some not-polished WIP shots and talk you through on some of the progress surrounding the transmitter dome.
Status and progress
So, I have not posted an update in 6 months. I've said before that I'll be building this MOD in Valve Time, but, luckely. I don't have to adhere to their PR-policy, so I can just tell you straight on what's happening for the development of Uplink: Redux.
In January this year I was working on the MOD but I wasn't progressing much. It seemed I hit a 'Mappers Block' (pretty much like a writers block, but then.. yeah, you get it). I had a sense of where the design was going but I couldn't really get anything done. The stuff I made didn't really work out and I couldn't figure out some issues I had (and still have) with modelling. Sometimes the creative juices arn't flowing and you can't picture what you want to create. At some point it became frustrating and so I needed a break.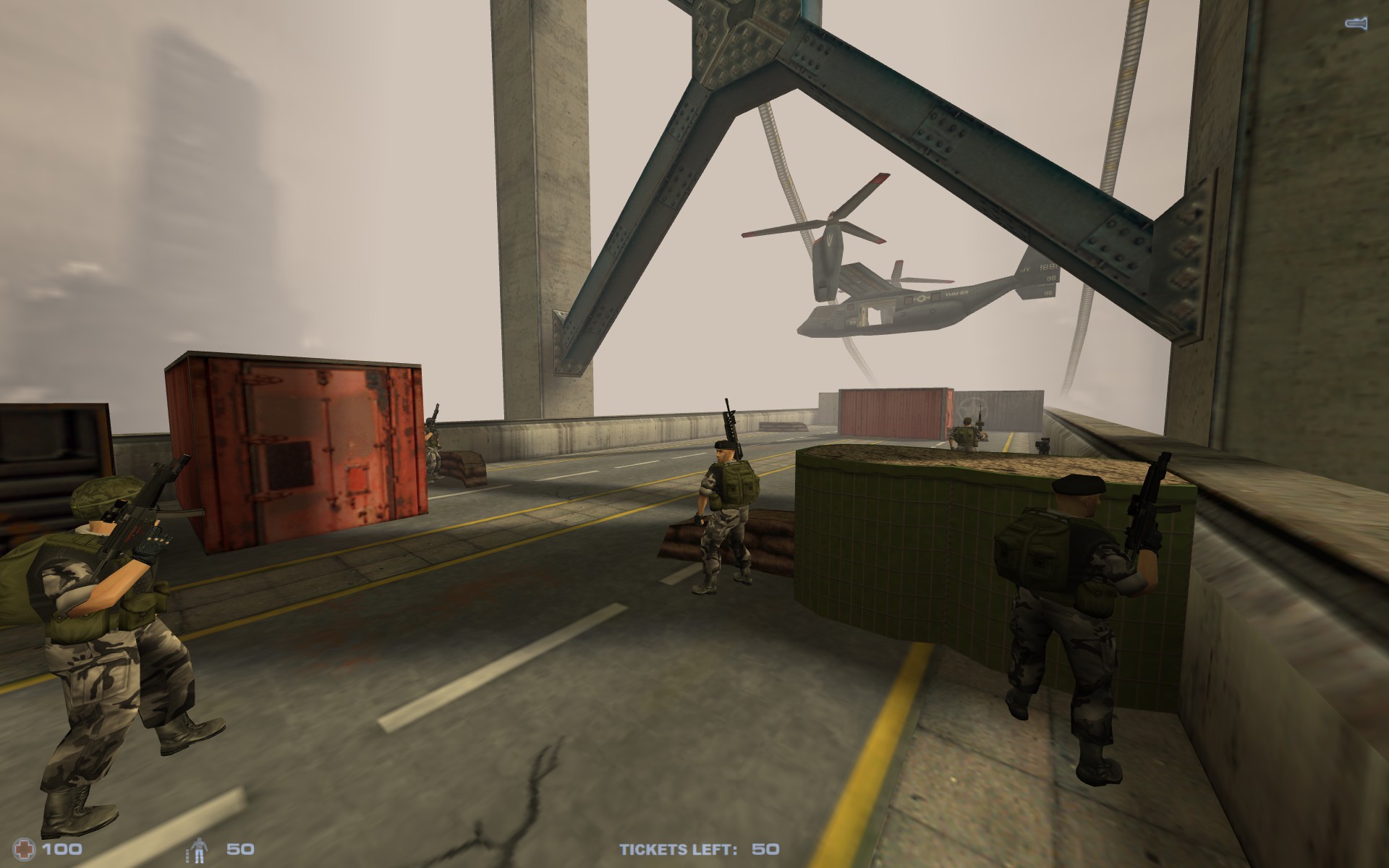 So after a while of not mapping I returned to my roots and developed a new map for Sven Co-op (for Half-Life 1). I recreated my very first released map (2001) into something I have always dreamed of making. If you're interested, I've got some more screenshots here. It'll be featured in the next release, so go install Sven Co-op on Steam (it's free!) if you don't have it yet! You can play Half-Life 1 in co-operative mode and it has hundreds of custom maps for you and your friends to enjoy!
Inside the Transmitter Dome
So, I'm slowly getting back to working on Uplink Redux but I still have some hurdles to overcome. Because the dome is a cylinder, the design can be tricky sometimes and I have to deal with this confined space that can be quite unforgiving. Also, I still need some more motivation, so maybe tossing these WIP shots at the community and sharing my design toughts might spark something. The following will contain some spoilers of what's to come, so read at your own discretion!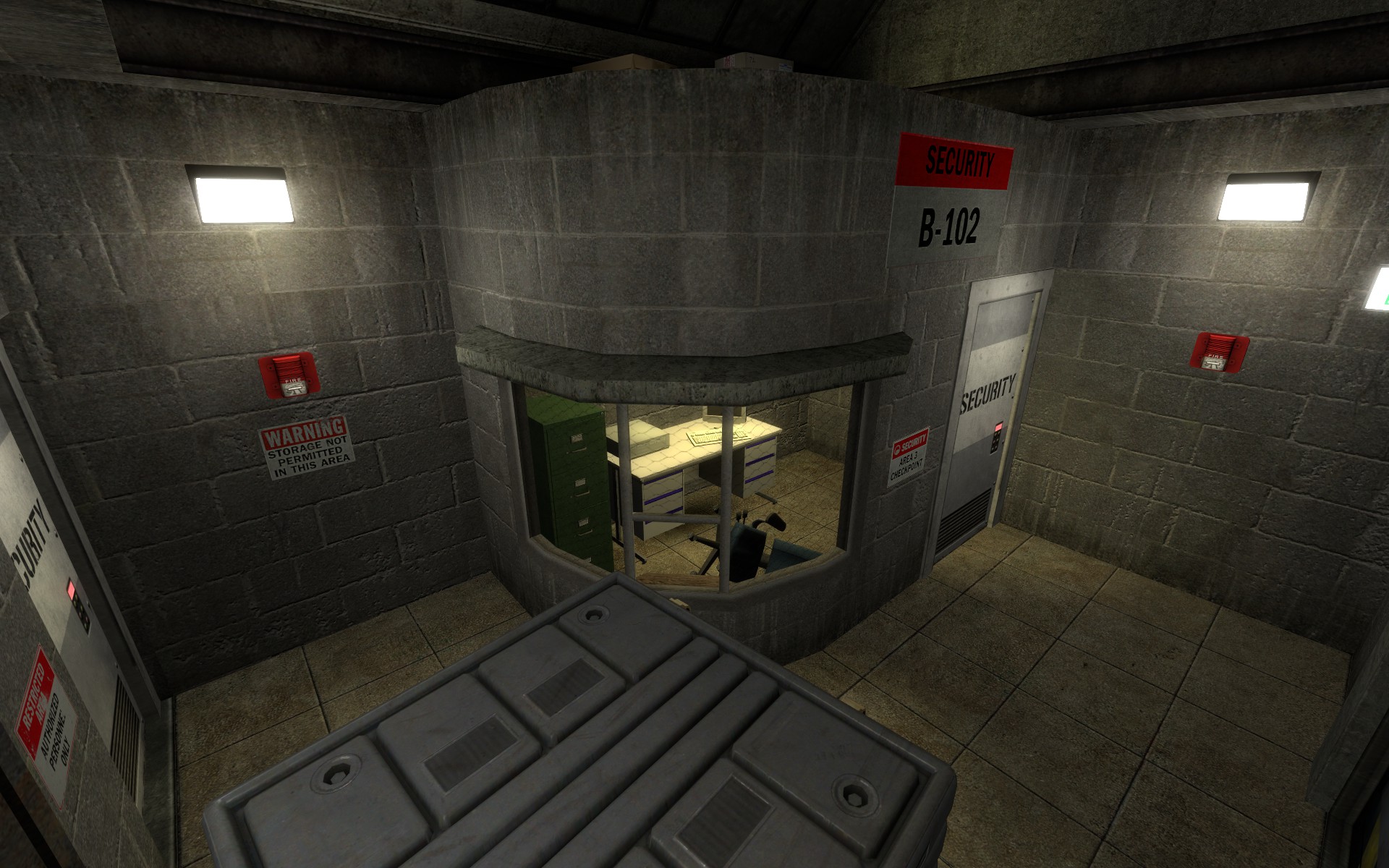 So, the objective is still the same as before: Get into the dome and tune the transmitter. However, I'm making the dome more puzzle-heavy than the original, starting right from the moment you enter. The facility is on a full lock-out and you need to find a way into the security booth to override it.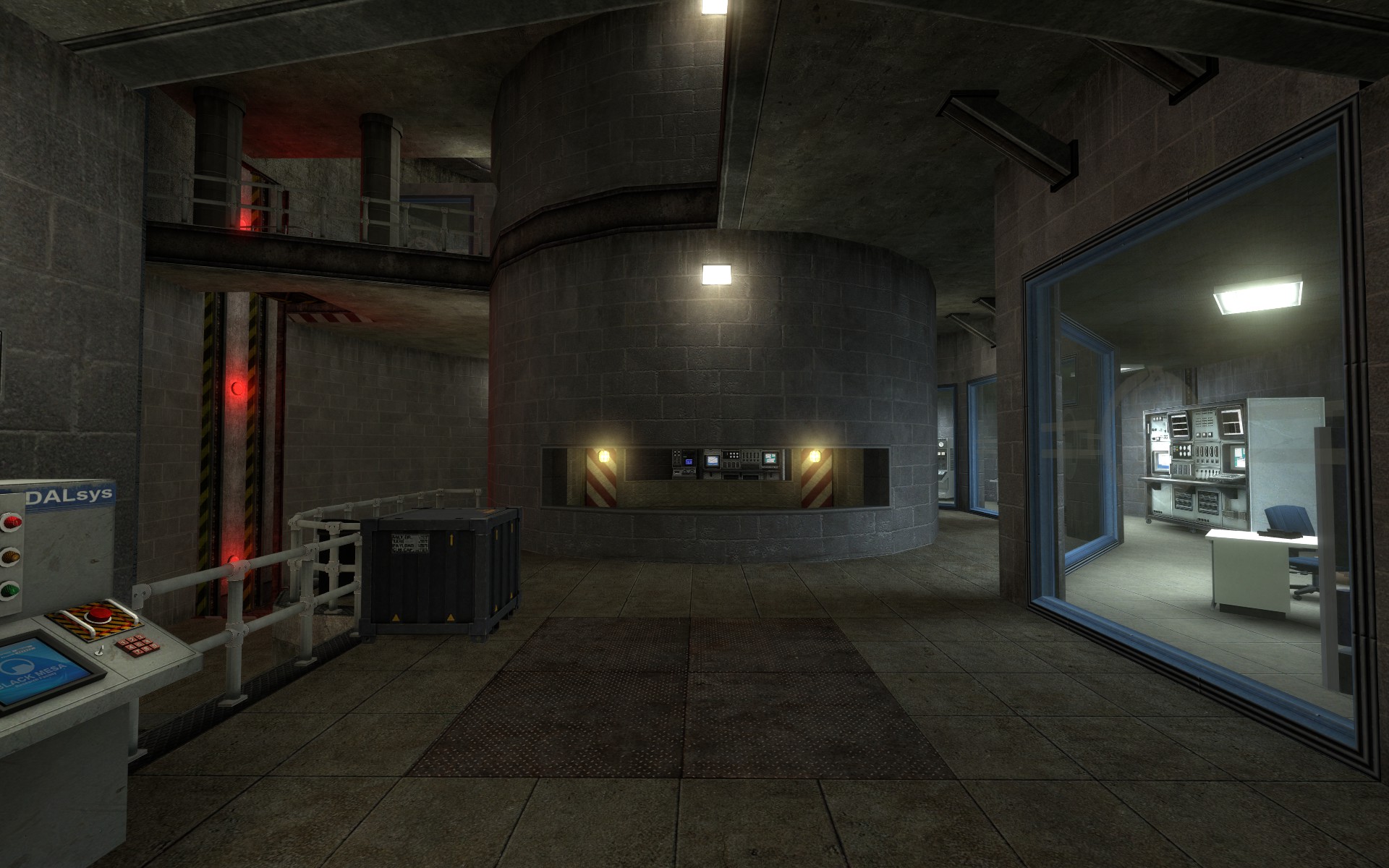 Once inside, the facility seems untouched, but it has been partly shut-down by fleeing BM employees. Freeman will need to fix the elevator leading to the upper levels. As you can see, the dome isn't the big open space anymore. That doesn't make for impressive screenshots, but it does open up new puzzle and combat possibilities. As you can see from the next screenshot, the dome consists out of different layers now.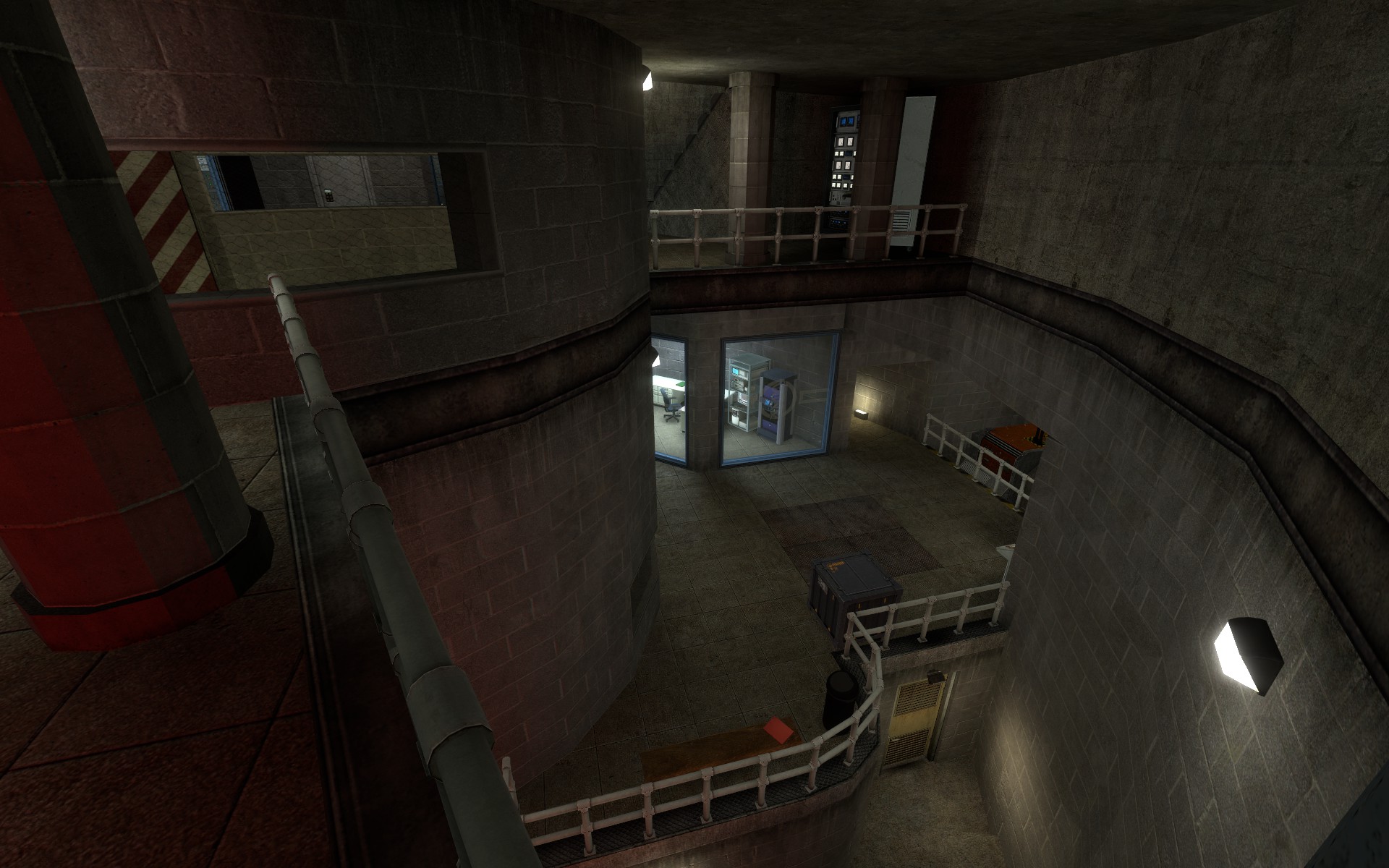 You might have noticed there are windows showing the inside of the inner cylinder, which is where the transmitter is, so whenever you progress, your final objective is always visible. As for the overall design: I wanted this version of the dome to be as much as a workspace as merely a housing for the transmitter, so that's why there are closed off office spaces. BM staff might have retrofitted the building years after it was initially built.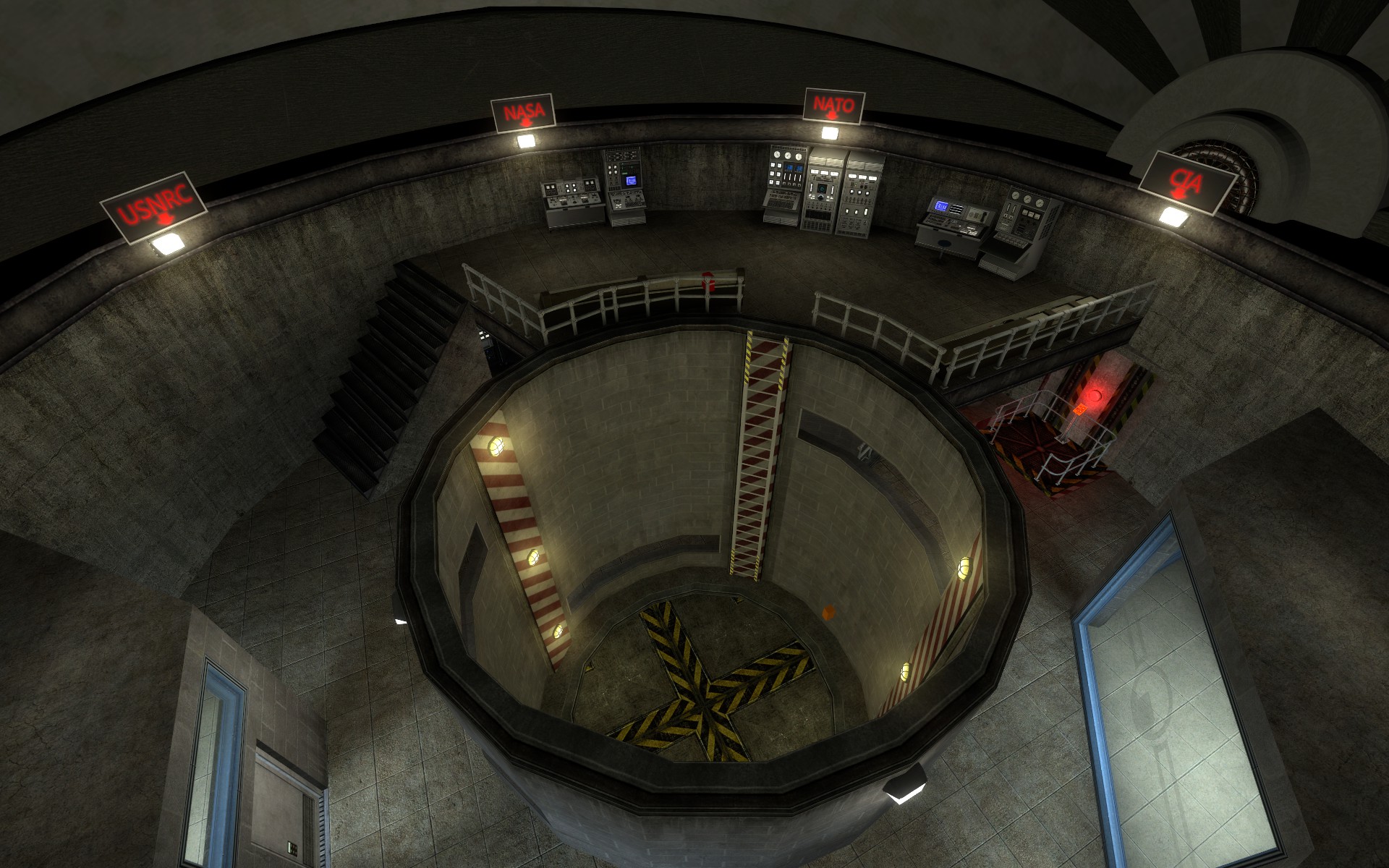 Once you reach the highest platform, you can try to call up the transmitter, but (of course) it gets stuck and you'll have to manualy bring it up by solving another puzzle. Once that problem is overcome, the signal is cast and the grunts start dropping in by Osprey. Grunts will also flood the lower levels, so the fight will be more intense than before. Freeman finally escapes to the sewers.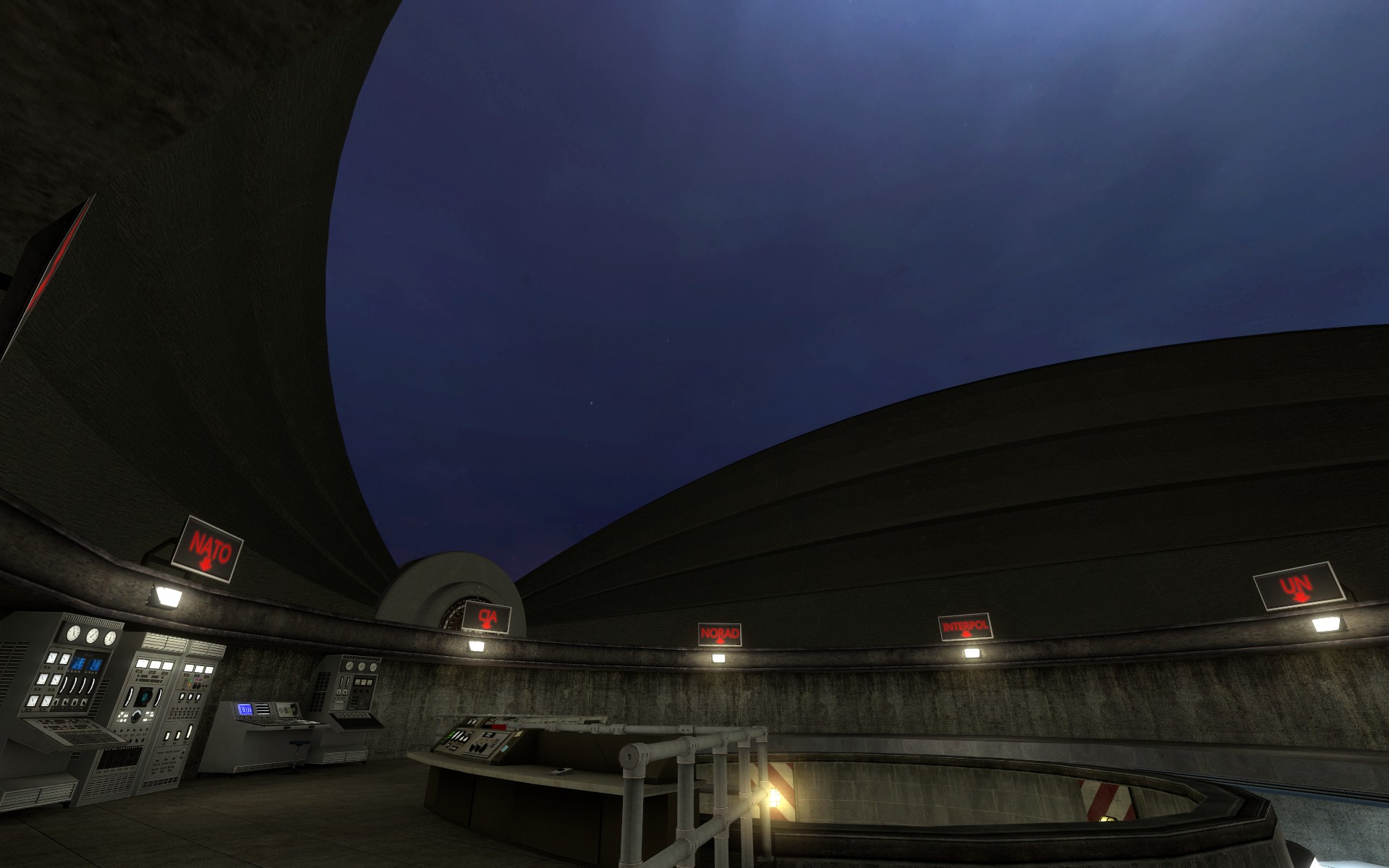 I think the coolest part of the map is the dome slowly opening up, revealing the night sky. Secondly, I'd like to have a transmitter that opens up and unfolds and then turns to the right angle. I've got the model ready but I'm really struggling with the animations. So, if you are good at Source modelling and you want to help out, please let me know!
So, what's left?
If I can find someone to help me with the model, that problem would be tackled. Then I would need to finish up certain gameplay elements and polish the areas some more. The area leading to the sewers is still in early stages. The scientist mentions there are high radiation levels coming from the dome, so I'll probably insert that somewhere in the dome's basement (one cool jumping puzzle coming up!).
Well, that's pretty much it for this update. I normally wait until I have polished screenshots to show off but if people like this approach, then let me know in the comments and I'll post more WIP stuff more often. Thanks for reading and following Uplink: Redux!