Hi everyone, this is Shekdog, the "editor" of the team. As Ravage is away busy refining the mod right now, I am here to bring you some latest news about the mod. Like Ravage mentioned in the last update, a newer version of the Mod is due to be released soon and it will contain vehicles and aircraft. As of today, I'll introduce you all to our newest toy - the XR311 attack vehicle.
Like many units in Alternate Warfare, the XR311 is an experimental weapon that never saw service in real life due to various reasons. Its development was first commenced as a private venture in 1969 with the first of two prototypes being completed in 1970. As a result of the trials of these 2 prototypes the US Army purchased 10 improved or second generation models in 1971. They were then tested by the 2nd Armored Division. In 1974 they were also tested in the 2nd Armored Reconnaissance Scout Vehicle competition. The XR311 has been designed to carry out a wide variety of roles including anti-tank, recce, convoy escort, command and control, medivac, military police, mortar carrier, internal security and forward air defense communications vehicle.
(Source: wikipedia
En.wikipedia.org)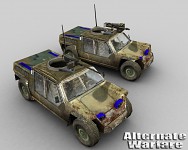 In-game it serves as a vehicle unit which can be acquired by the player early in the game. Like most light vehicles, it is small and fast, well-suited for hit-and-run tactics. It is armed with various weapons such as heavy machine guns and grenade launchers. The XR311 can deal heavy damage to infantry and light-armor units, however, beinglightly-armored and having low HP meaning that it is best to avoid direct confrontation with a large group of enemy (even if it's only infantry). As a scout, the XR311 can detect most of the stealthed enemies on the ground, including infantry units hidden inside civilian structures. When upgraded with a grenade launcher, it can launch high-explosive grenades to clear out garrisoned enemy infantry. The XR311 can also receive several upgrades later in the game to boost its combat capability, such as camo-nettings which hide the vehicle out of sight while it is immobile, and extra armor protection. If the player choose to upgrade the "Paradrop Vehicle" ability, he can quickly deploy several Veteran XR311s on the field via that ability, which gives he a huge advantage in terms of mobility.
Unit statistics:
Unit Type: Light Vehicle
Role: Scout, Anti-infantry
Speed: Fast
Cost: 600
Build Time: 6 seconds
Upgrades: Grenade Launcher (individual upgrade), Camo-Netting (at Maintenance Yard), Extra Armor (at Maintenance Yard)
Well, that's it for now folks! I leave you with some screenshots, if you want to see more, you'll just have to wait for the new demo :P
Pic of several deployed XR311s, some of which are already upgraded with grenade launchers, not sure if we'll add in other weapons like anti-tank missiles later on.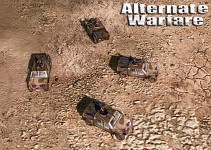 XR311 in action, flanking attack enemy base: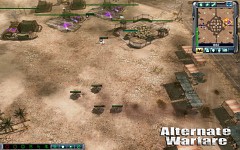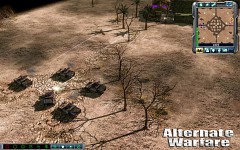 Download for demo of earlier version:
Altwar.cncguild.net