Not many mods gave the Britons a chance.. forums everywhere debated on what factions to replace them with. EB gave us the most accurate representation about 10 years ago, but no other mod tried. My own beloved RTR even scrapped them, and no vanilla mod did anything for them except maybe give them a few anachronistic units. That has all changed, in v4 of my mod, you will find the Britons to be exceptionally well done, all thanks to the wonderful and expert help of lanjane.
In vanilla, the Britons were a bit of a mysterious faction, until we all saw them destroying the Germans on every play through. They like the Gauls were a simple faction with chariots of death, in this mod much has changed.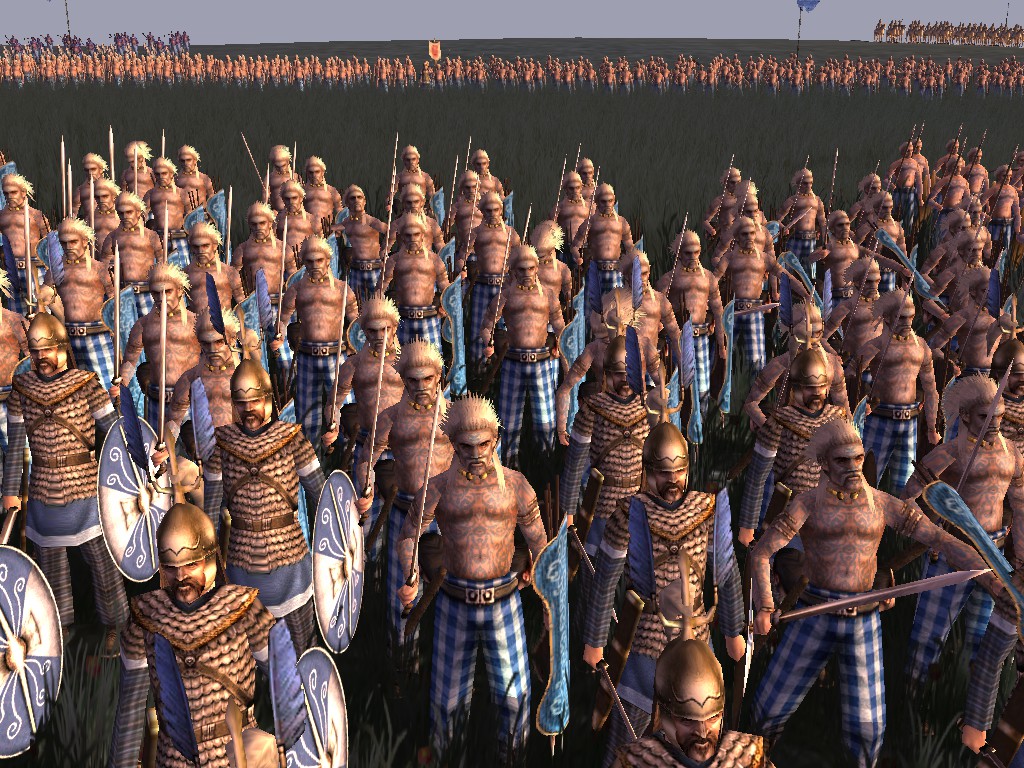 Britons ready for the Fray!
Here's the list of features in v4:
- Britannic roster completely overhauled
- Veggiemod by Robbe Aerts implemented (his work is amazing!)
- Higher Level Buildings available for Britons
- Grain Resource re-added as it's not a bug, take advantage of it in the 6 regions it is located in!
- Phalanx bugs fixed.. they are more cohesive and men don't slide backwards and glitch out
- Redid Fatigue.. All heat modifiers based on the vanilla -2 - 5 scale, and all units have either hardy or very_hardy. This is a better solution to turning fatigue completely off
- Mercenary Peltasts now have Peltast skin in mercenary color. Illyrian Mercenaries are back to the way they looked in vanilla.
- New Transparent bases under settlements.. No more white patches!
- New Strat Map Captains for each faction, thanks to crazyroman!
- Culture Specific Battering Rams, from tutorial made by Seasoned Alcoholic
- Towers rate of fire reduced, thanks to Robbe!
- Peasants in Settlement viewer don't have the faction colors anymore.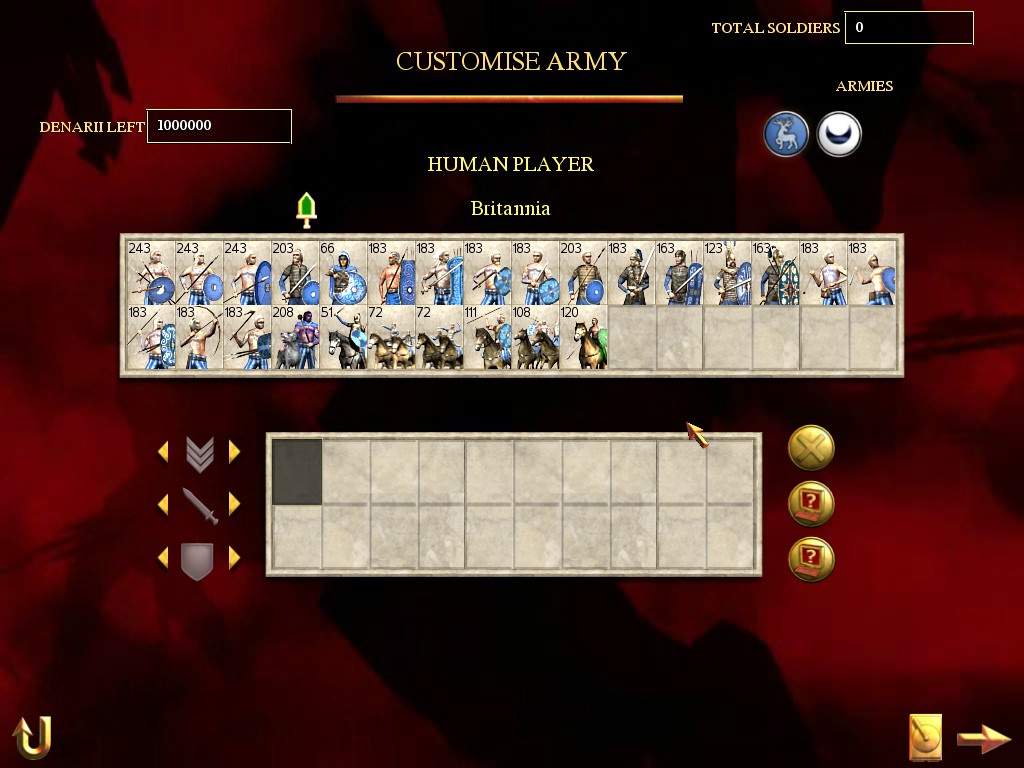 The Britannic Roster in detail:
GOVERNMENT
Tier 1 - Warband & Youths
Tier 2 - Levies
BARRACKS
Tier 1 - Spear Warband & Sword Warband
Tier 2 - Spearmen & Axemen
Tier 3 - Swordsmen and Fanatic Spearmen
Tier 4 - Chosen Spearmen & Chosen Swordsmen
Tier 5 - Champions & Sword Masters
RANGE
Tier 1 - Slingers
Tier 2 - Skirmisher Warband
Tier 3 - Ambushers
Tier 4 - Archer Warband
STABLES
Tier 1 - Britannic Light Chariots
Tier 2 - Britannic Heavy Chariots
Tier 3 - Light Cavalry
TEMPLES
Tier 2 - Woad Warriors & Wolfhounds
Tier 3 - Druids
GENERALS
Barbarian Warlord (Chariot)
Barbarian Chosen Warlord (Heavy Cavalry)
The roster is a bit backwards in some regards but that is because the Ancient Britons were not as developed as the Gauls, they were somewhat behind the times. As the game begins in 270 BC, we didn't want to have a time warp, so the Britons will have a really weak roster to begin the game and later on develop into a very strong roster. This should change game play in that area of the map drastically.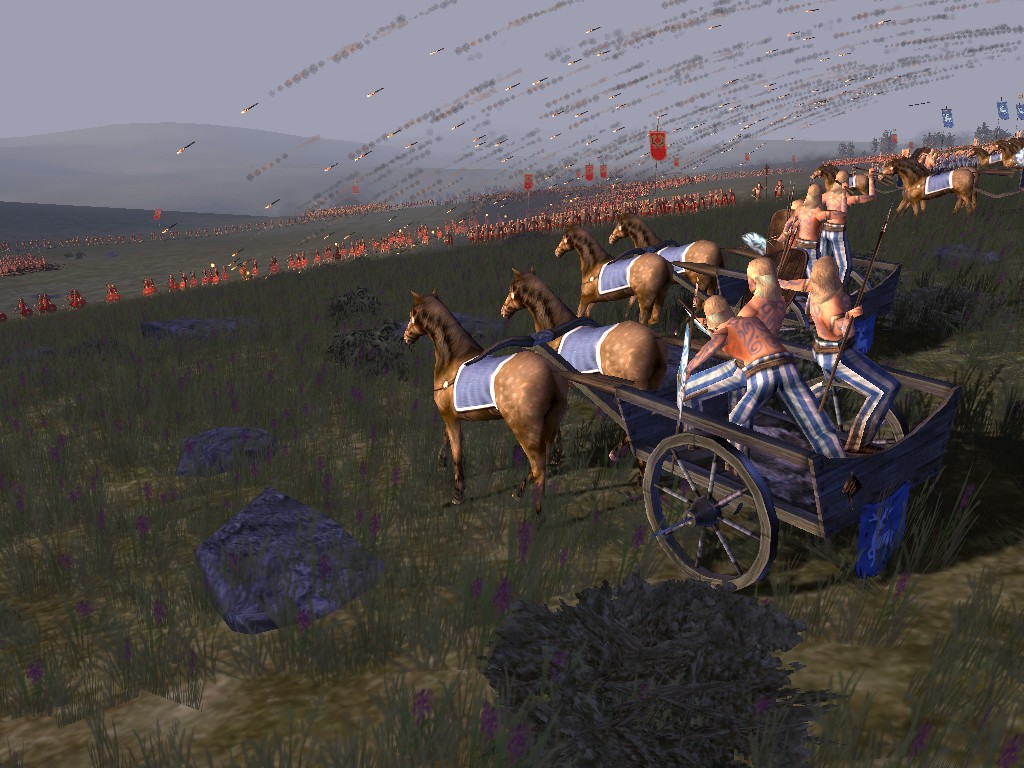 Chariots charge in with their javelins hurling!
CREDITS
Lanjane - Thank you for for the careful precision that you put into the units and their detail
crazyroman - Thank you for letting me use your mod!
Robbe Aerts - Thank you for all of your work with Veggiemod and allowing me to use it, as well as your advice on the phalanx bugs and fatigue, and finally slowing down the rate of fire of towers
Saul_Tyre - Thank you for testing and putting my mod into the youtube world!
EB - For the inspiration especially on Sword Masters and woad tattoos.
Suppanut - for explaining to me the secrets of the Grain Resource and how it's not a bug, but misunderstood and misused
Quinn_Inuit - for helping me with fatigue
BHL_20 - for testing and helping with the battle script
Seasoned Alcoholic - For tutorial regarding culture specific rams
webbird - For some elements of the new Woad Warrior model
Rise of Empire - Champions unit
comrade_general - Skin & UI for Barbarian Chosen Warlord from THS mod
Finally, thank you all for downloading and making this mod happen!
- ahowl11