Well...here is our first news update :D
We have 2 EDA units, the "Raptor" Anti Tank drone and the "Wasp" Anti Infantry drone, plus an in-game Screenshot of the Raptor.
So here we go.
Lets start with the Raptor, a Stealthy Tank killer drone.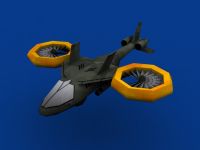 The Raptor is the EDA's response to enemy convoys, with its 8 Kinetic Energy Kill missiles, it is able to destroy 8 light vehicles. It has though paper thin armor, and wouldn't survive a single AA missile. To compensate it's lack of armor, it has a stealth field.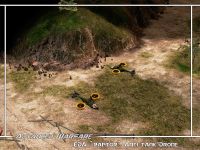 --------
And here goes #2.
The "Wasp" Anti Infantry drone.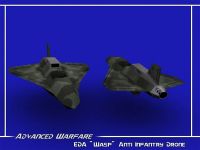 This "little" beast carries a .25mm triple-barrel Gatling gun and medium armor. It can easily pierce through infantry masses, since it has more range than any infantry unit. Also it can use it's afterburner to quickly shift around the battlefield. It can also be upgraded to replace the Gatling with a coil gun.
That's it for now.
Greets,
The Advanced Warfare team :)