Work is going strong on 6.1, but I sadly haven't had as much time to keep everyone updated as I would have liked.
Below, however, is an update on what 6.1 contains so far. Be aware that this changelog is subject to change.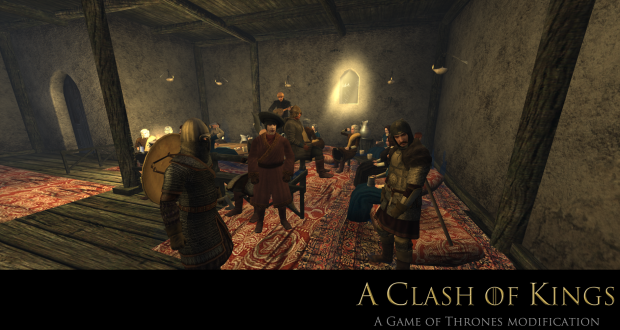 Changelog:
A Clash of Kings Version 6.1
New features/tweaks/upgrades:
Changed the "Bastard of Bolton" quest to accomodate the "Beyond the Wall" quest.
Re-did wight faces.
Added some more wight armors.
Slight changes to some armour compositions.
Added new armor to the rhoynar bandits.
Added two new locations for the player to explore.
Added body sliding.
Buffed dornish troops.
Slightly changed dornish troops equipment.
Added some new landmarks.
Added some new village scenes to the North.
Slight changes to sellsword armor.
Companions now only show up in regional taverns.
Added some adjustments to arena scenes.
Added regional specific sellswords to the taverns - no more Ghiscari Spearmen in Barrowton.
Added some new sellswords.
Added a new arena to The Weeping Town.
Added some new scenery to the world map.
Added 14 new armors, courtesy of Zimke.
Added a new quest: The Kraken's Due.
Bugs:
Fixed Stormlands Steel Cap having missing bump and specular.
Fixed yronwood_knight mesh missing.
Jon Snow and Maege Mormont are no longer related.
Volantis siege scene now works.
Valysar siege scene now works.
Fixed Flour Pack missing texture.
Fixed slave tunic having the wrong texture.
Fixed wrong shader on the Heavy Fur Armor.
Added prison to Castle Black.
Fixed sword animation.
Westerlander Knights know have both sword and lance.
Fixed Qohor siege scene.
Finally fixed the messed up dialogue from Sellsword Man-at-Arms in taverns.
Fixed missing keys from Prison Guards when trying to enter Night's Watch and Crackclaw prisons.
And while I'm at it, I'd just like to remind everyone that many of the assets in the mod currently would not be there if it wasn't for the people who have donated towards making the modification better.