OK I'll start off with the beretta render scene that I've already made...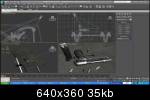 make sure your assigned renderer is mental ray and you have a camera set up (you can use perspective to get a view u happy with then press ctrl+C to put a camera there) make sure you work on the scene in another view port 'perspective' in my case (hot key : "P")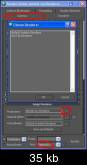 I used a Photometric light using the street lamp prefab (it uses mental ray and the prefabs are accurate towards measurement so make sure you model is the right size ....other wise just adjust the intensity like i did :D)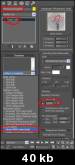 oh and also adjust the shadow density ...other wise they tend to look too dark ('ray tracer' prefab is very sharp but very accurate i prefered using that for this scene ....)
You can also use Settings like Light Exposure control ..( i'm not using it in this scene but i'll show you how it works anyway coz it can be very usefull)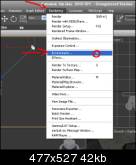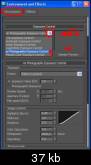 .....just play with the settings and take a lot of render previews.
alright now we have a basic setup going lets take at the model and it's textures ..i'm using a specular/diffuse & normap for my beretta.. i won't go into the table coz it's using a generated material using raytrace for reflectiveness ...pretty simple ...here's a looky at what they doing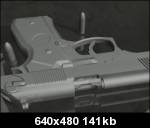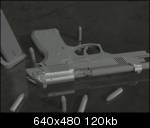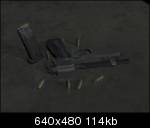 NORMAL map SPECULAR map DIFFUSE map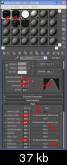 that's what my materials window looks like..
OK Render from your camera... play with the settings for a better 'basic' render (I'll get to that)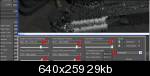 Alright! you got your basic render! save the image (preferably as a .tga 32bit) or you can save your image using the 'common' tab in the 'render setup' menu (more proffesional aproach) :P
ok now the good stuff ...we gonno make an Ambient Occlusion material quickly and apply it to the whole scene alright open up materials menu and select a fresh unused slot then click on the button that says 'standard'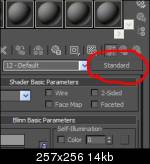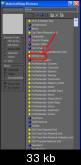 a menu should pop up ...choose "mental ray" from the list.
once that's open click the box next to surface "none" and choose Ambient\Reflective Occlusion from the list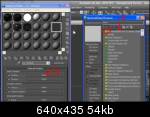 and THAT'S ALL!
ok now open your render setup menu hotkey "F10" with your materials menu open aswell ...now drag the Ambient Occlusion material from the materials menu to the render-setup/proccessing 'material override tab' box and make it and 'instance'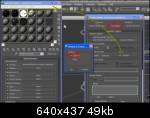 ok now render that..... its gonno look really grainy you gonno need to turn the sample's up to about 200 i let that happen to show you a little grainyness is good to have ...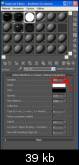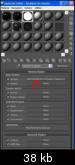 alright now BEFORE you render it go render setup menu (F10) and choose the 'Render elements' tab then the 'add' button scroll to the bottom and select Zdepth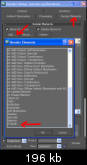 now you'll need to set a save path and adjust the distance scrolls (settings) to your liking ,i useaully use like a box or something the measure the distance from the camera to the gun...when you ready you should get your zdepth render when your AO (Ambient Occlusion) render is complete
here what MY zdepth and AO renders looked like ....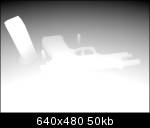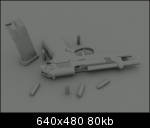 this part is where the magic happens ... open PHOTOSHOP :D
ok now drag all 3 renders into photoshop
click on your AO render press ctrl+A then ctrl+C open your 'basic' render hit ctrl+V
ok now it should've put the image exactly on top of the basic on a new layer ...click on that layer and bring down the opacity to 50 i used less for mine (the point of AO is to give you soft shadowing and better lookn' surfaces)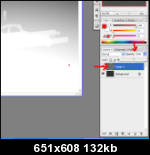 now before you merge to 2 layers play with the 'curves' & 'brightness/contrast' controls to really bring out the soft shadowing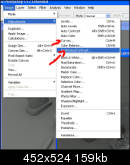 when you happy with the result merge the two layers by right clicking on the new layer 'layer1' in my case and then "merge down" .....
ok now click on the 'channel' tab by the layers menu thing ..you should see RGB layers ok if there is an alpha which there should be as yer renders are .tga format if there's not just make a new layer and copy paste your zdepth render in there..... (no.... the picture) ;) alright now lastly click on lens blur filter under filter/blur/lens blur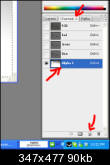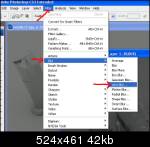 you can figure it out from here ,when you happy with it just play around with the contrast or something for the intire image (i'm no photoshop expert)...well there you go! a technique used very often in the 3d world ...there 'are' ways of doing this all in 3dsmax but the renders tend to take forever this way is alot faster for a still shot :D i'll get into other shit when i got some free time again
This is what i got
Img684.imageshack.us
later
Dave.