Going to try to keep this a bit short. We've had a few issues with the APB test server that have made things difficult lately. A server override issue recently was causing the game to crash anytime a player joined because it tried to spawn them as a GDI minigunner, that no longer exists in our context. Despite this, balance changes and mechanics adjustments are coming together although it's not always something worth a screenshot or video. Some of the latest adjustments involve the addition of a Soviet jeep (right now it's a straight copy of the Allies' Ranger) and hiding the player names for "sneaking" infantry. Some holdups that were interfering with the explosion reduction logic changes are also now resolved, and that will receive some balance testing next weekend. Vehicles now purchase much faster, making it easier to assemble an army quicker.
For some changes you can actually see, several new camera adjustments are now possible, which will be of great benefit for us when nit comes to APB but also a huge bonus to anybody who's ever been frustrated by aiming with the Titan in Tiberian Sun: Reborn. Third person view is now set as an over-the-shoulder view instead of the old behind-your-head, which gives it a more cinematic feel but more importantly also gives you greater visibility towards whatever you're aiming at. It's just another way to make infantry play better, which was a big concern for the next release.
The new camara view for the hind. the Longbow has a similar one to this.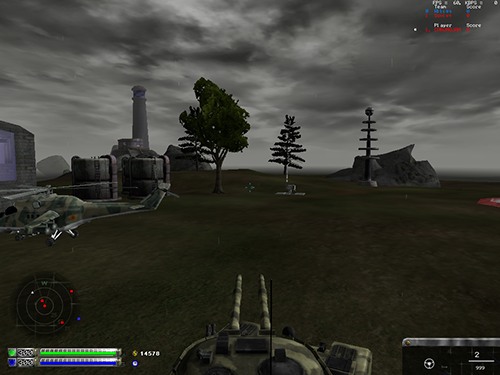 The new camera perspective for the Heavy Tank; the Medium tank has a similar one
The infantry self-healing logic is also in and ready for testing and balancing, so the numbers I'm about to give you are preliminary and will doubtlessly be adjusted. A video of this process is very boring to watch, so I'll describe it. There is a 45-second delay before infantry self healing kicks in. Being hurt resets this timer. After the waiting period passes, you begin to self heal at five HP per second until you're at full health or get hurt again (including fall damage or self-inflicted wounds). This process takes around 20 seconds to fully heal a soldier, and it means that about one full minute after combat you will be back to full health (but armor is not currently restored). That's perhaps quite a while during combat, but the idea as we've already presented it before is that you'll be able to either actually retreat for another attack later, or if you survive an engagement victorious you can press on without the need to return to your base. This negates the need for any kind of "Refill purchase" option, too.
Volkov already self-heals, you might point out, during combat. Volkov's also now got a very short delay (three seconds or so) before he self-heals instead of constant healing, so if you continue to damage him he will be unable to effectively self-repair. Volkov's armor is restored by this process right now.
See you next time.