For thus who waited - it's happened!
For thus who didn't believed it will - it's happened!
Last big update was half a year ago, heck this was so long ago! But so far this is our biggest update ever both in length of change log and actual game improvements. Here we go:
- Added Help in menu.
- Added Invert Y-axis option.
- Added Numbers to health bar.
- Added Hall of Fame.
- Added Item rarity and random item stats.
- Added Forge (For crafting weapons and armor).
- Added Rats.
- Added Skeletons.
- Added Boss fights.
- Added 5 new potions.
- Added 5 new crafting combinations (mostly potions).
- Added 6 new map blocks (new cave location).
- Added 8+ new items.
- Changed VIT now gives +1 max hp for every point.
- Changed Increasing VIT points don't heal anymore.
- Changed Info button in context menu now have a new usage.
- Changed Health bar GUI
- Changed Light to more warm and bright.
- Fixed 64bit Linux should now work fine.
- Fixed Monsters won't walk through ceil and floor now.
- Fixed Now you walk stairs up and down with same speed.
- Fixed Now you can't walk through benches in library.
- Removed Ability to change ingame textures.
- Removed Unidentified dust (it will turn into boss keys).
Let's talk about some new features.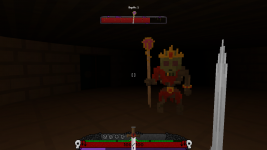 Bosses
One of features we planed from the start. To fight boss you have to find one of red doors pictured below, and open it with Key (by pressing E), which drops from monsters. Also if you have an old save (which I hope still works :| ) , then Unidentified dust should turn into keys.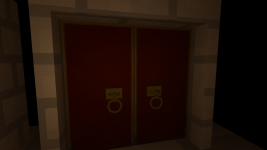 After you open door, you will be teleported to the boss room. There is no escape until you kill boss. After boss been killed on one side of room will be hall to the two chests filled with rare potions and boss equipment. On the other side is a red door which will return you back where you was. Each red door can be used only once.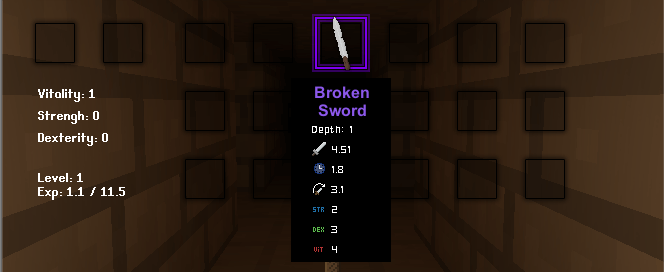 Items
Completely new item system. Now items have rarity and will roll random stats, which making every weapon you find unique in some way.
Items rarities are:
Grey - worst possible roll.
White - less than 30% of total possible stats.
Blue - more than 30% and less than 60% of total possible stats, will roll one of player stats (VIT, STR, DEX).
Yellow - more than 60% and less than 96% of total possible stats, will roll two player stats.
Purple - more than 96% and less than 99% of total possible stats, will roll each player stats.
Deep Purple - Best item roll ever.
Here some items and their stats:
Hall of Fame
Basically it's a scoreboard. When you die in game, you stats (steps, kills, time, depth, each boss kills) will be recorded in Hall of Fame.
It is very likely that we change it appearance in next updates.
With this update we going prebeta and in a week or two we will release next update in which we add fourth equipment item, which I hope will change gameplay a little :D
Also in two weeks discount will go from 75% to 50%.