I'm going to talk a bit about two of thebattle mechanics in Black Crystals, the Skill Potential System and the Spontaneous Learning System!
Both ideas are based on the fact that in Black Crystals you learn skills by using skills. There are no specific skills that are learned depending on your characters' level, rather, skill usage is what determines what skills your characters learn. I chose this design because it allows for good flexibility and diversity when building the character, and because, in conjunction with "Skill Potentials", essentially no skill will be rendered useless as all skills have the potential to becomes something much more powerful.
Skill Potential is basically all the cool new skills you can learn by using a single or multiple skills enough times. Sometimes the potential of a skill is hidden, and you'll have to find Inspiration to be able to find and unlock that potential. Inspiration can be found throughout the world of Black Crystals by means of items, conversation, dialogue choices and some plot points.
Here's a snippet of the skills menu, showing the potential window.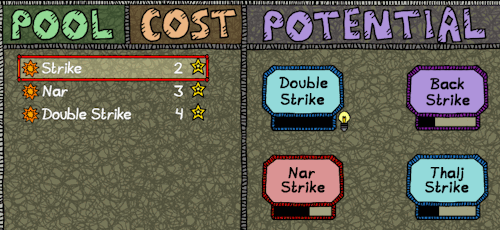 Spontaneous Learning relates to how the skill potential is actually realized. You learn and execute new skills in the middle of battle. This design choice is largely inspired by the learn system in Saga Frontier. I want players to experience the thrill of learning a new skill and unleashing its wrath on the enemies on the spot.
Here is an example of the spontaneous learning system. Starsio's "Strike" evolves to "Double Strike" mid battle. Learning a new skill is signified by the "lightbulb". I still would like to add some bold lettering showing off the skill name for the first time so that its more dramatic.