Hello Community! Sorry about the lack of updates, for many of us school is starting and that cuts our time down a lot, plus we are having some restructuring from within the group, but no worry's. we are still going strong! Today I will be showing you the situation of the world in 2070 (around the beginning of the forth tiberium war)
Military Situation as of 2070 (GDI=Blue, NOD=Red, Forgotten=Green, Idris=Orange)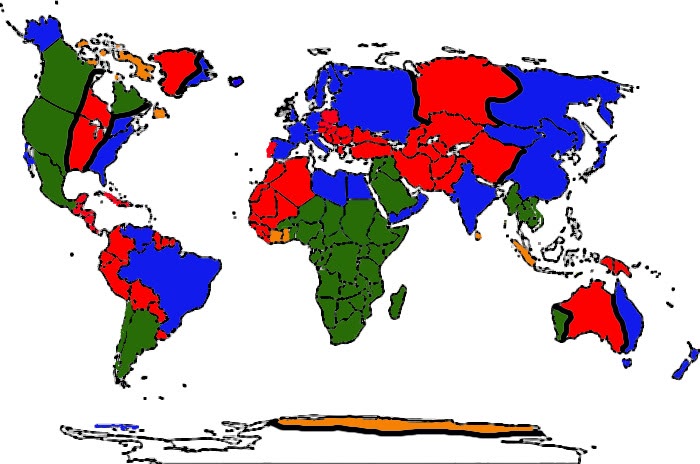 As you can see, Nod and the Forgotten are for the most-part, trapped in whats left of South America, Asia and Africa, While GDI and Idris take the blue zones in Australia, Europe, and North America.
Zone Situation (Red Zone=Red, Black Zone=Black, Yellow Zone=Yellow, and Blue Zone=Blue)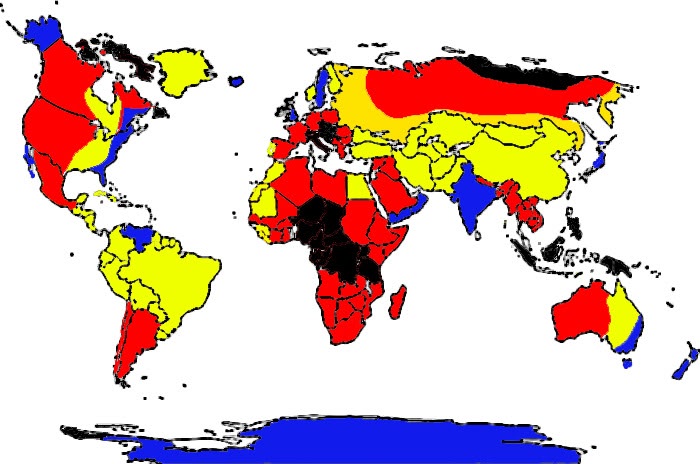 As you can see most of the world is in a yellow zone status, but Africa and lower South America is made up of tiberium infested zones, Yellow zones make up most of North America, Asia, and upper South America, Blue zones don't come up much, only Australia, Japan, India, Alaska, the United Kingdom, and some other small blue zones remain.
If you look at both of the maps you'll see that the Forgotten and Idris are mainly in the red zones and black zones, NOD is mainly in the yellow zones, and GDI has the blue zones.
NOTICE: THE MAP DATA IS NOT FINAL! IT WILL BE EDITED IN THE FUTURE!