Crystalline Tiberium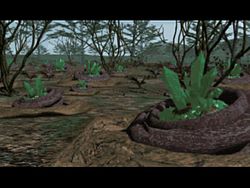 Tiberium grows by absorbing minerals from the soil and spreads by sprouting more seed pods and unknown components due to the irradiation of earthly materials inside the structure of the pod. This process is still not well-understood by modern science, but suffice it to say that Tiberium growth depletes the land and incorporates the taken minerals into its own structure as well as creating new Tiberium. In last few decades the countless meteor showers have brought new strains of Tiberium to earth. It appears the colour of visible light they emit by glowing is linked to the levels of Tiberium particle radiation. The five known Tiberium strains are significantly different from each other on a molecular level and not just simple "variations", even though they all exhibit similar properties when it comes to mutation.
Scientists believe Tiberium is a natural phenomenon, much like viruses in organic chemistry. It is essentially nothing but a self-replicating piece of matter. Tiberium can be divided into two classes. Class II Tiberium has a low radiation output and is capable of forming stable mutations if a moderate quantity affects an organism with the required genetic traits. The resource collection in Class II Tiberium is fast but not very thorough. Class I Tiberium, however is significantly different from Class II Tiberium in spread and growth patterns and mechanics. It is also interesting to note that so far only Class II Tiberium has displayed the potential to form monoliths.
Class II Tiberium
Red – Tiberium Cruentus – "Bloodthirsty"
Cruentus is the least dangerous of the Tiberium strains, but it grows quickly and erratically. Fields of red Tiberium span many acres, but will not grow to be very dense. It has a very low radiation output and mutations of this type are often accompanied by other Tiberium types. It mostly grows in areas with low mineral density.
Growth: Slow - Spread: Fast - Value: Below Average
Yellow – Tiberium Croceus – "Saffron-coloured"
Pretty much all Tiberium Croceus grows in the barren deserts. It grows faster than it spreads and relies mostly on airborne spread during sandstorms. Sometimes parts of the pod form little lumps that turn brittle and spread over many miles.
Growth: Fast - Spread: Slow – Value: Below Average
Green – Tiberium Riparius – "At the river bank"
Green Tiberium is the most common strain on the planet and grows moderately fast. It was first discovered in 1995 when Tiberium meteor struck the Tiber.
Growth: Moderate - Spread: Moderate – Value: Average
Class I Tiberium
Blue – Tiberium Vinifera – "Vine-shaped"
Blue Tiberium is the most common form of Higher class Tiberium. Blue Tiberium is very valuable however very harmful and prone to dangerous explosions if messed with. It has a low spread and growth rate as it compresses and stores its materials and resources much more than other Tiberium strains, causing the slow growth. Blue Tiberium is found in areas rich and plentiful in valuable nutrients and resources.
Growth: Slow - Spread: Moderate – Value: Above Average
Purple – Tiberium Mortifera – "Deadly"
Purple is the most harmful and explosive Tiberium ever recorded. It is very rare, even in good growing conditions, and usually located underground rather than on the surface which means it needs to be harvested using specialised harvesting structures. In large quantities, Tiberium Mortifera can cause explosive chain reactions with Tiberium even several miles from its own field due to seismic activity. This makes harvesting it a very delicate task as even the slightest perturbation could cause enormous damage.
Growth: Slow - Spread: Slow – Value: High
Tiberium Columna
Also known as macro Tiberium, or monoliths. These are very large crystalline formations of a certain type of Tiberium. Their composition slightly differs from their smaller counterparts in that they are mostly unstable. Any perturbation will cause the system to undergo a cascade reaction that will shatter the monolith and shower the area with razor sharp Tiberium shards. Initiating this reaction is currently the only viable way of gaining access to the Tiberium of a monolith; regular harvesting is not an option. The emergence of more and more monoliths is usually seen as a sign that Tiberium is almost done overtaking the planet.