This continuation of this long road to the best overall C&C mod has now reached its second round. Rather than integrating CNC3 and RA3 mods into this round due to some polls with currently tied votes which required more time, I decided to have "The Best C&C mod from the Westwood era" bracket instead to continue. Some RA2 mods that weren't listed in the previous bracket before had been added for participation regardless of prominence and some of them didn't make the cut. For Mental Omega and Twisted Insurrection fans, your chance to vote for them in this round is here. When voting in Pollcode, make sure you enable pop-up blockers and plugins since they are highly recommended.

Here's the previous Round One (you may continue to vote if you wish but some polls are disabled): Moddb.com

Best C&C Mod from the Westwood era (divided into game sections):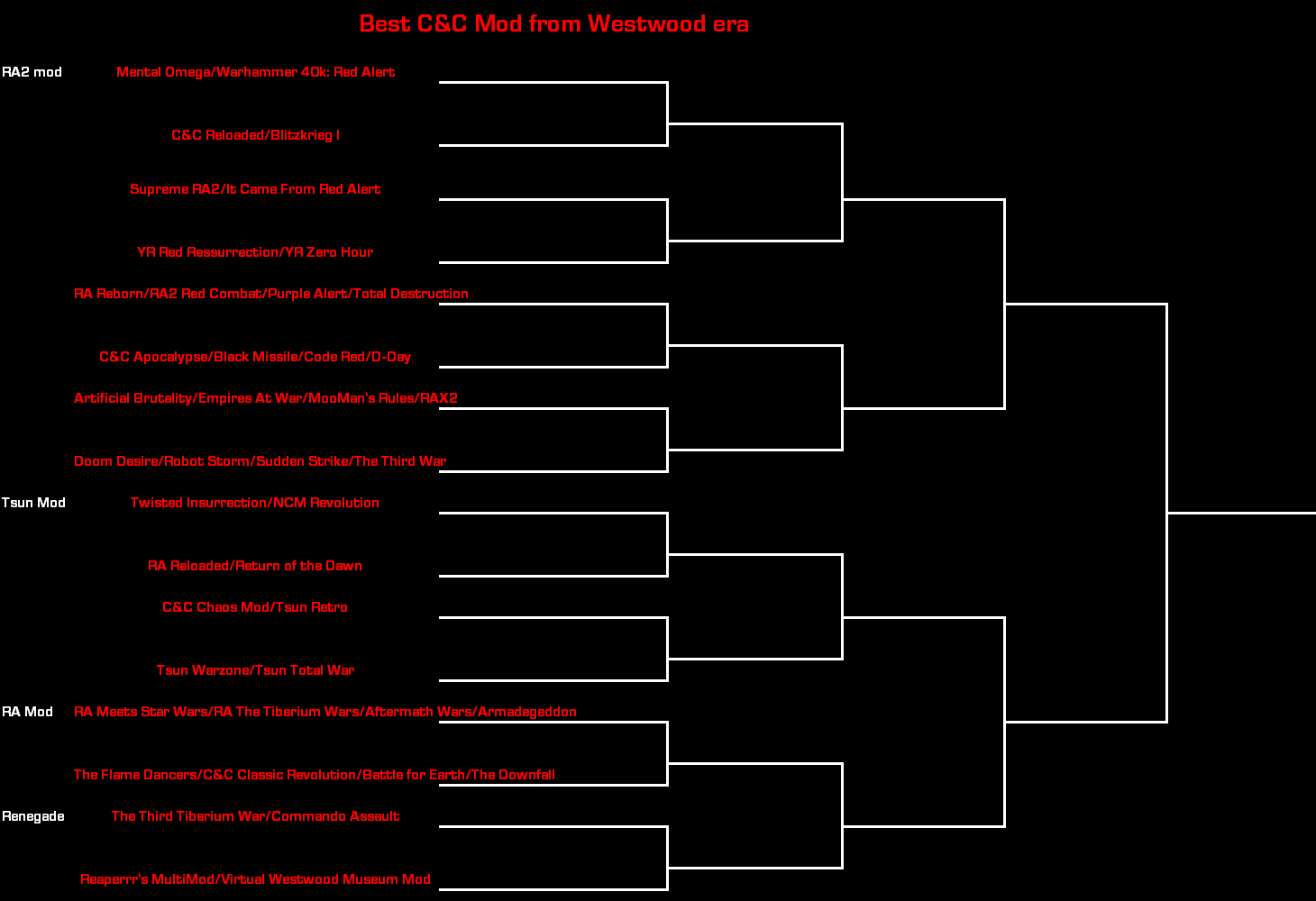 Red Alert 2 section:
Mental Omega vs Warhammer 40k: Red Alert Vote.pollcode.com
C&C Reloaded vs Blitzkrieg I Vote.pollcode.com
Supreme RA2 vs It Came From Red Alert Vote.pollcode.com
YR Red Resurrection vs YR Zero Hour Vote.pollcode.com
RA Reborn vs RA2 Red Combat vs Purple Alert vs Total Destruction Vote.pollcode.com
C&C Apocalypse vs Black Missile vs Code Red vs D-Day Vote.pollcode.com
Artificial Brutality vs Empires At War vs MooMan's Rules vs RAX2 Vote.pollcode.com
Doom Desire vs Robot Storm vs Sudden Strike vs The Third War Vote.pollcode.com

Tiberian Sun section:
Twisted Insurrection vs NCM Revolution Vote.pollcode.com
RA Reloaded vs Return of the Dawn Vote.pollcode.com
C&C Chaos Mod vs Tsun Retro Vote.pollcode.com
Tsun Warzone vs Tsun Total War Vote.pollcode.com

Red Alert section:
RA Meets Star Wars vs RA The Tiberium Wars vs Aftermath Wars vs Armadegeddon Vote.pollcode.com
The Flame Dancers vs C&C Classic Revolution vs Battle for Earth vs The Downfall Vote.pollcode.com

Renegade section:
The Third Tiberium War vs Commando Assault Vote.pollcode.com
Reaperrr's MultiMod vs Virtual Westwood Museum Mod Vote.pollcode.com


The next round of this bracket will be in several days along with the rest of the other C&C mods.