Well it has been an interesting round three and some good mods had been upset by other mods. The biggest upset in that round was Twisted Insurrection narrowly ousted by RA Reloaded. Right now it's now down to 24 C&C mods for this fourth round and it's too soon for me to predict which C&C mods will be in the final four.

There's one more thing however; I do not tolerate voting spam by reseting the IP address multiple times even though you can only vote once per day per IP connection. Any more spam, that poll(s) will be reset and will be started over. I do not want to expect any more Yuri's brainwashers and Kane's fanatics trying to ruin the bracket I had been planning for months. Please give some respect to this bracket.

Previous Round Three: Moddb.com
Previous Round Two: Moddb.com
Previous Round One: Moddb.com

When voting in Pollcode, make sure you enable pop-up blockers and plugins since they are highly recommended. Older polls are disabled.

Best C&C3 Mod: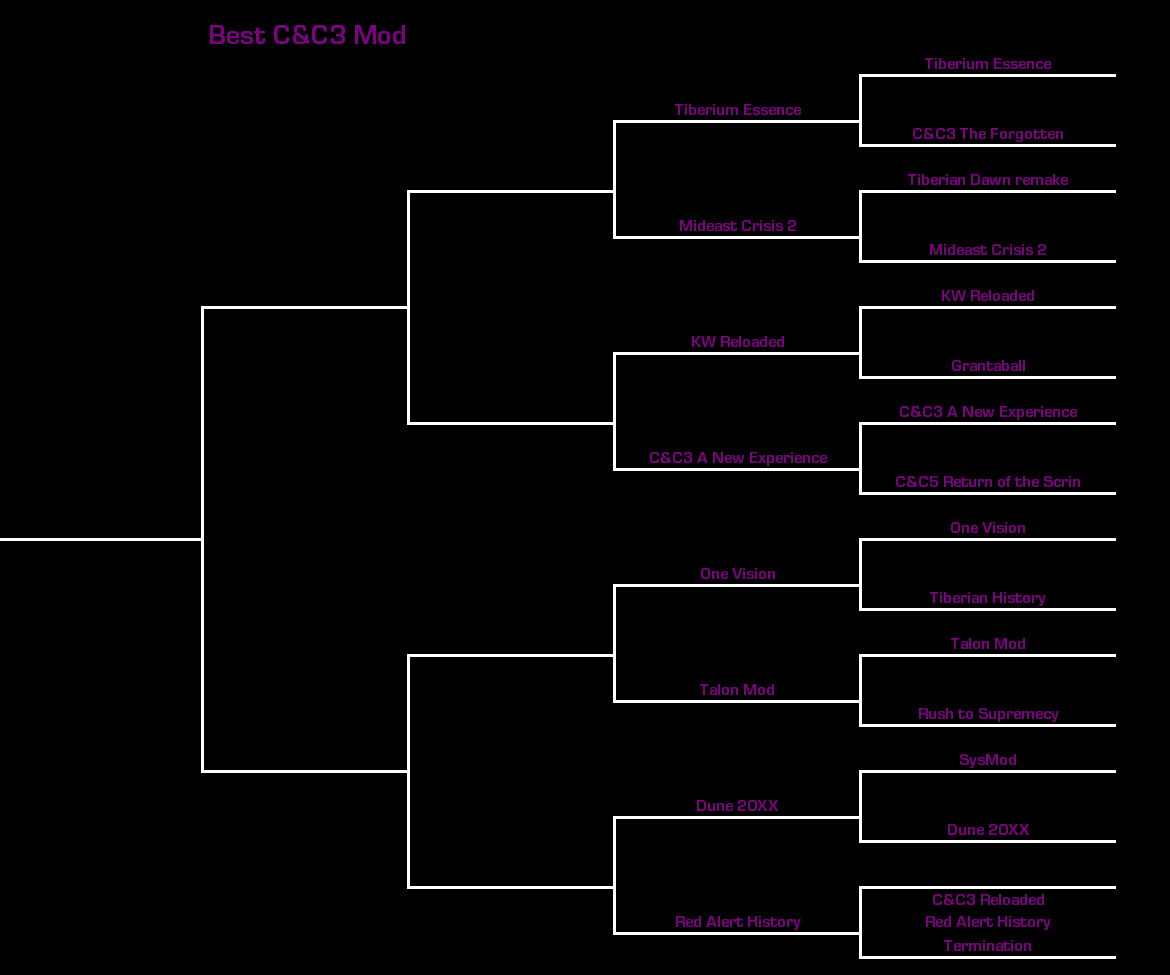 Tiberium Essence vs Mideast Crisis 2 Vote.pollcode.com
KW Reloaded vs C&C3 A New Experience Vote.pollcode.com
One Vision vs Talon Mod Vote.pollcode.com
Dune 20XX vs Red Alert History Vote.pollcode.com


Best RA3 Mod: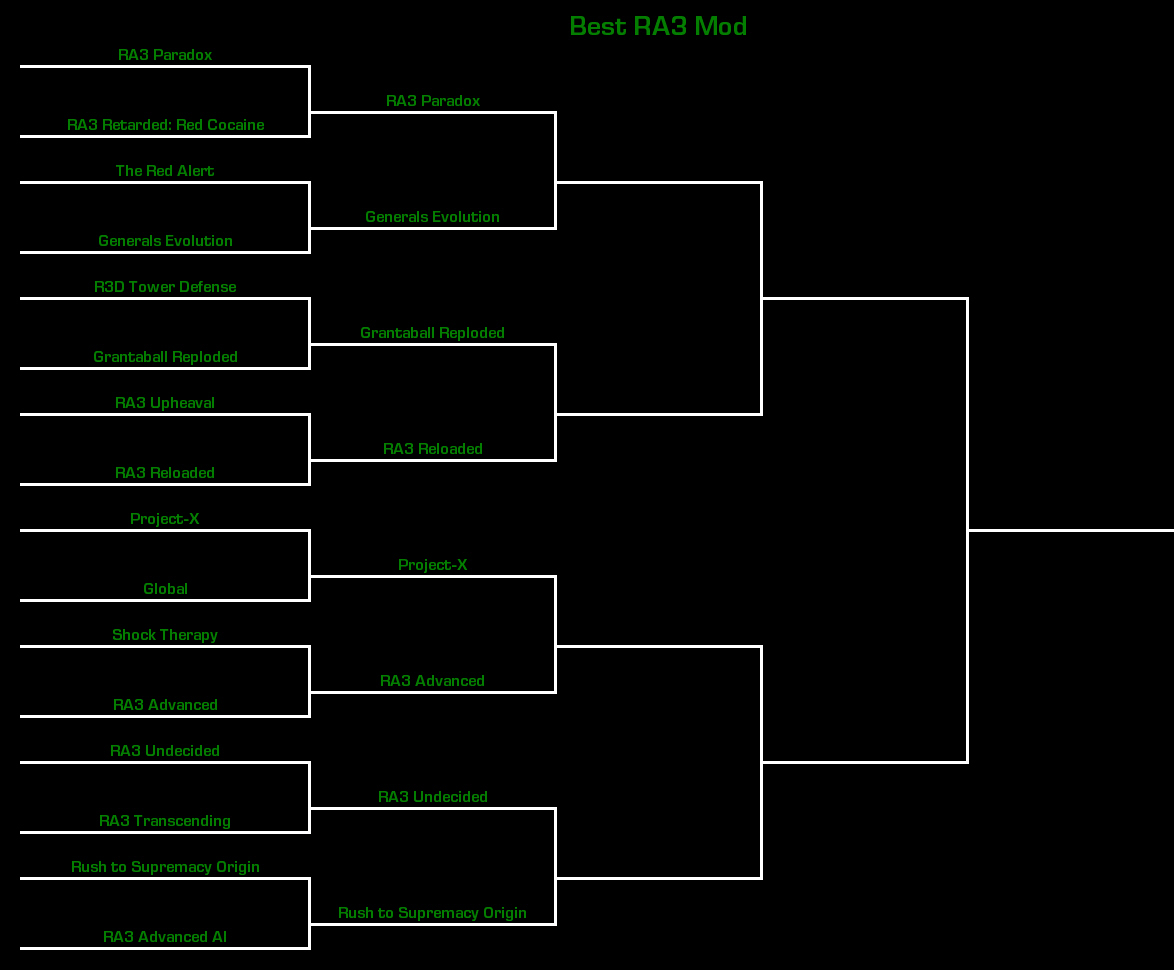 RA3 Paradox vs Generals Evolution Vote.pollcode.com
Grantaball Reploded vs RA3 Reloaded Vote.pollcode.com
Project-X vs RA3 Advanced Vote.pollcode.com
RA3 Undecided vs Rush to Supremacy Origin Vote.pollcode.com


Best C&C Mod from the Westwood era (divided into game sections):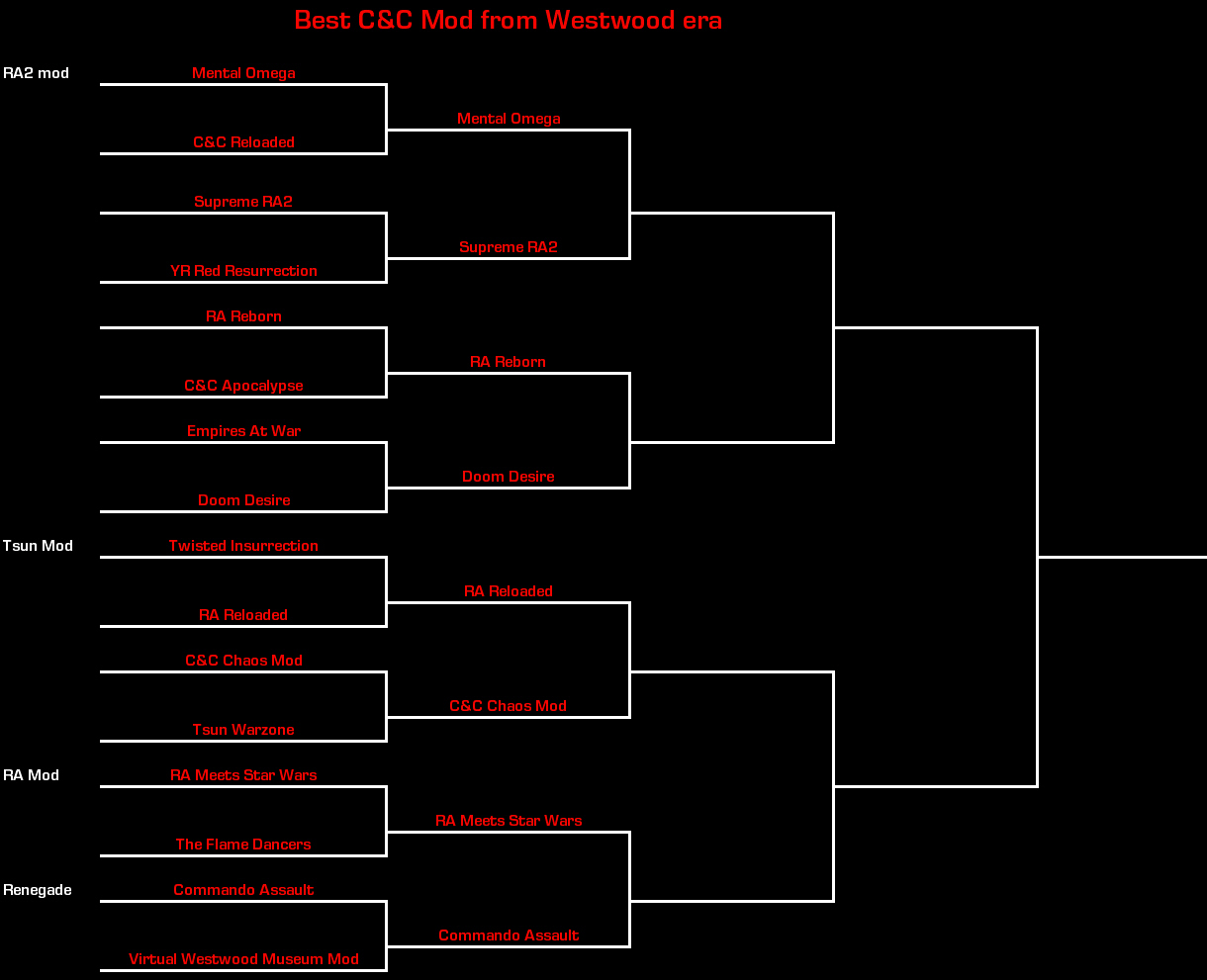 RA2 section
Mental Omega vs Supreme RA2 Vote.pollcode.com
RA Reborn vs Doom Desire Vote.pollcode.com

Tsun section:
RA Reloaded vs C&C Chaos Mod Vote.pollcode.com

Best RA mod vs best Renegade mod:
RA Meets Star Wars vs Commando Assault Vote.pollcode.com


The next round of this bracket will be this Friday since it's time to speed up.