So here's the thing with the gameplay for both C&C3 and KW. They are both alike, with building bases quickly, spamming units, upgrading units and using support powers to help the player. Why not modify the gameplay that can change on how C&C3 was meant to be played? Although experimenting other ideas to what most C&C3/KW/RA3 mods do not have, this mod may be a first to set a hybrid example of the following new gameplay changes, starting in version 1.5 and above.
Power usage is now set to Red Alert 3 standards
Rather than consuming low power usage in C&C3 and KW, RA3 did use more power values in the 10s range rather than single power values. This was introduced in the beta version of KW Reloaded 0.7. All power plants for all factions will gain 200 power with 100 power additionally gained as an upgrade. Power plant upgrades no longer require a tier-2 or tier-3 structure but they do need 24 seconds to upgrade.
Most vehicles now require power to build
Similar to Company of Heroes and MidEast Crisis 2 in which they used fuel to power up structures and vehicles, this mod will require the consumption of power to most vehicles with the exception of all MCVs, Surveyors, Emissaries and Explorers. Harvesters and all Carryalls use little power. Most tier-1 and tier-2 units will require 10 power. Epic units use more power than any other vehicle units.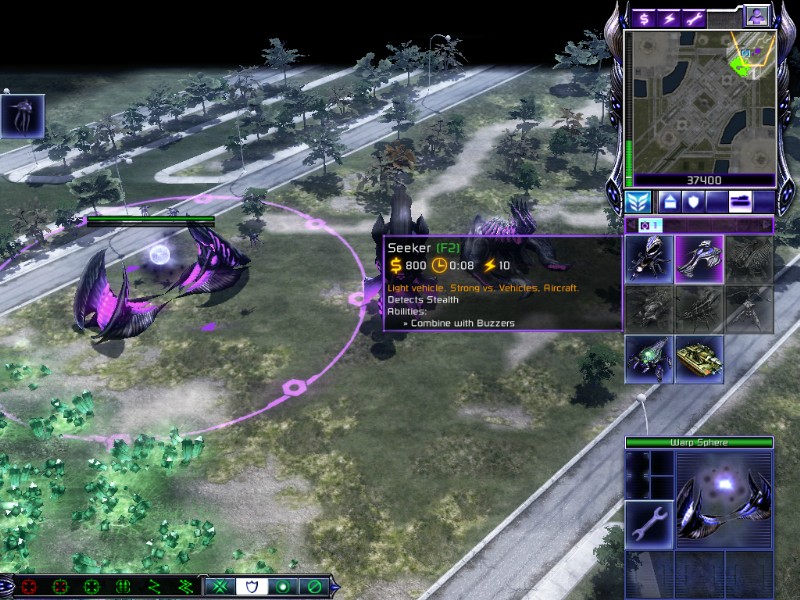 Multiple queue building on structures
This means all structures and defenses will have multiple queue building. All official C&C games do not allow that, but the modification of C&C3 did allow this to all Construction Yards to all factions. Very few games including Dune Dynasty (a modified version port of Dune II) did feature multiple queue building on structures. Because of this addition, some structure(s) build times will have to be nerfed to minimize building your base quickly.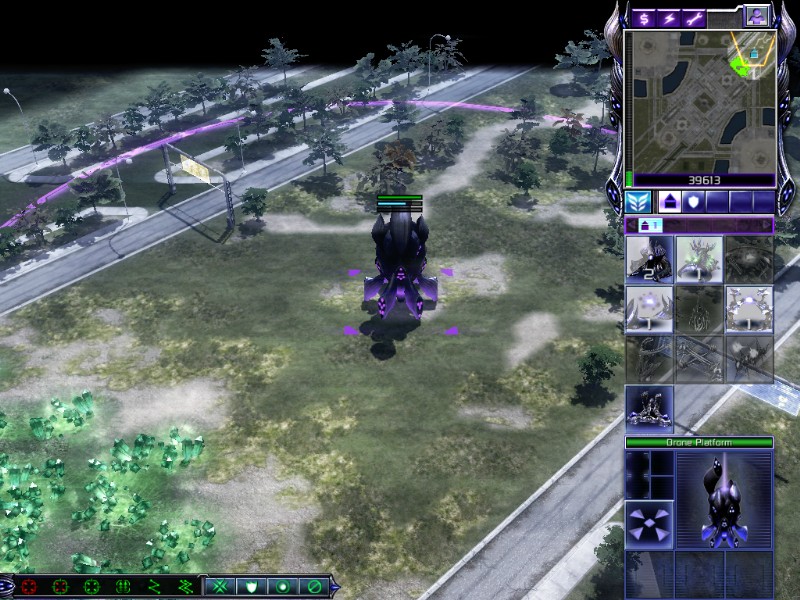 Unit spam limitations
Taking the idea similar to Dune II, but unlike Company of Heroes, Warcraft III and Starcraft I/II, there will be unit spam limitations, not with population capacity counters. Most units will have a unit limitation of 50 units per type, while most aircraft will have a unit limitation of 12. MCVs, Surveyors, Emissaries, Explorers and Rigs will have a unit limitation of 10.
Stealth detection restricted to only the units with insight
In C&C Generals and Zero Hour, EA got that part right to most units, but in C&C3 and KW, almost every unit can detect stealth and that type of play makes it a huge disadvantage to stealth units especially mines. All enemy vehicles and infantry cannot detect mines, aircraft and stealth units except allied units and only the units that can detect stealth such as Pitbull, Orca, Sandstorm, Zone Raider, Sniper Squad, Attack Bike, Venom, Stealth Tank, Avatar (with Attack Bike commandeer upgrade), Seeker Tank, Shadow Team, MotherShip, Mutant Marauder, all engineers, all commandos and all epic units. All defensive structures that detect stealth remain unchanged.
Engineer Capture Delay
This was featured in KW Reloaded v0.7, but was removed in KW Reloaded v0.75 through v1.4 due to skirmish AI issues when the AI unexpectedly built too many engineers and used them for nothing. As of now, thanks to CrazyGDIFan123 who managed to fix a major part of the coding, he finally got it working correctly with the skirmish AI. Just like before, all engineers (except the Combat Engineer) will need an extra three seconds before capturing an enemy structure or enemy/fallen husk. Still there is no solution of a capture delay on neutral tech structures which remains zero delay. The repairing of the bridges and friendly allied structures will not be affected by this.
Shroud on the battlefield
All older C&C games have shroud on the battlefield and do not regrow, leaving a vision of the map. All recent C&C games use fog of war leaving players to know of their surroundings too easily. Even in Red Alert 3, Engineers can capture neutral structures behind the fog of war. Although not a lot of C&C3 mods enable shroud, this mod shall enable shroud at the beginning of every skirmish or multiplayer game. There's no guarantee that shroud is to be enabled for all mission maps unless I enable shroud with a script.
Upgrading more power to units, not replacing with better weapons
Games like Company of Heroes, Warcraft III and Starcraft I/II have upgrades that powers some units to their finest. C&C Generals and Zero Hour have some useful upgrades that powers up units. C&C3 and KW have several upgrades that replace weapons with better ones to increase damage, but they are not sufficient out of that. Also there aren't many upgrades that powers up most units, not even tanks! For example, instead of having Purifying Flame a weapons upgrade, it'll be just a damage upgrade to all flame units.
So the following upgrades that were used in weapon upgrades will have to change into power upgrades: (green font means it's successful)
-- Purifying Flame (increases attack damage and rate of fire to all flame units by 25%)
-- AP Ammo (increases gun damage and rate of fire to all units with machine guns by 25%)
-- Tungsten Ammo (increases gun damage and rate of fire to Slingshots and AA Batteries by 25%)
-- Shard Launchers (increases attack damage and rate of fire to Gun/Shard Walkers, Ravagers and Photon Cannons by 25% -- Reaper-17 only)
The following new upgrades may or may not be a work in progress: (green font means it's successful)
-- Offensive Maneuvers (Steel Talons): increase attack damage by 25% to some vehicles
-- Defensive Maneuvers (ZOCOM): increase armor and hit points by 25% to some infantry and vehicles
-- Offensive Capabilities (Marked of Kane): increase attack damage and armor by 25% to some infantry and vehicles
-- Structure Defense (ZOCOM, MOK, Traveler-59): increases armor and hit points for all structures
-- Vehicle Bombardment (GDI): increase attack damage, rate of fire and armor by 25% to Predator Tanks, Mammoth Tanks and the MARV -- could be a tier-4 upgrade requiring Space Command Uplink
-- Boosted Power (Scrin, Reaper-17): increase attack damage and armor by 25% to Gun Walkers, Seeker Tanks and Devourer Tanks -- could be a tier-3 upgrade
-- Composite Alien Armor (Traveler-59): increase armor and hit points to some infantry and all shielded vehicles by 25%
-- Hardpoints (GDI, ZOCOM): gives an extra ammo for all GDI aircraft (there is a bug issue for the Firehawk since it needs to be manually set for a loaded weapon before the upgrade can work and switching weapons no longer maintains the upgrade)
-- Conversion Reserves (Scrin, Reaper-17): increases Tiberium capacity to Devourer Tanks and/or Reaper Tripods
-- Quad Turrets (all Nod factions): gains a turret on the original turret hub (there is currently an issue with the Rocket Turret Hub that refuses to show up with an extra turret after the upgrade)
Support Powers
So far, Shock Trooper Swarm is the only new support power to replace Buzzer Swarm since new support powers aren't seem to be working in-game except new upgrades and unit abilities. I had a plan to include more support powers, but other than the EMP, Power Signature Scan, Ion Storm and Shock Swarm, the only other support powers I really would want them included in-game are Magnetic Mine Drop, Ichor Seed, Decoy Temple, Orbital Strike, Overlord's Wrath and Temporal Wormhole. But this might be attempted for version 1.6 since they require extra work to be done.
Skirmish AI
There's a 75% chance this probably won't be in this mod since it won't work in-game or even work through the skirmish and/or campaign mode screens. If I edit one part of it, the whole thing crashes back to the desktop which is the tricky part to do. I had already tried several attempts to enable this but it appears the coding defines of any new faction(s) to work for the skirmish AI had no success and I am certain changing this will also affect single-player as well which means that all maps will have to be modified for all other sub-faction AIs to work.
I had just learned that one of the main developers of the CNC Labs team telling me that they re-used a Neutral faction as a fourth faction to get the skirmish AI working in-game. The chances of using every sub-faction to enable AI from a neutral faction can seem to only apply to one of them. I am not sure if the C&C3 Mod SDK has a limit on getting new factions with skirmish AI enabled.
There will be more new gameplay changes to update without further notice.