Hey everyone! I know it's be a while since I've updated the mod pages but rest assured work on BOTH Legends mods has not ceased entirely during my perceived inactivity on Moddb. Over the past couple months, I've been primarily working on Legends Mod: Clone Wars while Legends Mod: Galactic Civil War has been on the back-burner for a bit; primarily because, A) I've always been more interested in the clone wars era and there aren't m(any) mods out there that focus solely on the Clone Wars Multi-media Project, and B) there are a lot of free- release clone wars era models that are permitted for me to use by various modders I've contacted so, I have more available resources to use for that particular era. This however, doesn't mean that advances I've made in Legends Mod: Clone Wars haven't been applied to Legends Mod: Galactic Civil War when appropriate. Below, I have broken down various aspects of the mod to illustrate more clearly where the mod stands progress wise.

Estimated Completion: 88%
My first step when beginning work on both mods was starting to populate the space unit roster and I'm proud to say that most of the unit's I've planned to implement have been put in game and are functioning. There are 2-3 ships left on both faction rosters that still need to be put in game and even more will be added once I secure permissions/commissions for the necessary models. After those final ships are added, all that is left to do is tweaking some unit abilities, sounds, selection boxes and balancing.


Note: obviously out of place vehicles/structures will be removed

Estimated Completion: 85%
Lately, I've been focusing on adding land units for Legends Mod: Clone Wars and for the most part, all of the main units for both factions are in game and fully functional. There are a few specialty units, GC specific units and indigenous units that that I'm still currently working on, such as different clone legions for Phase 2 troopers for example. There have also been some units that I have chosen to omit from the first release of the mod; first that comes to mind is the B3-Ultra battledroid, as the model I was permitted to use from my old mod, the Clone Wars Submod, didn't look as good as I remembered so I made the difficult choice to omit it until a better model can be produced.


NOTE: Not every unit shown and prices will be adjusted

Estimated Completion: 0.01%
As I begin to close the land and space phase of production, I've started lining up some hero models that I have permission to use. In doing so, I've encountered a problem with 2 very integral characters and I think I've thought up a creative solution. In the Clone Wars Multi-media project, which preceded Dave Filoni's "Star Wars: the Clone Wars", Anakin Skywalker remained the Padawan of Obi-wan Kenobi for a majority of the Clone Wars and wasn't knighted until 2 years and a few months into the war. This being said, there's a lack of available EAW:FOC models to reflect Anakin and Obi-wan's transformation throughout the war so I've decided to do my best to create my own representation.
Using the generic Human male Jedi padawan and human male Jedi master models from the Battlefront Commander mod that I was given permission to use, I have created skins that look vaguely similar to Anakin and Obi-wan's appearances in Star Wars: Episode II: Attack of the Clones. I'm aware that there are some huge differences, the most notable being that Anakin is wielding 2 lightsabers instead of one. While him wielding one is more accurate to the books and comics of the CWMMP, its almost excusable because we see Anakin wielding dual blades in AOTC when he and Obi-wan duel Count Dooku on Geonosis. It's well established that Anakin was a practitioner of the Jar'kai and Niman styles, though he typically only wielded his one blade, so, if I'm unable to hide the second blade with clever coding, I don't think its an absolutely huge deal that its there. The other thing is, since this takes place post AOTC, Anakin is down one hand, however this is very easy to fix and adding gloves is easy. As for the Obi-wan model, only small details are visibly inaccurate and other than his rigid animations, I think he looks pretty good. With all of this in consideration, I think they will serve as great placeholders if nothing else. Here is the proof of concept: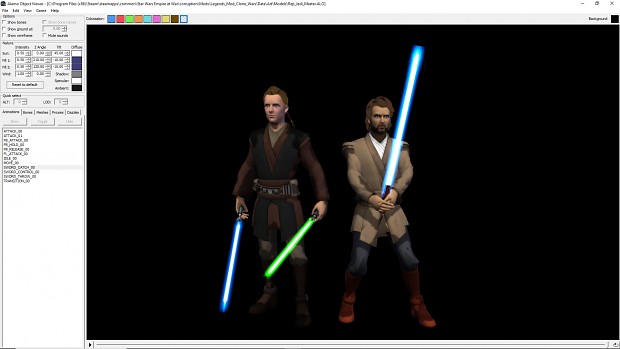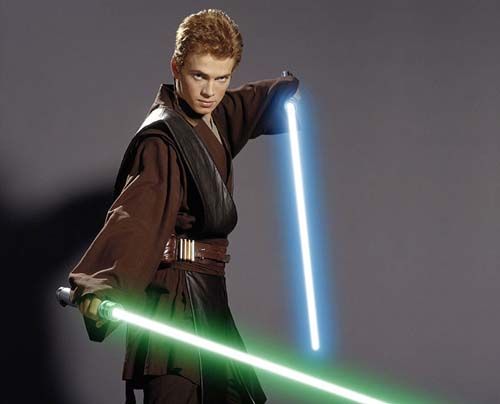 Estimated Completion: 0.01%
As you've seen in the previous article (linked here) most of the preliminary planning for Galactic Conquest game modes has been completed, however, that being said, minimal has been physically accomplished in game. When both mods first started up, I showcased some land maps (I will most likely be updating those as more props eventually become available to me) of Rattatak and Boz Pity and I've also shown a little bit of me toying around with overlaying galactic regions on the galactic map. I've since refined some of the details on the galactic map and will be updating them as more resources become available.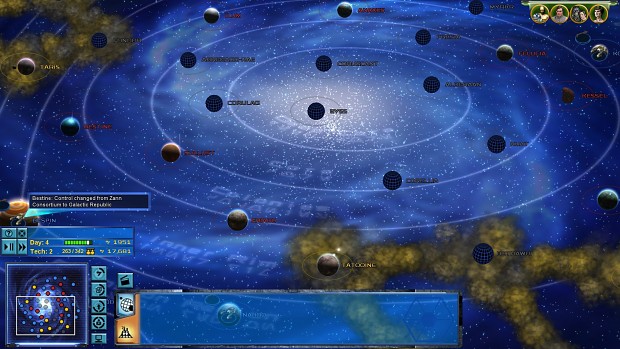 Note: Planets have not yet been moved to reflect accurate astrographical positions and regions are not yet centered. This is a proof of concept.

Estimated Completion: 0.1%
As stated in the above section, at the beginning of this project I showcased a couple land maps of Rattatak and Boz Pity and so far those are the only 2 land maps completed. They will be updated and work on more maps will resume once I acquire more map props. I have some free release map prop packs downloaded as well as some props in other mods that I will ask permission for, it's just not my primary focus at the moment.

I have only tinkered with the GUI at the moment and it wont be the final product. Once my focus shifts to it I will either completely overhaul it myself or ask a friend, who has a background in graphic design, if he would like to help me. As of right now, it's not my primary focus.
At any rate, this is where the mod currently stands. I will update accordingly as I continue to work on this project in my spare time.
-Commissar_Delta