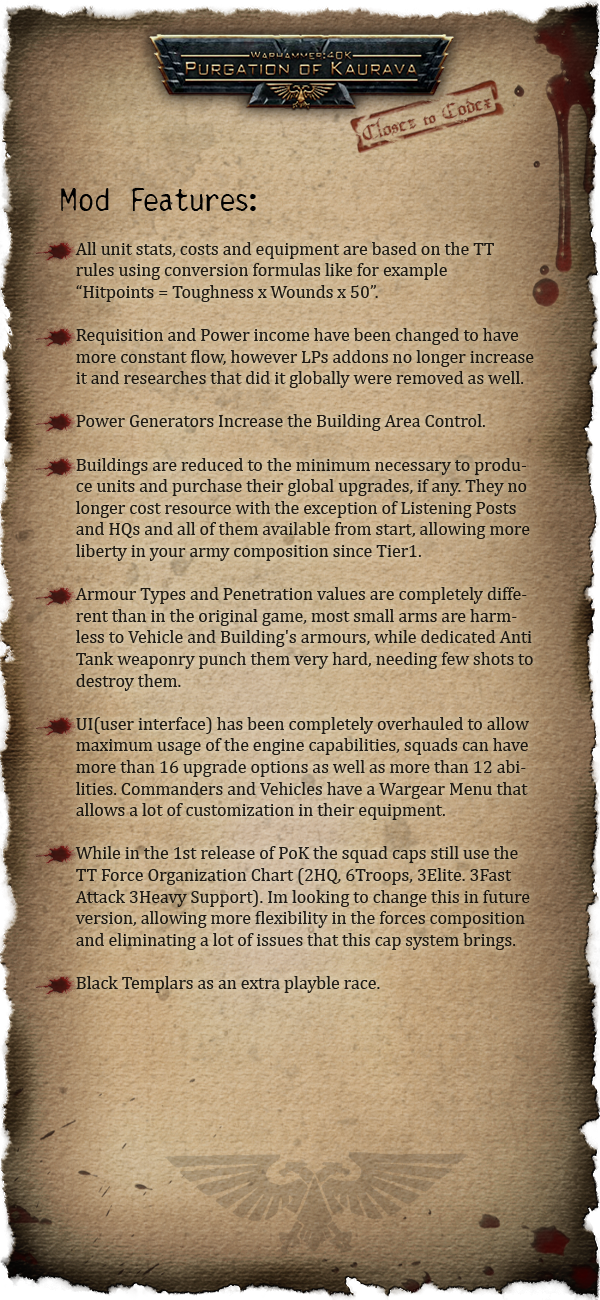 Text Version:
All unit stats, costs and equipment are based on the TT rules using conversion formulas like for example "Hitpoints = Toughness x Wounds x 50".
Requisition and Power income have been changed to have more constant flow, however LPs addons no longer increase it and researches that did it globally were removed as well.
Power Generators Increase the Building Area Control.
Buildings are reduced to the minimum necessary to produce units and purchase their global upgrades, if any. They no longer cost resource with the exception of Listening Posts and HQs and all of them available from start, allowing more liberty in your army composition since Tier1.
Armour Types and Penetration values are completely different than in the original game, most small arms are harmless to Vehicle and Building's armours, while dedicated Anti Tank weaponry punch them very hard, needing few shots to destroy them.
UI(user interface) has been completely overhauled to allow maximum usage of the engine capabilities, squads can have more than 16 upgrade options as well as more than 12 abilities. Commanders and Vehicles have a Wargear Menu that allows a lot of customization in their equipment.
While in the 1st release of PoK the squad caps still use the TT Force Organization Chart (2HQ, 6Troops, 3Elite. 3Fast Attack 3Heavy Support). Im looking to change this in future version, allowing more flexibility in the forces composition and eliminating a lot of issues that this cap system brings.
Black Templars as an extra playble race.