Why the Middle East?
Now we enter a minefield of communication we already knew about when starting this exciting development project within the "Holy Land setting". Ali-Han Ibragimov, the creator of the world and its characters, wrote a beautiful and inspiring story about people with different believes, origins and ethnicities united in a common goal that allows them to look past all the differences and pursue their common dream, a story with elements that had actually happened in the long, exiting and sometimes sad history of the real-world Middle East.
However, we were clearly aware of the dangers involved, and in the beginning, we were reluctant to even name the country where the story takes place - just to avoid getting drawn into a conflict that still burns before the worlds eyes. We got past those fears, and then we discussed and reflected the details like "Are NPCs allowed to refer to the players chars as "The Jew" or not?!".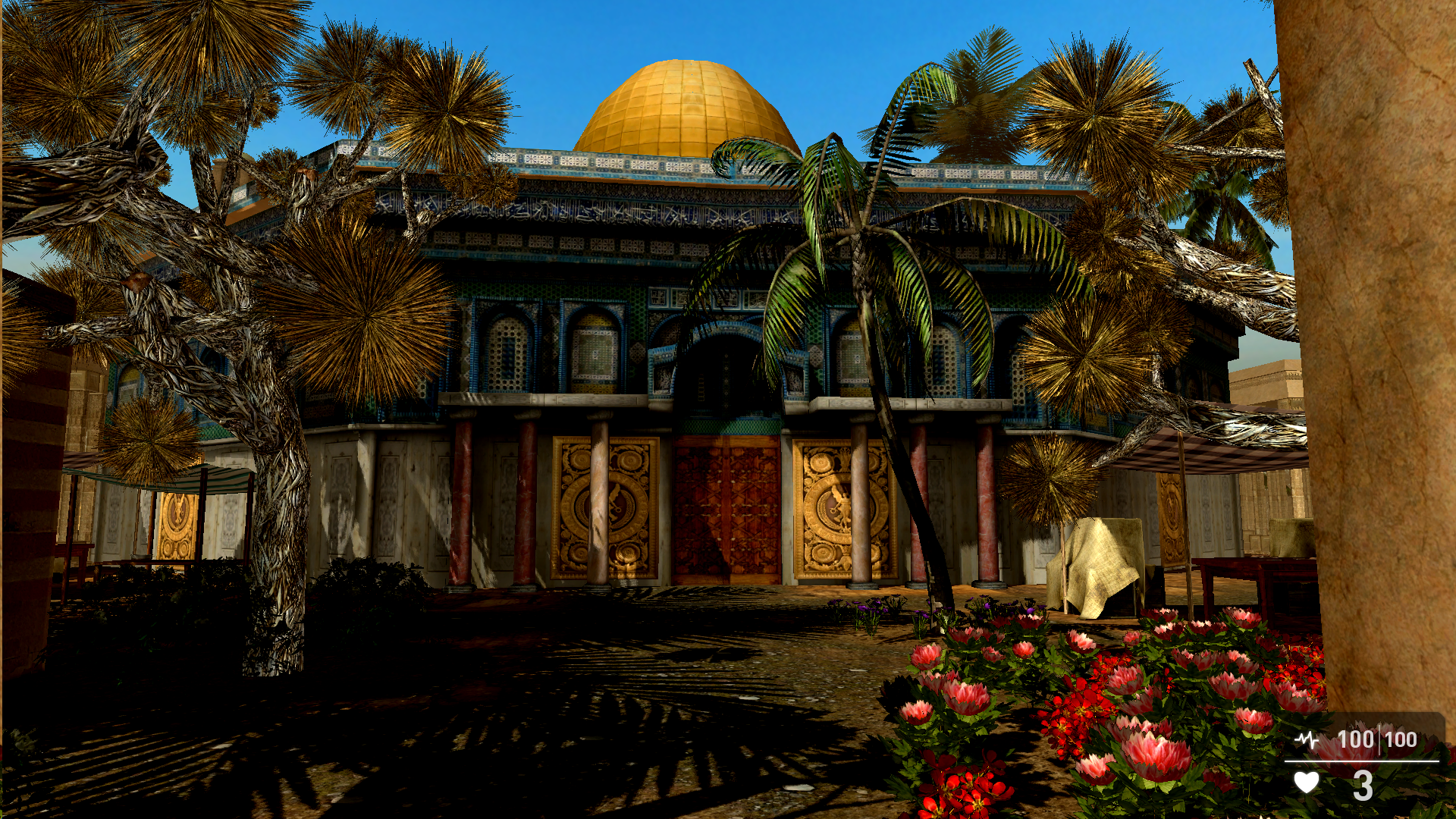 One cannot simply put in the Temple Mount as ingame location without considering its history.
In the end, we decided to let go all ideas of self-censorship. Our team has members rooted in each of the religions involved, we have people from Jerusalem working on the game, and everyone is entitled to give his or her veto at any point in the development if something appears that could be misunderstoond. Unfortunately, our concerns and fears were not hollow.
After every single presentation, even those for close friends, game press journalists and people who know us, we get the question:
"So, where do you stand regarding the conflict?"
That's the reason we have to state once and for all: This is a fictional story placed in a semi-realistic Middle East at the end of the 19th century. We make games, not politics. Most European or US games depicting the Middle East are full of stereotypes and drawing lines between "good" and "evil" based on appearances, faiths and ethnic features. Games themed around the Middle East conflict developed in countries assoziated with the ongoing ME politics are unfortunately often works of propaganda. This is not what we are into. We don't have any hidden agenda – but we share the same dream, and we work together hard to fulfill our dream.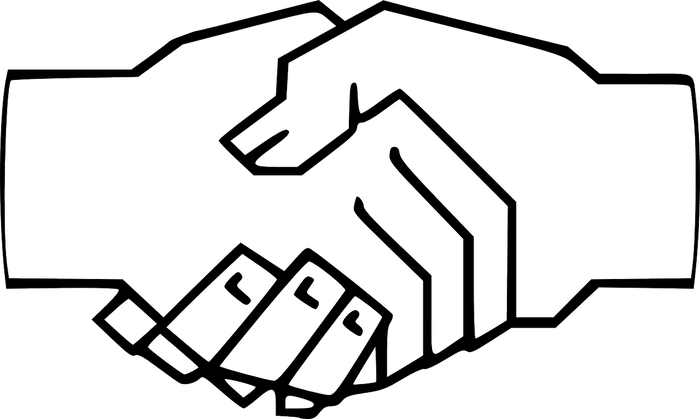 "We are a team of people with Muslim, Jewish and Christian origins making a game about Muslims, Jews and Christians united in a common vision of a better and just world."
This message is strong enough on its own!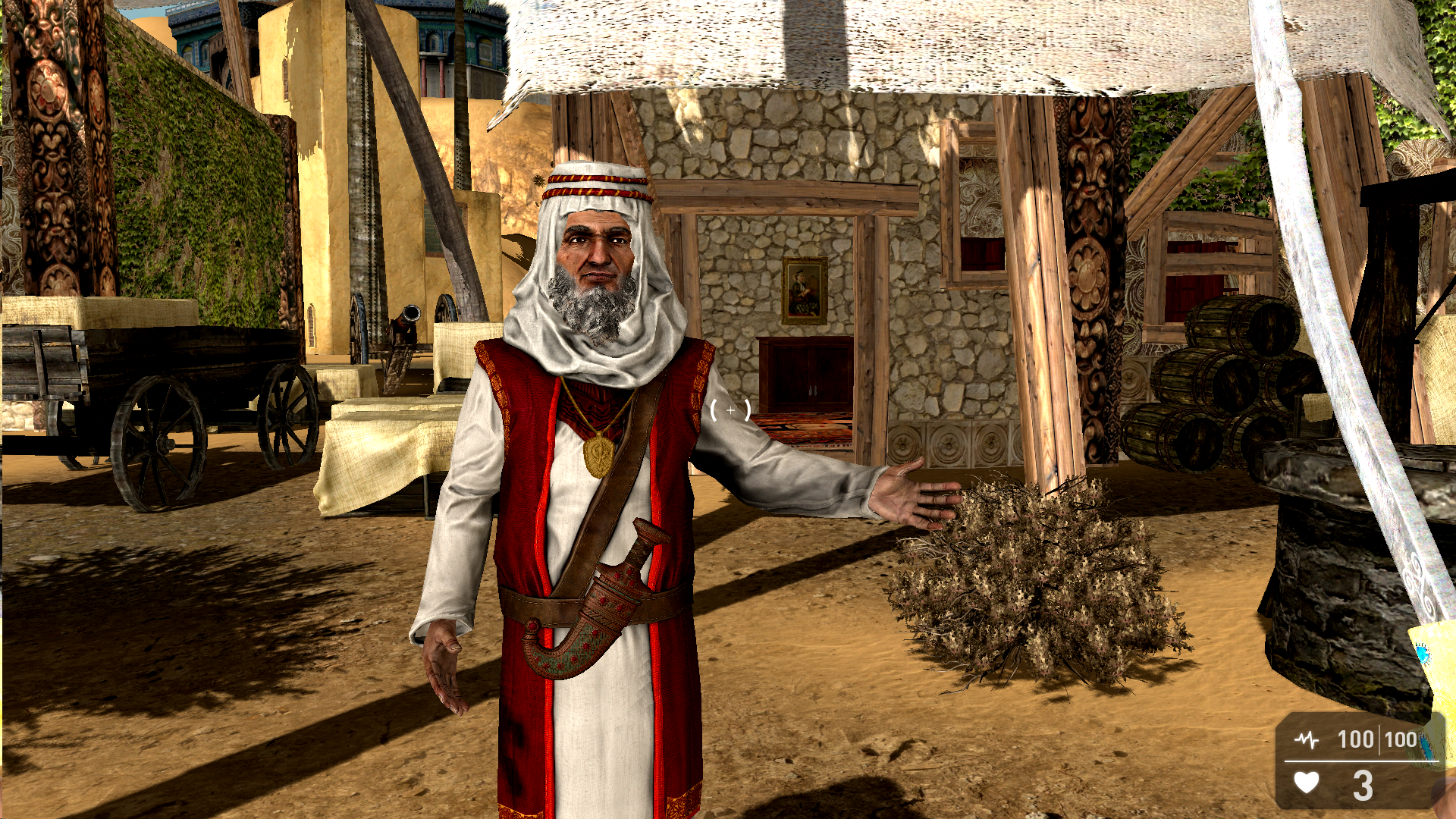 Omar El-Amin raised Nathaniel Rosenthal like his own child according to the games background story. Also a strong message on its own.
A personal note from me (Ivan Ertlov):
Some years ago I was invited to give a speech at a conference on "Religion & Capitalism" at the University Vienna. There I came into contact with inspiring people working on Interfaith communication, cooperation and mediation. To be honest - I am active in interfaith communication and cooperation, but not much active in the regional church here. I was raised Catholic, some of my closer friends are Muslims and last year I discovered that I have also some Jewish ancestry on my mothers side. Still I am not a frequent church / mosque / synagogue visitor.
However, I DO believe in the uniting power of common interests, like gaming or Indie development across all gaps of origins and believes, and even more I believe in the uniting power of collaborative game development. Having a common goal, a common artistic vision, the common desire to tell the story we are working on is a glue holding us together much stronger than any different views on politics and faith could ever be.