How to install Mercenaries
To play Mercenaries, complete the following steps:
Install the latest version of Mount & Blade: Warband.
Download and install Mercenaries.
Run the game and select the Mercenaries module.
Join one of Mercenaries servers and play.

How to make your own character
In order to make your own character and get access to the Mercenary class, you need to register at mbmerc.com: registration form. Just register, confirm your email address and log in. Now you can create a new character, distribute free attributes, skill points and buy something. When you are done adjusting your stats and equipment, run Warband and join any Mercenaries server with the name of your character.
Example: screenshot of an in-game profile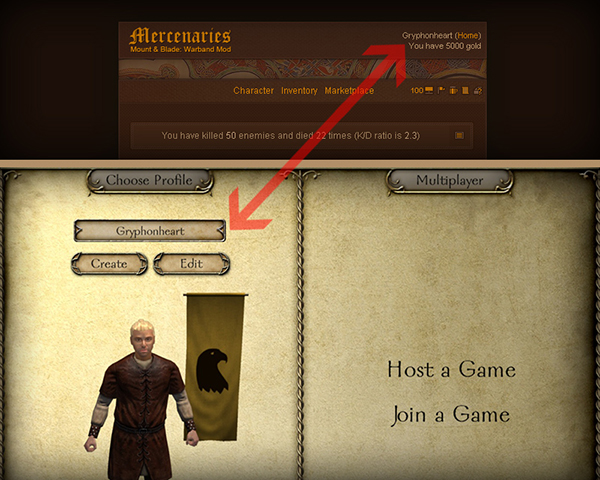 It's recommended to not spend the starting gold on armors and secondary items. Better buy a good weapon and a cheap shield. If you don't like your build, you can reset characteristics of your character. If you don't like how you spent your starting gold, you can create another character. Find more information in the Beginners Guide and read our official FAQ.
How to find game servers
It shouldn't be hard to find our game servers. Just choose the "Internet" source in the server browser, order the list by module and wait for the list to be fully loaded. Then add 3 European servers to favorites: Mercenaries_EU1 (Battle), Mercenaries_EU2 (Siege) and Mercenaries_EU3 (Duel). It will allow you to join them faster in the future.
Example: screenshot of the server browser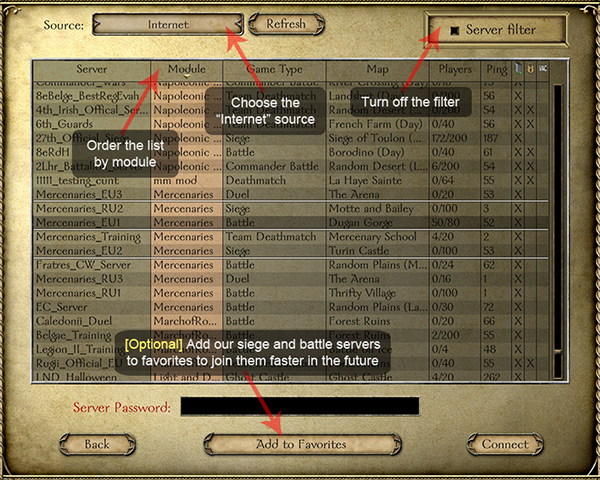 How to update Mercenaries
If you installed Mercenaries by using a full setup file, latter you can update the module by running the "Force Update" shortcut. You can find it on the Windows Start menu. Or just run the game via the "Mercenaries" shortcut. The version of your module will be checked automatically and it will be updated if needed.