Original article can be viewed here: Grand Theft Outta Gum
By Nathan Davis on 2 March, 2009 - New Enthusiast
Duke has previously made it to Vice City and even Saints Row 2, but these comparatively high-detailed worlds are foreign to the alpha-masculine hero. Perhaps the reason Duke Nukem Forever won't ever is because his adrenaline feeds off chunky pixels and animations so slow you can count the frames (and on one clenched hand). So, it's only fair that one of these worlds is translated to his native homeland for once. A certain CommanderNZ set about doing just that, and is creating a kind of game demake/remake hybrid he lovingly dubs Duke Theft Auto.
Recreating the classic 1997 Grand Theft Auto world in the 1996 Duke Nukem 3D engine, the 22 year-old developer proclaims "Instead of being limited to a top-down view as you were in the classic game, you will now be able to run and drive through the cities in a first-person perspective, as well as a third-person." Who knows? Maybe he hasn't noticed the newer titles, but that's just fine by us, as he somehow managed to make the original Grand Theft Auto look even more retro than it already does.
As Duke, the developer says that players can "run, shoot, kill, car jack your way through many cities on your way of becoming the number one criminal!" This means that Duke can finally destroy those pesky innocent civilians for points, as opposed to being rewarded with multitudes of pissed enemies.
Currently, it features some hilariously odd quirks, such as cars insta-turning corners or head-bobbing while driving, but they only serve to add to the archaic amusement. That said, the developer has promised to fix these things, along with others, including make police cars actually chase you, have cars spawn their drivers when you steal them, and provide some form of collision detection for vehicles. It's clear the developer is having a tough time with the game's focal point.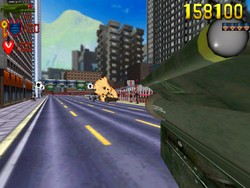 All of Duke's voice effects are presently in place, so in the videos he can 'hail to the king, baby' and 'come get some' his way through Grand Theft Auto. However, the developer wishes to make the game standalone, so these will be removed, unfortunately, for pretty clear copyright reasons.
In terms of engine, it is specifically built around the cross-platform, open source port of Duke Nukem 3D, known as Enhanced Duke3D, so it will operate under Windows, Linux, and Mac. Judging from the in-game menu, users will be able to create their own maps to play alongside Liberty City, San Andreas, and Vice City.
Although I hesitate to call it one, most demakes we see translate 3D worlds to a re-imagined 2D side-scroller. These can be a lot of fun and certainly put a different spin on an existing game – much like Gang Garrison 2 does for Team Fortress 2 – but it's great to see a tad more variety than mostly platformers.
You can grab the alpha version of Duke Theft Auto from here, but it does require the full version of Duke Nukem 3D. The upcoming beta, however, will be a standalone package, and this is due for release in the coming weeks. Meanwhile, the developer has posted a number of videos to his YouTube channel – otherwise, see below for our cherry-picked favourites.