[page=To those who ask for Doom...]



It's been a video game. It's been a movie. It's been a series of novels and even a board game. Often emulated and never beaten, Doom is the quintessential balls-to-the-walls action game, now masterfully reproduced as a mod that far surpasses Doom 3.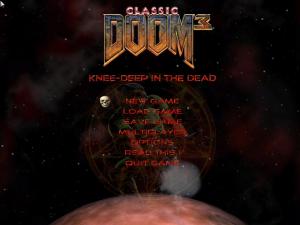 Even a rendition of the old menu makes an appearance.
As far as controversial mod topics go, game remakes are one of the most heated.
I mean, why is it so important to remake every old \ semi-old game into the Source engine? Is Halo really a better product when introduced to Havoc physics? Bringing back an oft-overlooked game to a wider audience is one thing, but just retooling the same game over and over again is just an act of lacking creativity.
Or is it?
Doom is not a game that people overlook. If you take a poll of most gamers out there, you will not find a single one who has never played or heard of Doom before. I mean, the bloody thing is everywhere. They have a movie, they have novels, and they even have a frigging board game now. So why bother remaking it? Is there an underlying need for the Doom 3 to be sped up into a rock-heavy, high-speed blast fest, pitting you as the sole force against the unrelenting hordes of the damned?
Quite frankly, yes.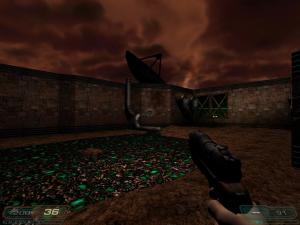 The pool isn't looking too clean...
My opinion on remakes varies from one case to another, but I can say with total assurance that Doom 3 just isn't a very stellar game. If you are looking for a suspense filled horror adventure full of cool plot twists and interesting encounters, you are bound to get bored after the 23rd level in a row featuring the exact same objectives and enemies as before. And if you argue that Doom isn't about being scary or having a cool plot, that it is entirely reliant upon relentless action: then where is it? Most of the game is confined to fighting two or three enemies at a time in dimly lit corridors with no real variation. Sure, it gets tense when your health runs low, but where is the adrenaline? Where is the rush? Why does my pistol sound like a Red Ryder BB Gun?
Classic Doom 3 is a mod determined to change that. Bringing Doom 3 back to its shareware origins in Knee Deep In the Dead, Classic Doom 3 takes the improved graphics engine and brings the bloated third entry in the series back to its roots: namely, some of the most hardcore and frenetic action the gaming world has ever seen.
[page=Run, Shoot, Die, Repeat]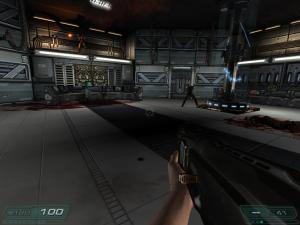 Who spilled all the cranberry juice?
Gone are the cheesy weapon sounds, the pointless story and the nearly non-existent music, and the complete lack of power ups. No more zombies, no more medical stations, and no more goofy presentation trying to disguise the fact that the game is little more than a linear series of hallways with monster closets. This is Doom as it was and should always be.
When the mod began, I was a little skeptical. Did the classic Doom game begin with a long cut scene, depicting the events leading up to your one man assault? No. Hell, it didn't even give you the text of what was going on unless you went and searched for the thing. Yet, there it is at the beginning, staring me in the face and making me twitch. "Good god, tell me they didn't Doom 3 it," I kept telling myself. Then the loading screen came up, not with a map of the Mars Complex I was to march through but with a screen shot of the level.
At that point, I was crestfallen. "This isn't Classic Doom," I kept thinking. "This is why remakes suck! This is why---"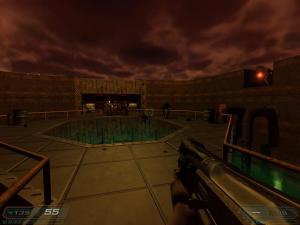 Such a beautiful day...
Dun dun NUNNN! Nunna NUN!
As soon as the level finished loading without my noticing, the loud, thumping musical score that everyone remembers from the opening level began, pounding through my ear phones with enough force to shatter a lesser being. The sound almost made me leap out of my seat. And there I was, standing in a visually upgraded but architecturally identical version of the Hanger level, gun in hand. I tapped the forward key, and dashed forward. None of the slow plodding from Doom 3 here, this guy frigging runs.
So, I turned the corner and headed for the stairs. Everyone knows that the shotgun and the armor upgrade can be found up there, along with three Former Human Sergeants. Normally, I would be slow and methodical about this, but I just sprinted for the stairs, aiming my pistol towards the top and blasting away. The first Sergeant looked down on me for all of two seconds before he was stumbling backwards, being crunched under my boots, and left behind as I claimed my prizes.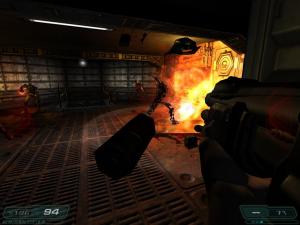 The coolest screenshot I've ever taken.
It's all here; every bit of ammo, every power up, and every secret left behind exactly the way they where in the original. The accuracy of this title is simply staggering. While I didn't have a copy of the original on hand to check this, I swear that the bodies of your fallen comrades are all lying in the exact same spots around the levels, as well. And though some may complain that there is nothing to be gained by replaying these levels as they did many a year ago, it is just satisfying to see how accurate they are and to see how the levels have translated over. That, and it is just way more fun than playing Doom 3 itself.
When you get over the return of the music and the levels, you'll start to notice how the team behind Classic Doom 3 has tweaked the existing elements around to make them more like their original counterparts. Gone are the cumbersome times you spend reloading your gun, replaced by a large ammo pool that you just continue to fire from until you run dry. Also, many of the gun sounds now feel way more powerful and effective. Though I again couldn't find my copy of the original game to see if they were exactly the same sound effects, they certainly worked well enough for me.
[page=Been there, Shot That]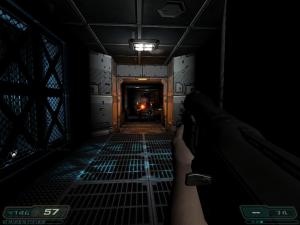 Oops, wrong door.
When we consider a modification to receive the Mod of the Month award, we spend a lot of time trying to decide what makes it worth playing. Is it creative? Does it have lots of mass appeal? Or does it just take some crucial element and refine it to gaming perfection?
Classic Doom 3 is a worthy download for anyone who bought a copy of Doom 3. All my bashing of the title aside, this mod takes an old, winning formula, and capitalizes off of it. It is easily more fun than the game you bought and miles more engaging. Does it do it without error? No, not really. The intro movie, though well done, is rather annoying and unnecessary. The game also happens to be rather hard, arguably harder than the original one was, though I again cannot confirm that for sure right now. Plus, I wanted some of the outdoor areas to look a little more detailed and interesting than they do, even if they are keeping in tone with the original. And then there is just the fact that a lot of people won't like it because it isn't a 100% original creation.
"Classic Doom 3 takes the improved graphics engine and brings the bloated third entry in the series back to its roots."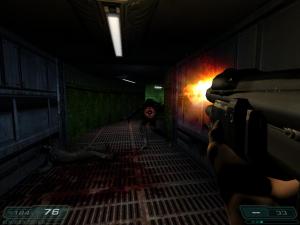 Relentless enemy shooting has never felt so good.
But at the same time, Classic Doom 3 is fun. A fun game is one that takes good, exciting game play and mixes it with an enticing experience, complete with a presentation that befits the title. And man, did I have a good time playing this mod. I would be hard pressed to pick out another mod out there that has the same level of high-octane fun as this game does.
So, set your complaints aside, leave your brain at the door, download this mod, and prepare to play one of the best examples of a classic remake out there today.