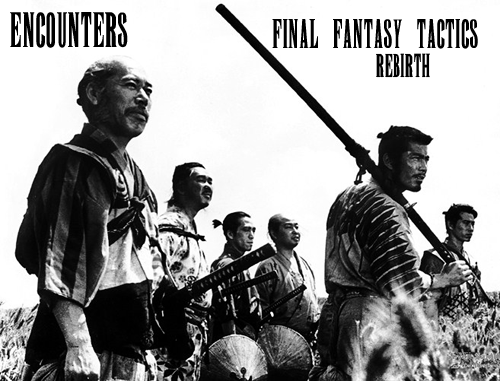 There have been a large amount of new and updated encounter to FFT: Rebirth. First off you will notice that most storyline battles feature either more enemies or one of the enemies has been upgraded to sort of a mini-boss. Generally these mini-bosses will have slightly upgraded equipment and pre-selected ability combinations. Here is an example from the Sand Rat Cellar sequence: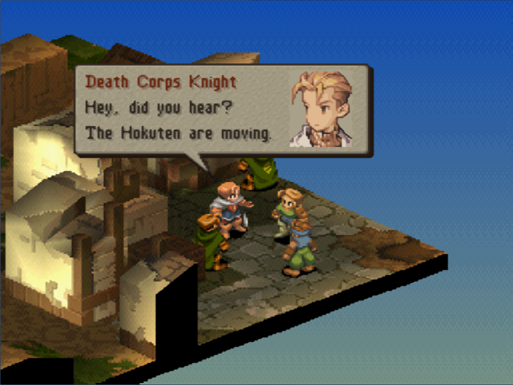 Hmm, this Knight looks a little different than I remember.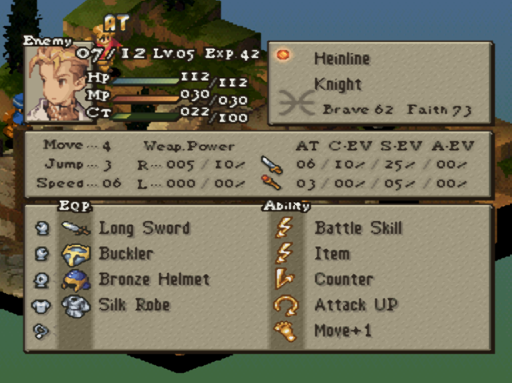 Aha! I see he has Attack Up, Counter, and Move +1. He could be handful at level 3! Make sure you check any enemy who has a slightly different appearance than you remember. Chances are that he has been modified or upgraded to some extent. In random battles such as Mandalia Plains and Sweegy Woods expect to see some completely epic encounters. These encounters were inspired by the 11 Monk throwdown that happens on Grog Hill in the original game. Our thought was that players already familiar with FFT would enjoy more of these types of encounters. These epic encounters will occur 40% of the time when approaching an area from the correct direction. For instance, if you approach Mandalia plains from the South you get the following battle 40% of the time.
I'm still a little bitter about this battle. Other epic encounters include the Seven Samurai, Seven Worker Sevens, 11 Great Marlboros, a party of gunslinging Chemists. Some of these are in the Deep Dungeon but every place where you can fight random encounters has one of these epic encounters. Fighting them generally gives you epic end game equipment also.