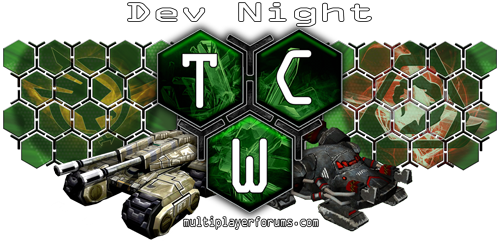 Intro
Welcome Commanders,
this upcoming Saturday we will hold a Dev Night where you can play and talk together with the Developers and Testers of Tiberium Crystal War.
Most of our Developers and Official Testers will be present during this event and we hope to see new players ingame having a good time.
Times
When will all this great happen?:
Saturday 6th of October @8PM Amsterdam Time (UTC+1)
Saturday 6th of October @2PM New York Time (UTC-5)
Saturday 6th of October @7PM London Time (UTC)
Sunday 7th of October @4AM Sydney Time (UTC+11)
New to Tiberium Crystal War?
You can download it on our official homepage at tiberiumcrystalwar.com and pick a mirror closest to your location at 100MBits speeds.
Manual
We have a quite extended online manual available with every aspect of Tiberium Crystal War explained.
Maybe also read through our 'noob guide' to learn some of the basics.
Thanks
Thanks for reading this and potentially joining our games. Please feel free to spread this feature news on your clan- and or game-forums and websites.
Greetz Tiberium Crystal War Development Team