Characters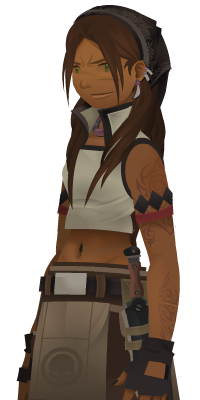 Khana Faust is a 19 year old, Ragnic smart, Bhacrio courier with a bad reputation for telling crude jokes, speaking her mind, and being one peg short of psychopathic. She follows the ways of her people charismatically, sometimes nearing Ban'Tien extremes. Her tomboyish femininity makes her clumsy during formal events, but she rounds herself off well with her charm and unconventional beauty. Commonly nicknamed "kerchief girl" and "Notorious Nefarious" in the Trade, Khana's optimism and Trade affiliated smarts have made her a well known and somewhat favorable courier within southern Ivara. She specializes in the Bhacrio fighting art of Tomo Yi -- mastery in knife based techniques, in particular -- and knows more about how to fight, hunt, and kill Ragnic than she does about being a conventional Bhacrio woman. In fact, Khana's body is so well built and tempered, that she's capable of lifting objects well over 500 pounds. If her strength doesn't impress, than the number of tattoos, gashes, and scars from near death confrontations, all riddled on her body, will. There are very few things she believes she cannot accomplish on her own, but she's never tactless like, as say, Iberian would be. Not surprisingly, it's because of her collective attitude, bizarre strength, and demeanor that's allowed her to properly deal with the maddening threats present in the wastelands -- Ragnic encounters, devilish rainstorms, marauder encounters, floods, etc.. Beyond her personal flaws and abstract quirks, Khana is a laidback, focused, tranquil, and fun loving kind of girl to get to know, however, never expect anything but harsh words from her.
History
Khana Faust was born in Mount Kastinova, Ivara, in R.E. 324. Her parents were Nila Faust, formally known as Reaver Matriarch Nila Faust, and Sano Hako Siagoo, an entertainer who had a reasonable amount of fame in Ivara and certain parts of Marlu. Growing up, Khana had to face the stark reality about her parents lifestyles. The times she would see her parents were usually during their arguments at home, in Kastinova. Sano never seemed to care about Khana's own safe being or personal interest, since often times he would ignore her presence, or brutally beat her. Nila, although caring, was never at home because of her duties as a Reaver Matriarch and significant role in West EDOC. Often times, Khana would be home alone and left to take care of herself for long durations at a time with minimal parental supervision; her life being no different than that of a of latchkey kid. Although alone, Khana grew up as a very independent Bhacrio youngling with an uncanny sense of self-preservation in part of her isolation. Around the age of 6, Nila allowed Khana to stay with Mace at his home in West EDOC, which would later become Faust Courier. During this time, Mace taught the 6 year old youngling how to read and write Humos along with her native language Numa. Strangely, Khana was a natural genius at literature although most of her time was spent on speaking obscenities with the lowbrow, southern Ivara accent -- she still does to this day.
After the fall of the Reaver Society, her mother fled to South EDOC after formally being branded as a heretic against EDOC and the Reaver Society. Nila's unintentional heresy within EDOC and the Reaver Society also created dire circumstances that otherwise clouded her "would be" better judgment; the act of taking Khana along with her despite any possible fears, being an effect of her ill decision making at the time. Sometime later, Nila's close follower and fellow Reaver, Iberian Sable, later confirmed to the Faust family that Nila had died a few short moons after her leave to Darmus. No sooner afterwards, Mace gave Khana her mother's most favored belongings -- in particular, Nila's illustrious combat knife and headscarf, affectionately adding to Khana's own persona and the sometimes blunt nickname "kerchief girl". Nila's belongings were given up by Iberian, who, although, wasn't able to find Nila's body after death, did manage to find her equipment. Since then, Khana has grown into an aspiring courier under the guide of her uncle Mace, Iberian, and fellow courier/rival, Nolan Vauldergear. She has also become close friends with Orin Reynoldia's second daughter, Cassidy Orin Reynoldia -- informally known as Casie. On a latter note, Khana has given Casie the nickname "Sugar Queen" and Nolan the nickname "Blue-eyes".
Bio
Age : 19
Gender : Female
Race : Bhacrio
Height : 5'6
Weight : 146lbs
Born : 12th of Rain
Origion : Mt. Kastinova, Ivara
Home : West EDOC, Ivara
Job : Courier Survivalist
Affiates : Faust Courier
Speech : Numa (Proper), Humos (Southern Ivarian)
_ _ _ _ _ _ _ _ _ _ _ _ _ _ _ _ _ _ _ _ _ _ _ _ _ _ _ _ _ _ _ _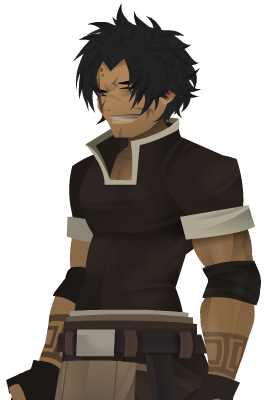 Like Khana, Nolan Vauldergear is an excelled courier working under the Faust Courier brand. Nolan is very compassionate concerning all matters, although greatly exerts himself to avoid failure or minimal success on the account of others. Due to this, he carries on a methodical mindset, often times creating more details in overly simplistic matters or situations. He believes in fair play and generally does the thinking for everyone else, despite how many times his plans may backfire. Nolan is a Humari who is used to failure and recovering from said failures with a passive shrug of the shoulders. He was born in North EDOC, Marlu, but due to unfortunate events caused by his father, Haze Vauldergear, his family moved elsewhere to denounce their association with his father. His father was sent to Anchor Point sometime afterwards and was charged for conspiracy acts and mass genocide with the Skulls. Moving to Trinity Plateau, Ivara, Nolan spent a majority of his time with the U'saras, a Bhacrio family previously associated with the Ban'Tiens. After another devastating event -- Lina U'sara's (Nolan's close friend) death -- Nolan's family moved, again, to West EDOC. Nolan wanted to make something out of his life that didn't reflect the likes of his father, but strangely, he chose to follow the day and the life of a courier; a life riddled with more Ragnic caused deaths and genocide then any other career path next to being a Reaver. Under Mace's watch, and Khana's forced rivalry, Nolan shed his quiet demeanor and became a roughneck courier with the scars to match. Humari, like Nolan, are considered "altered breed", or Humbha, meaning he was born a Humari, but was raised like a Bhacrio, in spirit and in lifestyle. As stated before, Nolan is used to situations with enough psychological damage to create permanent traumatizing effects, but he's managed to maintain his cool with a passive, Bhacrio-esque attitude.
History
Nolan Vauldergear was born in North EDOC, Marlu, in R.E. 324. His parents were Haze Vauldergear, originally a Reaver biomurrologist who later acquired a considerably long criminal record, and Mareni Vauldergear, a former COCA disciplinary, now a stay at home mother. Nolan grew up the old fashion way like any other Humari born in Marlu territory. He had friends, he had a stable lifestyle outside of Ragnic owned territories, and he had a good family. Unfortunately, his father, Haze, had anything but a normal lifestyle. Due to Haze's work as a Reaver biomurrologist, Nolan's family moved quite often within Marlu to accommodate Haze's business. After the Clandestine incident and Haze's capture, Nolan's mother, Mareni, decide to move his family elsewhere. Around the time Nolan was 6 they moved southward to Trinity Plateau, Ivara, where Nolan's life had suddenly changed in more ways than one.
In Trinity, Nolan became close friends with a Bhacrio family called the U'saras. In particular, he was very fond of the family's young twins, Lina and Linko. Linko was the closest thing to a mutual friend Nolan had at the time and Lina was the first girl Nolan ever adored. This remained for 7 years, slowly turning into a strong bond. Unfortunately, this did not last. One day, a Tower near the boarder of Trinity had exploded from impromptu decay. It was near the area Nolan and his friends would normally be around. It was here that Lina, Nolan's dear friend, perished from an advanced case of leprosy caused by the explosion. Nolan was devastated, and soon, his relationship with the U'saras -- Linko specifically -- dissolved. Unsure of the certainty of life in Trinity, Mareni Vauldergear decided to move her family to West EDOC. Nolan was 13 at the time.
During the first year Nolan lived within West EDOC, he was extremely depressed and even afraid of being around Towers completely -- towerphobia as it's called. Despite all the things he was lucky to have, he felt extremely isolated and paranoid. Haze had become a heretic against the Reaver Society and EDOC, Nolan's closest friends were gone, and the state of Nor Prime was slowly falling back into primal times. After that year was over, however, Nolan had enough. He decided to change his life around and not be the victim to the world that he used to care about. He wanted to do something that made him feel the rush of living, the sensation that he could overcome the odds, and that no one can take away his life unless he had something to say about it. How he managed to come to the conclusion that being a courier would be the ultimate answer still is a mystery to him even to this day. Seeing a new courier shop open within the city, Nolan discovered Faust Courier. He met with Mace Faust and was met with an informal introduction -- "A Humari wanting to be a courier?" Many Humari denounce the roles couriers play in Nor Prime because of their brash nature, but Nolan was literally breaking the stereotype, although his position was nothing revolutionary.
Given the chance to shape his abilities, Mace trained Nolan along with Khana to become couriers. After 2 years of intense training, Nolan had almost completely shed his former personality and became a completely new Humari. Passionate about his new occupation for over 3 years, Nolan grew more and more into an unrecognizable person acting more along the lines of a Bhacrio than a traditional Humari male. Now, fully grown and no stranger to death, pain, turmoil, good times, bad times, regret, devastation, and love, Nolan's aloof, cool, and signature "leaf stem 'n mouth" look almost warrants respect and intimidation.
Bio
Age : 19
Gender : Male
Race : Humari
Height : 6'0
Weight : 164lbs
Born : 48th of Dry
Origin : North EDOC, Marlu
Home : West EDOC, Ivara
Job : Courier Coordinator
Affiliates : Faust Courier
Speech : Humos (Southern Ivarian), Numa (Partial)
_ _ _ _ _ _ _ _ _ _ _ _ _ _ _ _ _ _ _ _ _ _ _ _ _ _ _ _ _ _ _ _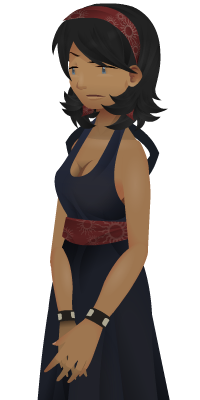 Cassidy Orin Reynoldia -- Casie for short -- is a steadfast, theist, 21 year old Humari with an unhealthy sugar eating habit, a split personality, and a near religious love for science -- from theoretical physics to the obscure science of biomurrology. Following very closely to her people's tradition's, the Humari, she takes personal pride in herself and spites others for not trying as hard as she does, especially when she's around Khana and Nolan. Without much provocation, Casie has committed herself to the Scouts as one of the few freelance biomurrologist willing to fix Towers that have shown signs of decay over the years after the Reaver era. Even though her family has been apart of EDOC since the earlier centuries, her rebellious nature and precarious mindset towards her family, keep her from following the same path her family has gone. In fact, this has caused Casie to deeply root herself in more religious mediums such as believing in God -- along with his divinity -- detaching herself from worldly influences (civil obedience), and proactively seeking forgiveness for her sins. This is ironic for someone raised in a mostly parochial, agnostic family. Aside from that, Casie loves candy, lollipops, and anything sweet, in general. In truth, if Casie doesn't get any sweets in her body on a daily bases, she turns into a very sadistic person who's only outlet is through rage and destruction, automatically contradicting her theist beliefs. Strangely, Casie's mannerisms are mostly dualistic, making her mostly transparent "at first", although widely bipolar; the obvious contradictions and relationships between science vs. religion, right vs. wrong, traditional vs. unconventional, etc., riddle her personality as if she were making a statement subconsciously. Currently, she lives with Khana, in Mar Ganoo dormitories, with her pet Ragnic Nidaria, Plagus.
History
Cassidy Orin Reynoldia was born in West EDOC, Ivara, in late R.E. 321. Her parents were Orin Reynoldia, the once famed Grand Chancellor of West EDOC, and Raalo Reynoldia, a former Reaver Coordinator. Shortly after her birth, Cassidy's mother, Raalo, had died from heart failures. Although Cassidy never knew her mother personally, she was always told that her mother was a precautious Humari with only the best interest of others in mind. Her father, being the very busy man he was, had very little time to spend with his beloved daughter(s), but whenever he had the chance, he would tell Cassidy stories about her heritage and the influence of her family on Nor Prime. Around the age of 5, Cassidy and her sister Floressia grew into a rather inseparable pair. She would copy everything her sister would do, eat everything her sister would eat, repeat everything her sister would say. She looked up to her sister like no one else, and took heed of her wisdom whenever possible. Floressia taught Cassidy how to look at the world with an open mind and that there was no truth to the world other than what she believed in.
By the age of 8, Casie began to see a drastic change in her sister's behavior. No longer was Floressia there for Casie, neither was her father, but Casie didn't really mind this since she knew how busy her family could be. In the meantime, she was given private civil obedience lessons through West EDOC's Civil Obedience Curricular Academy (COCA). It was during this time that she found a passion in biomurrology and the various studies related to it. When things seemed to have been going her way, tragedy struck the 8 year old when she learned of her sister Floressia's death. Although details of Floressia's death were vague, if not intentionally, Casie knew it had something to do with her strange behavior as of late. The event rattled West EDOC, but more importantly, it changed Casie's life almost entirely. Since then, Casie grew to dislike the company of Orin almost completely. Her times spent with him were extremely claustrophobic for her. This isn't to say that Casie lost her passion for Biomurrology; nothing could be further from the truth. Her biomurrotics ultimately earned her the recognition of the newly employed Scouts. Under their jurisdiction, Casie was given freeform access to all Towers and D.A.N. data to help maintain the stability of West EDOC's Ragnic oriented dominance within Ivara.
Now, at the age of 21, Casie has become somewhat of a mirror image of Floressia, just with a broader view of life. Like her sister, however, she believes that her importance -- her ability to change the stability of EDOC and those within it -- has a heighten value since biomurrologist of any kind within EDOC are so few in number. Khana and Casie first met through their parents around the time Casie was 8. Since then, Khana and Casie have been an augmentative, but argumentative pair. Likewise, Casie met Nolan through Khana -- and so the trio was born.
Bio
Age : 21
Gender : Female
Race : ¾ Humari + ¼ Hecoy
Height : 5'8
Weight : 132lbs
Born : 24th of Cold
Origin : West EDOC, Ivara
Home : West EDOC, Ivara
Job : Freelance Biomurrologist
Affiliates : Faust Courier, West EDOC, Scouts
Speech : Humos (Proper)
_ _ _ _ _ _ _ _ _ _ _ _ _ _ _ _ _ _ _ _ _ _ _ _ _ _ _ _ _ _ _ _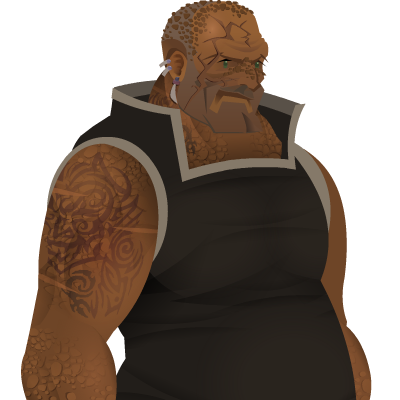 Mace Faust is Khana's courier chief and all time favorite uncle. Although he's too old for the running and panting related to courier life, he's let Khana and Nolan handle all the dirty work while he's usually getting himself drunk at the local pub, in West EDOC. However, Mace is a walking Bhacrio idol full of experience, charm, strength, and valor. His great body size and easy to spot bald head have made him the center of Khana's immature jokes since she was 5 years old. Mace, in truth though, was once a great Reaver Elite. Even more shocking is the fact that he fought a Ragnic Manta a lived to tell the tale -- an admirable feat considering how terrifying Mantas are. As of the moment, he's married to a Humari women named Po'Len Na'Daga, who he met inside West EDOC's citadel tower.
Bio
Age : 45
Gender : Male
Race : Bhacrio
Height : 6'8
Weight : 253lbs
Born : 35th of Storm
Origin : Kastinova, Ivara
Home : West EDOC, Ivara
Job : Courier Chief, Former Reaver Elite
Affiliates : Faust Courier, Reaver Society
Speech : Numa (Proper) , Humos (Darmun)
_ _ _ _ _ _ _ _ _ _ _ _ _ _ _ _ _ _ _ _ _ _ _ _ _ _ _ _ _ _ _ _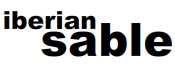 A true woman of the night, Iberian Sable is a highly trained, ex-Reaver Elite who worked with Nila Faust in the Reaver Society until the end of the Reaver era. She is Faust Courier's co-chieftain, sharing her position with Mace. Bitter, stubborn, and occasionally childish, she is focused on victory and nothing else. The word "failure" carries the same weight to her as death, making her a perfectionist. Due to her aspirations to be a type of paladin, she constantly thrives to achieve what Mace and Nila couldn't. To Iberian, Khana is her would be daughter. She has taught Khana everything Khana knows now, and rarely disappoints. Though in her late 30's, Iberian has the strength and body of a woman 2/3 her age, making her both foul mouthed and deadly.
History
Iberian Sable was a Reaver Elite during the time of Claudia's comet -- R.E. 329. She was an somewhat accomplished Bhacrio Reaver, but was greatly ridiculed for her lack of confidence. During the Clandestine incident, Iberian served under Nila Faust's direct command. Iberian was greatly inspired by Nila years prior and treated the event as a great honor and privilege. In time, Nila grew fond of Iberian and even gave her helpful advice to improve her own skills, abilities, and confidence, naturally. After Nila was ostracized from EDOC and the Reaver Society, Iberian decided to retreat back to her home in South EDOC, in Darmus. Ironically, Nila chose to leave with her to Darmus because of the uncertainty of Skull Dusk's accord. They both ventured to South EDOC only to find it in ruins with Skull Dusk on the loose. Nila confronted Skull Dusk and imploded South EDOC to defeat it. Unfortunately, Nila wasn't able to escape with Iberian in time. For 13 years, Iberian stayed in Darmus hoping to one day see Nila again by the off chance she survived.
During her 13 years in Darmus, Iberian stayed with her half brother, Caspian, in Finova. With no sense of duty and very little interest in a domestic lifestyle, she was a given a unique offer from Nila's older brother, Mace Faust, to help establish a courier company in the Trade. Iberian had no formal experience in the Trade, but she believed strongly this was the right direction to go with her vast Reaver knowledge. As so, Mace and Iberian created Faust Courier and networked their business between Ivara and Darmus. Using what resources she had, she established her new courier company in Darmus, while Mace handled things in Ivara. With the help of her brother and willing-to-work Bhacrio friends, she was able to grab a foothold in the region despite the competition in the Trade. Over time, however, business in Darmus steadily declined due to a noticeable population shift from the snow covered tundras of Darmus to the heavily populated cities in Marlu. Even still, she chooses not to except defeat in a ever shifting world.
Bio
Age : 39
Gender : Female
Race : Bhacrio
Height : 5'10
Weight : 161lbs
Born : Rain 72nd
Origin : Unknown (Finova possibly. Raised in South EDOC, Darmus)
Home : Finova, Darmus
Job : Courier Chief, Former Reaver Elite, Revolutionist
Affiliates : Faust Courier, Haut Monde, Reaver Society
Speech : Numa (Proper) , Humos (Proper)
_ _ _ _ _ _ _ _ _ _ _ _ _ _ _ _ _ _ _ _ _ _ _ _ _ _ _ _ _ _ _ _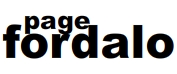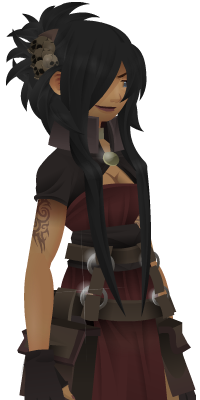 Page is a marauder for Maverick Courier. As a marauder, her key objective is to track and follow couriers from Faust Courier, and intercept packages and other goods. With a mastery in trap making and a keen sense of direction, she uses very aloof methods to stop her enemies. Not surprisingly, she's a master at setting traps of all shapes and sizes. She and Khana have run into each other enough times to know when one is nearby the other, but strangely, neither one of them hold a grudge against the other. In truth, Page and Khana act more like old friends than enemies, despite how much they like to swear at each other. Like Nolan, Page is one of the few Humari who work within the Trade, though Page isn't formally known as a Humbha, if not at all.
History
Raised in North EDOC, Marlu, Page Fordalo was born into a high-class family of Humari, responsible for creating the wire box trap, also known as the "Katadori". The success of this invention helped create close ties between the Fordalo family and many courier/marauder companies within the Trade. Due to the notoriety of her family, Page grew up well pampered, getting everything she ever wanted and then some. However, Page was also very isolated. Though she learned through EDOC's COCA, it was by way of private lectures.
By the time Page reached the age of 13, she was very unfamiliar with many of the conventions of Nor Prime, such as enjoying public festivities or being in the company of close friends. To this extent, she knew only of herself and what defined her existence: education, rules, isolation, selfishness. Incidentally, the Fordalo family at the time was looking into a permanent courier/marauder company to have work under them while they function as a self-supported donor. This naturally led to a contract between the Fordalo family and Maverick Courier. With Page's father making back and forth trips to Maverick Courier's base of operations, Page was allowed to venture with him. Having her eyes opened to the bustling scenes of Maverick Courier created a near religious fascination of Trade life, in general, for Page. It made her long for all that she had not had previously.
Once she grew to age 15, she requested to become a courier for Ralenko Maverick. Ralenko, unfortunately, was unsure of Page's ability to work as a courier. Her social skills were deplorable under scrutiny, she lacked charisma, and her unfamiliarity with social norms put her at a disadvantage in the Trade -- a Bhacrio centric syndication. Instead, Ralenko decided to make Page into a marurder after seeing that her genius lied in planning, patience, and foresight. This was not an apparent detail at first, however. In actuality, Ralenko didn't know of Page's strengths until he noticed her play a game of Juun against Loga. Each time they played, she won with nary a flaw. Ralenko then chose to challenge the youngling in Juun, himself, but outright lost within the first 45 seconds of play. He was convinced then that she would be more suited for the life of a lone marauder.
5 years of intense training and tempering made Page into a very fine tuned weapon. Thanks to her family's background in trap making, Page became a whiz at trap amalgamation and scouting. Ralenko's trust in Page grew rapidly within these years, giving Page a very credible amount of notoriety in Marlu. She now spearheads Ralenko's endeavors to expand Maverick Courier into Ivara territory, where, of course, she is in conflict with Faust Courier's very own Khana Faust. Their rivalry has yet to cease.
Bio
Age : 20
Gender : Female
Race : Humari
Height : 5'6
Weight : 122lbs
Born : 27th of Dry
Origin : Ra Na, Ivara
Home : North EDOC, Marlu
Job : Marauder, Courier Survivalist
Affiliates : Maverick Courier
Speech : Humos (Proper)