At 20:00 GMT on Saturday 13th February (15:00 EST / 12:00 PST) I will be releasing my Galactic Conquest mods.
I first started working on this 8 months ago, from knowing virtually nothing about Battlefront II modding, and have been slowly learning and improving on it as I go until at last I feel it is ready to be released. There are currently two Galactic Conquests for you to enjoy, and these are:
- Absolute Galactic Civil War (custom_gc_7)
- Absolute Imperial War (custom_gc_8)
The first is where you play as the rebels, the second as the empire. Other than who controls which planets at the start, they are basically identical bar a few minor tweaks.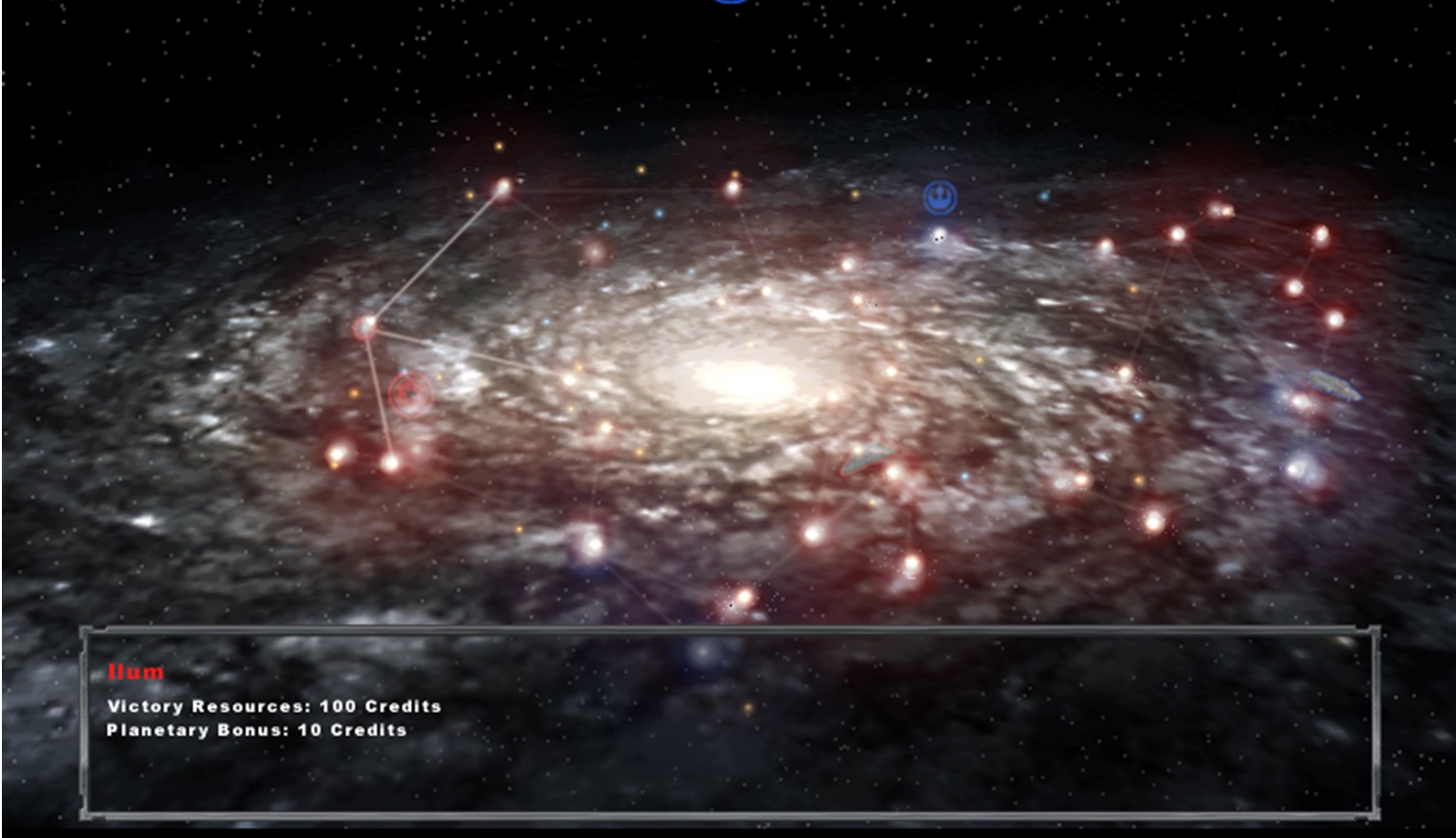 Highlights of these Galactic Conquests include:

- 38 unique planets, only 11 of which are stock planets
- Each planet location is correct based on SWGalaxyMap.com
- Includes 48 maps, including the 3 space maps and 9 stock maps
- Each planet has a unique camera zoom effect
- The Yavin model that plagues most custom galactic conquests has been fixed
- Disabled the enemy team from buying bonuses that will have no effect on them
- Dantooine, Rhen Var and Yavin all have multiple map options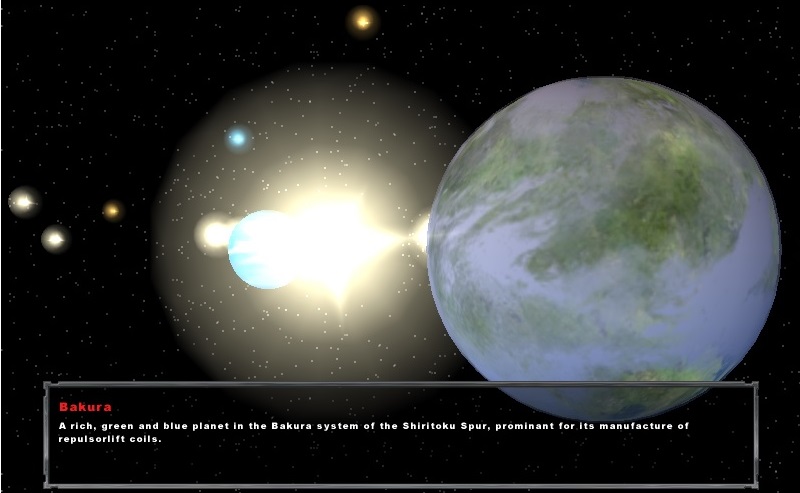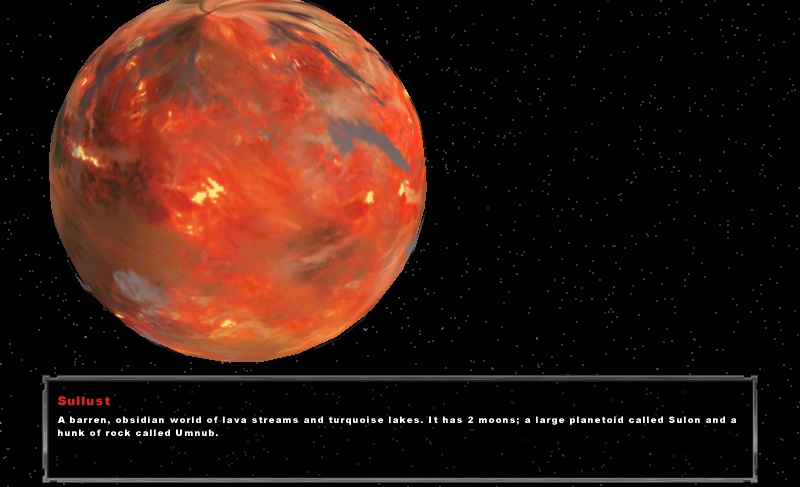 I hope you enjoy playing these Galactic Conquests! In future updates, I hope to be able to have multiple Galactic Conquests be available and selectable from the menu. I am also hoping to be able to reskin the planets to give each of them a unique appearance.
If you have any experience in either of these issues and are able to help, please get in contact!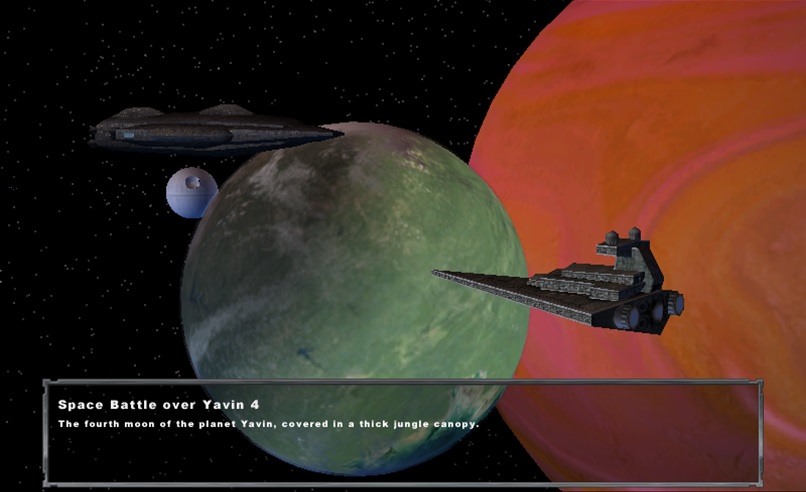 -----------------------------------------------Maps-----------------------------------------------
In order to play these Galactic Conquests, you will first need to make sure you have all of the following mod maps downloaded and in your addon folder. Yes there is quite a lot, but I've gone to the lengths this week of ensuring all are uploaded to Moddb for ease.
'Battlefront 2 Remaster Installer' latest version (contains Bespin) by HarrisonFog: Moddb.com
* At minimum, you need the lastest version of GCW Space, found here: Moddb.com
ADS - Aquilaris: Deep Sea
'Rebel Ops Mission 1' by Maveritchell: Moddb.com
CMT & ILF - Corellia and Ilum
'Natural Mappack' (you only need ILF & CMT, though the others are good too) by TK432: Moddb.com
AOD - 'Pharosis' by A_Speck_of_Dust: Moddb.com
ASL - 'Bakura: Town Assault' by PaNzEr gsp: Moddb.com
CAT - 'Cato Neimoidia (PSP Elite Squadron Conversion)' by Teancum: Moddb.com
CHA - 'Chandrila (Jedi Academy Conversion)' by Teancum: Moddb.com
CX1 - 'Coruscant: Palpatine's Office' by RepSharpshooter: Moddb.com
DKP - 'Dantooine: Khoonda Plains (KotOR II conversion)' by Teancum: Moddb.com
DLC_XBOX & UPDATE_XBOX - 'BF1 Conversions' by iamastupid: Moddb.com
DQ3 - 'Raxus Prime' by -|IC|-Delinquent_GER: Moddb.com
DRB - 'Dantooine: Rebel Base' by Jaspo: Moddb.com
ETR - 'Death Star II (Emperor's Throne Room)' by Maveritchell: Moddb.com
ITT - 'Taris: Into The Sea' by Warlord81 (Maveritchell): Moddb.com
KES - 'Kessel: Infiltration' by the1&only_Dasher: Moddb.com
KTH - 'Kothlis: Sea Haven' by FelipeGabe: Moddb.com
LZX - 'Lotashi Z: X Province' by a_speck_of_dust based on SWBF1 map by ICD3linqu3nt: Moddb.com
MLC - 'Malachor: Ruins' by prichard: Moddb.com
MOS - 'Mos Eisley Spaceport' by Rends: Moddb.com
NEL - 'Nelvaan: Village' by Squeddie (Squipple/Eddie): Moddb.com
NTH - 'Naboo: Theed Hangar' by Koolaid7g: Moddb.com
PDN - 'Dantooine (Elite Squadron Conversion)' by Teancum: Moddb.com
PSV - 'Vjun (Elite Squadron)' by Teancum: Moddb.com
RLS - 'Rhen Var: Monastery' by a_speck_of_dust: Moddb.com
RRF - 'Rhen Var: Ruins' by TK432: Moddb.com
SAL - 'Saleucami (PSP Renegade Squadron Conversion)' by Teancum: Moddb.com
SCF - 'Scarif' by Lee87: Moddb.com
SDA - 'Star Destroyer Assault' by Jaspo: Moddb.com
SRS - 'Sullust (Renegade Squadron conversion)' by Teancum: Moddb.com
THC - 'Thrakia: Par'Vallia City' by bobfinkl: Moddb.com
TRO - 'Tropicanae' by Thunderstorm025: Moddb.com
VFD - 'Virmund: City' by YaNkFaN: Moddb.com
VRH - 'Verrah: Valley' by DaiJigen: Moddb.com
WOJ - 'Rhen Var: Sanctuary' by Xavious: Moddb.com