Planet Earth is at war! NPC A.I. have been upgraded: enjoy terrific random battles everywhere, an easier combat system with less one-shot kills and a few corrected bugs.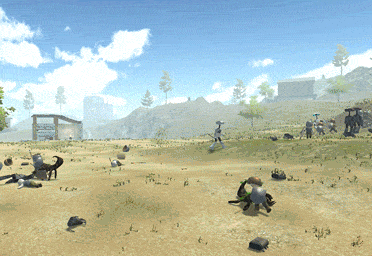 I. GAMEPLAY
- Combat A.I. update: Each non player character now have a fully independant brain decision and pathfinding systems. They also have sensors to be fully aware of their surroundings. NPCs can try to avoid attacks, turn around their target, attack another ennemies before killing their opponent to help friends... Some can also block attacks or use shields.
- Emergent battles: NPCs attack each other according to simple rules ( like in the Game Of Life ) leading to epic random battle patterns:
Wild animals hunt preys and humans
Humans and droids fight each other
Mutant monsters try to kill everyone[
When attacked, a NPC will fight back the assailant in priority
- NPCs faint when taking critical damage, and now will fight back right after waking up
- Stats and combat damage system have been improved: more hits with damage, less one-kill deaths. Your avatar is still very weak at start.
- Solidarity: human NPCs will forgive your attack if they fight with a non-human enemy
- Murderer: if you kill innocent citizens, Royal Guards will attack you
- A.I. pathfinding has been optimized with Unity 2017.3 newest features
II. CORRECTED BUGS
- Holding attack button to adjust throwing force works again:
- One-shot kill probability has been reduced
- When target is just right at the top of their head, NPC now step back, let their opponent fall and fight back.
- Rare Swords artifacts damages have been reduced

Thanks for reading, see you in the future!
Play 3571 The Game and support its development: