Snowreal
Version 1.0
The moment has come where you don't have to wait anymore! Snowreal is released and it already comes with 2 gamemodes!
Screenshot: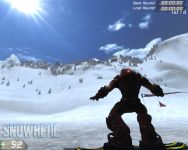 Author: Squizmek
Maps: Squizmek, Max_Damage, marilol
Homepage: snowreal.blogspot.com
Download:
Grab the tiny download of 42.5 MB and have a race against your buddies! This mod works on PC as well as Playstation3. Visit snowreal.blogspot.com for more information.
Features:
2 games modes: racing and trick competition
5 different board skins, depending on your character
2 massive maps for downhilling action and trick jumping, more to come
14 different midair tricks
works with custom character
ModDB Mirrors:
Snowreal for PC
Snowreal for PS3 (Snowreal_v1.0_PS3.rar)
Official Mirror:
Snowreal for PC
Snowreal for PS3 (USERDATA.JAM)
Note:
Some people are having problems running the PC version. Please make sure NOT TO USE the "-useunpublished" parameter when starting UT3. This prevents Snowreal from showing you the maps in the menu. If you start UT3.exe without any paramters, your problem will hopefully be fixed.
If that doesn't help you, don't worry, contact us per email or on the epicgames forum and we will be glad to help.
Readme:
Squizmek wrote: ========================== S n o w r e a l =================================
Version: v1.0
Date: May 23, 2008
Author: Michael Buettner, aka Squizmek (squizmek@gmail.com)
Maps: Squizmek, Max_Damage, Marilol
URL: snowreal.blogspot.com

Install:
------------------
On PC: Unpack the .rar into C:\Documents and Settings\username\My Documents\My Games\Unreal Tournament 3\
and override folders if asked to.
On PS3: Copy the USERDATA.JAM on a USB stick, put it into your PS3, start UT3 and import the mod.




Play:
------------------
Start UT3 and select Snowreal as gametype.
Select a map and you're ready to go! Disable bots as they're not supported yet.

Rules:
------------------

To choose RACING MODE:
Set the Scorelimit to 0.
Once the Timelimit is reached, the one with the best time for the parcours wins.

To start a TRICK COMPETITION:
Set the Scorelimit to something higher than 0. The game is over as soon as a player reaches
the Scorelimit or the Timelimit is reached. You should set the Scorelimit to something high like 1000!




Tricks:
------------------
Hold your 'Duck' key and release it to start a trick jump. While in the air, hold a direction
and press a mousebutton/shoot key(L1,R1). You can also combine this with spins. To do so,
hold 'Left' or 'Right' down while you start the trick jump.
-You can combine grabs with spins.
-You can combine forward and backward flip with a spin. Just start the flip right after takeoff!
-Press a mousebutton/shoot key without holding any direction for additional tricks.
-Do not skip a flip, or you will fall! Hold your firebutton pressed until the flip is done, then release!

Maps:
------------------
SR-WhiteSlope - by Squizmek
SR-SnowballRun - by Max_Damage





Copyright 2008 Michael Buettner