What the hell is "They Are Billions?"
It's an isometric, real time strategy (RTS) game where you control a colony of humans who are fighting to survive against The Billions -- A huuuggggeee horde of Zombies.
The game is well known for its crazy level of difficult, and requires a lot of skill to play, however, the difficulty can be dropped greatly to assist with those who are newer to RTS titles.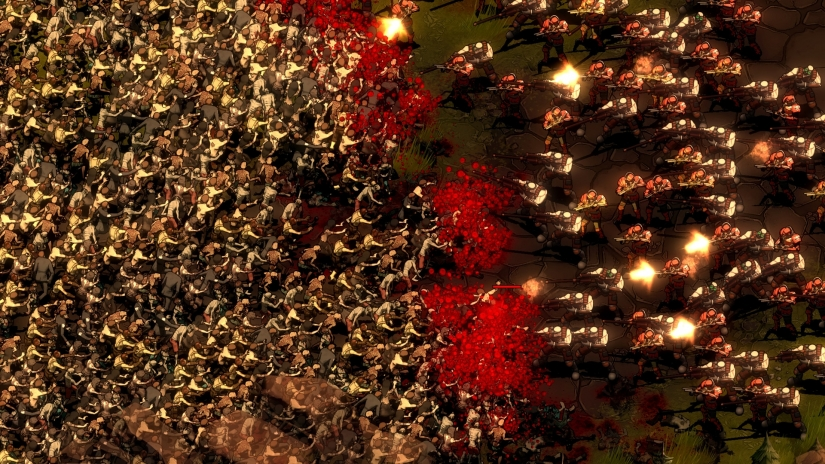 So why a level editor, and what is it?
There are 4 scenarios built into the game, and for each scenario, you get a randomly generated map to play on. This gives a decent amount of variety on maps to play, but really isn't enough to satisfy us modders!
They level editor allows you to take any save file associated with the game, load it up, and make changes to the layout, and even change some of the rules / game play, for example, you can define custom waves, allowing for much more varied game play.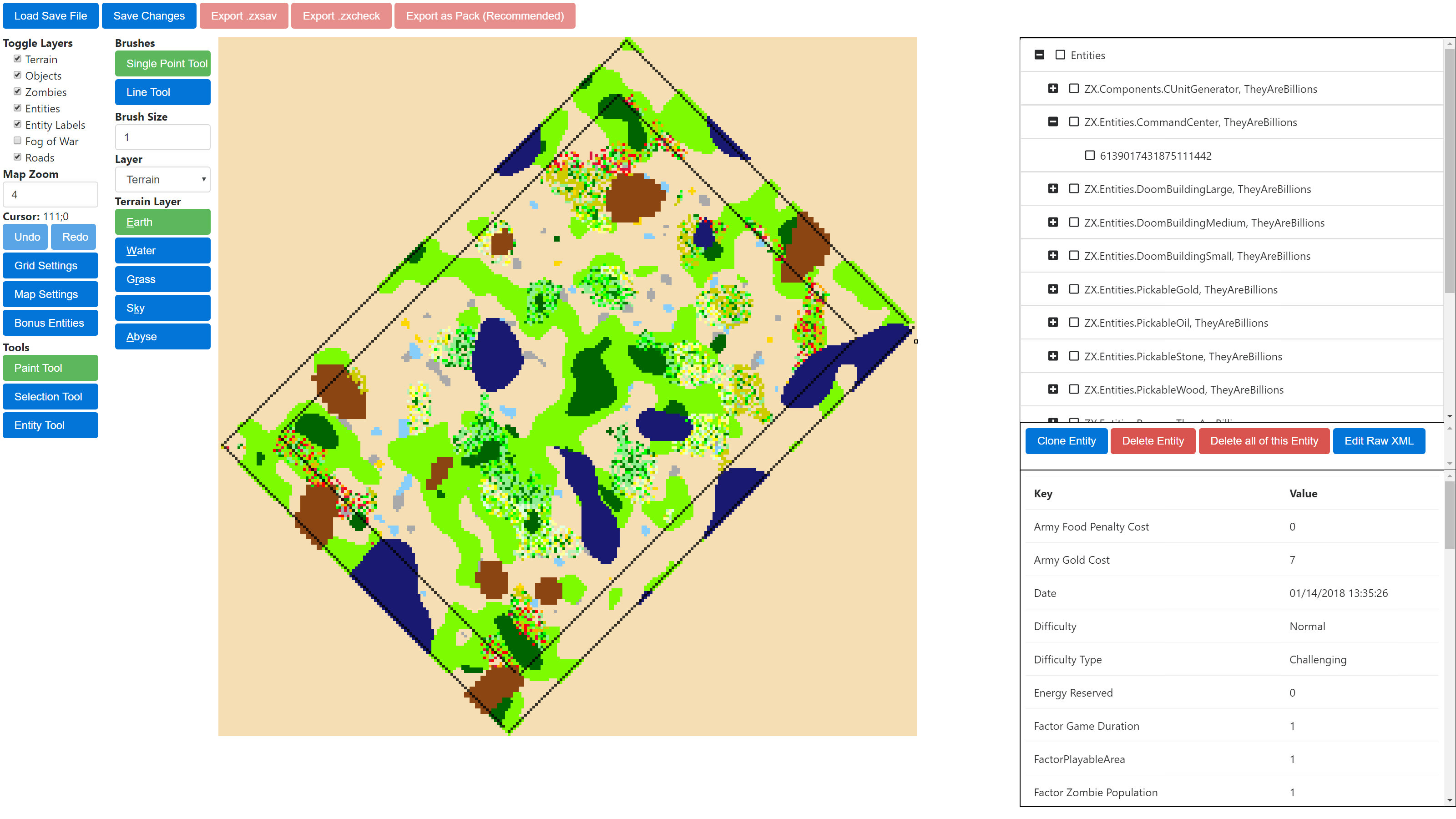 Tell me more -- How do I use it?
Well first of all, if you haven't already, Grab a copy of the game and install it.
You can access and fully use the level editor in your browser,
Simply click hereYou can choose to either upload one of your save files, or use one of the built in templates, make sure you read the next section for more details!
The editor is fan made, and is always subject to "break" after any given update to the game, so be aware that every update for the game that rolls around might (and sometimes has) a chance of breaking the level editor. This is the unfortunate side to this being fan project.
We've created a tutorial to go through the step by step process of making a map, and we even try out the map after that. The only thing to keep in mind is that loading custom maps after the recent 0.6.0 update has changed a little, there's more details after the video:
Help! My save doesn't load, and I can't use my edited level in the game!
Don't worry, we've got your back! Ever since version 0.6.0 of the game, the game devs have been trying to do their best to prevent cheating, and as such, they've made it more difficult to load custom maps -- this is a single player game, so it's not a big deal that we are making custom maps to share with our friends.
If you're trying to edit a recent save file (after 0.6.0 update), you'll need to remove the password from it, at this stage, the actual editor itself can't do this (although we're looking for a way to do this).
In the mean time, we've written a tool which will figure out the password for your save file.
Follow this tutorial to decrypt 0.6.0 or newer save files.If you're trying to load your edited map back into the game, and your save file is invalid, Follow this tutorial to load your save files in version 0.6.0 or newer.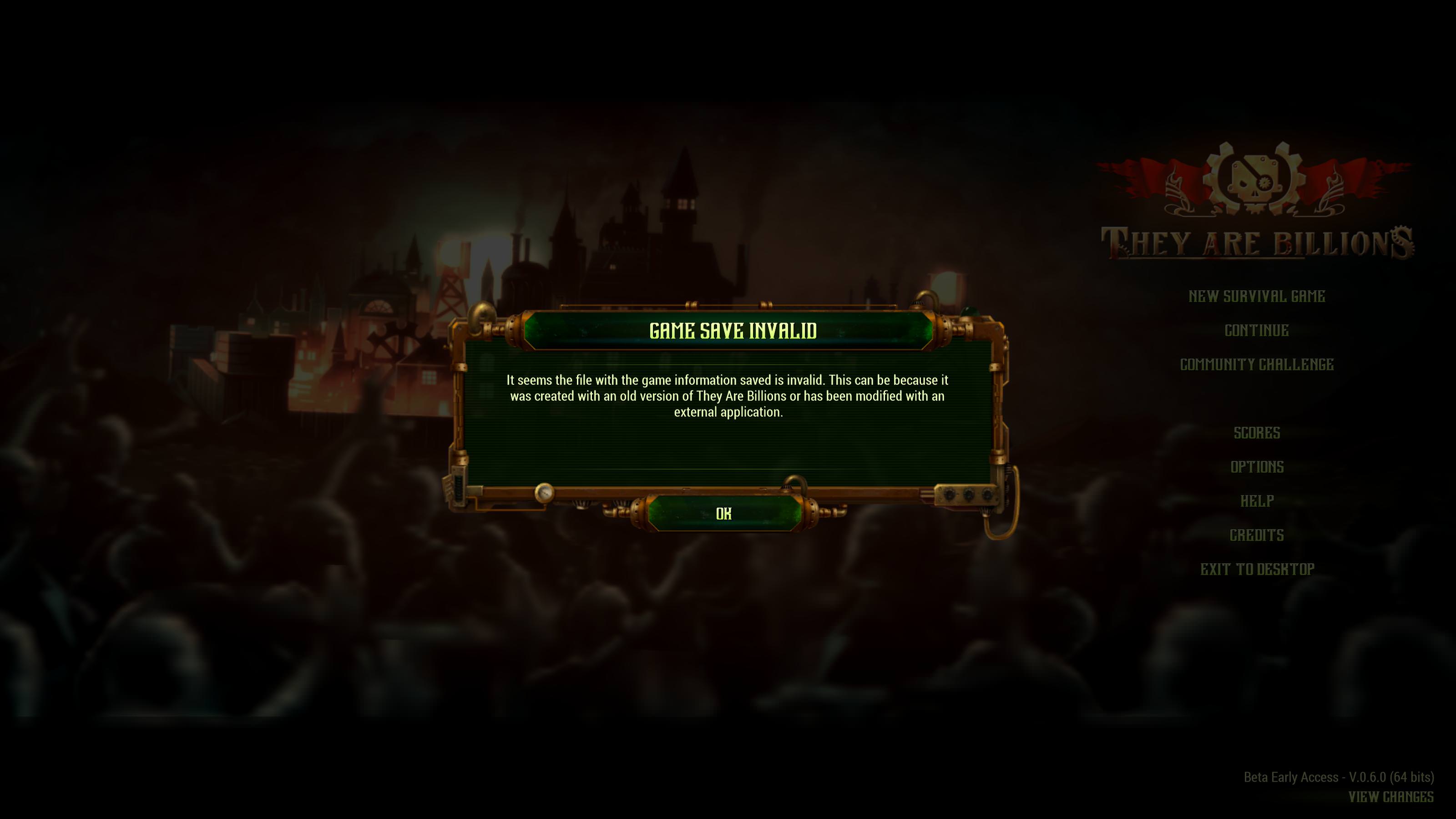 What are the current features, as of today?
Template maps, sized: 256, 384 and 512;
Editing Terrain, Objects, Zombies, Entities, Fog of War, Roads and extra entities visually;
Ability to manipulate the terrain including placing Earth, Water, Grass, Sky, and Abyse;
Ability to place resources such as Mountain, Wood, Gold, Stone, Iron and Oil sources;
Ability to place all entities, and even modify some attributes on entities;
Ability to let player start with "bonus entities" which are essentially free units or buildings;
Ability to edit basic map settings such as the map name and theme (4 themes to pick from);
Basic editing features such as different tools, and the ability to undo and redo map drawings; and
Grid settings to line up tiles / entities.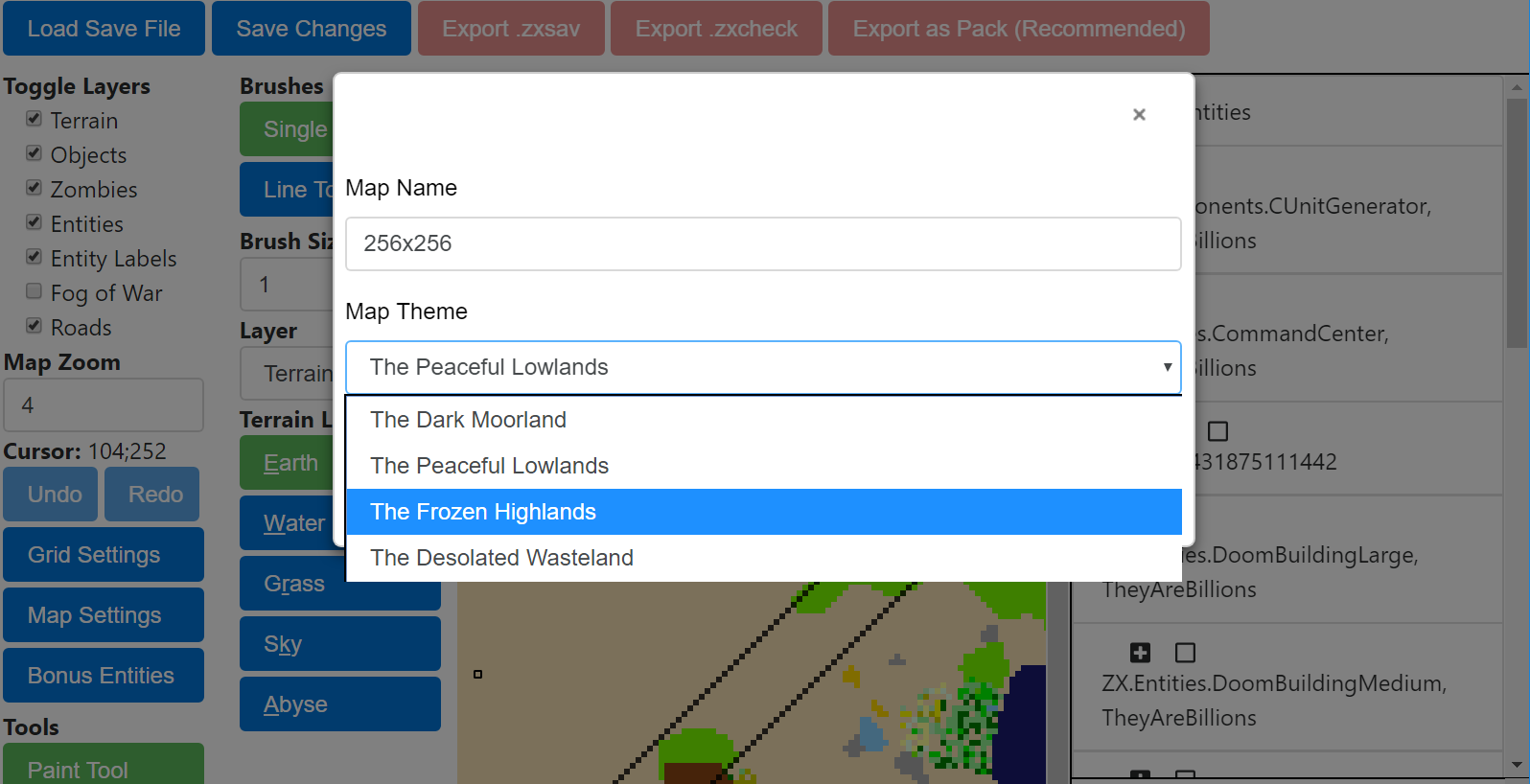 I want to start modding, how did you even do this?
Making this level editor was essentially a huge reverse engineering project -- we took a look at their save file format, and from there, tried to figure out how it works. We then built a tool that lets you edit small sections of the file that we could figure out.
We made a detailed video about reading through a save file and talking through how it works.We've also taken the time to document all the features along the way, so if you want to see how the level editor grew from something very basic, to something way more advanced,
Check out our Dev VLog playlist which has a full history.Overall, just TRY, worst case you fail, but if you never try, you'll never get better, and you'll have 0% chance of making something cool.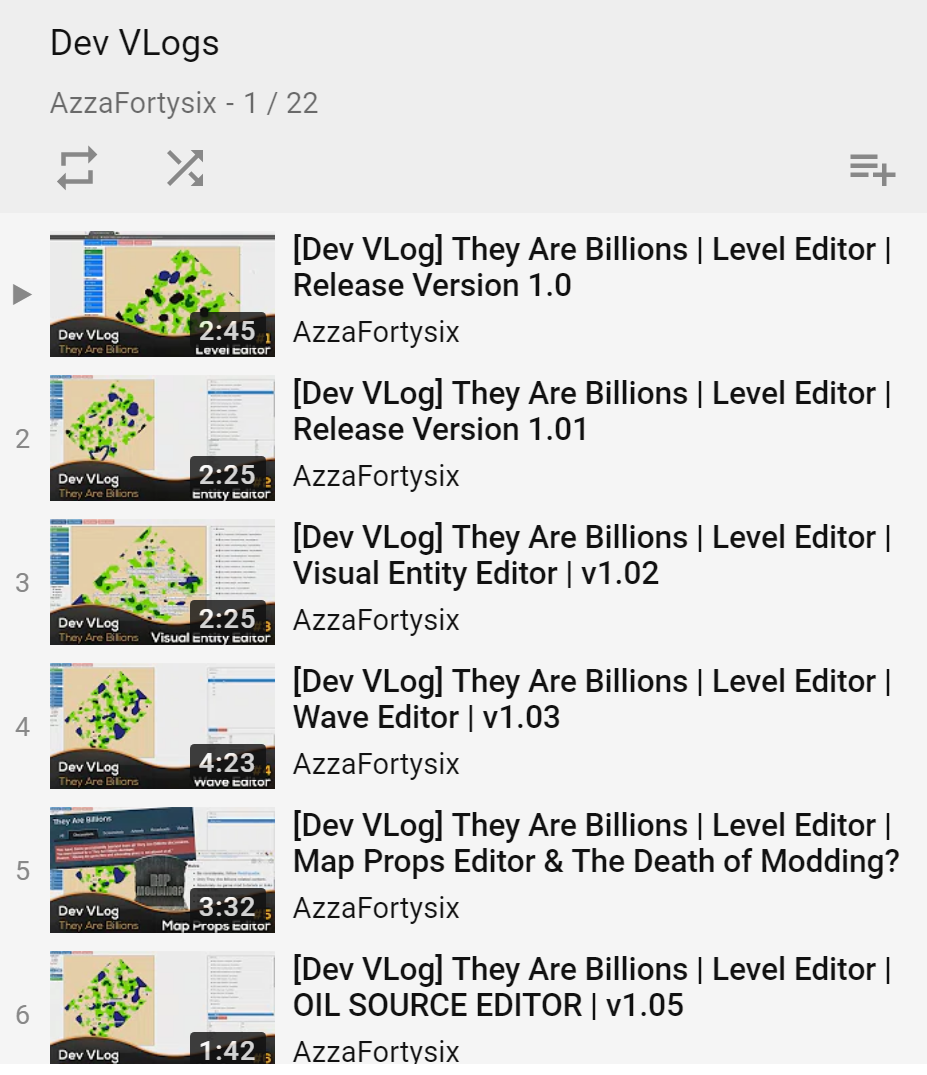 What challenges could you possibly face?
We're facing an interesting situation -- You look on the steam forums and people are asking for a level editor, people are asking for mods, people clearly want exactly what we are making -- HOWEVER -- the developers of the game don't seem to want to allow us to mod the game.
This has been a huge challenge because the developers will try to intentionally break the level editor, however, it's been a fun ride trying to bypass any and all obstacles they place along the way!
Most notably, the devs of the game started to password encrypt save files and resources files -- it took us less than 2 hours to crack the protection mechanism, which we felt was a rather impressive effort.
They are billions is also an Indie title -- this means the modding scene is SMALL -- We had to build everything ourselves, perform all the research ourselves, and figure just about everything out ourselves. We've of course had help from other modders in the community, most notable of which is "Endangered Tortise" who helped greatly shape the editor.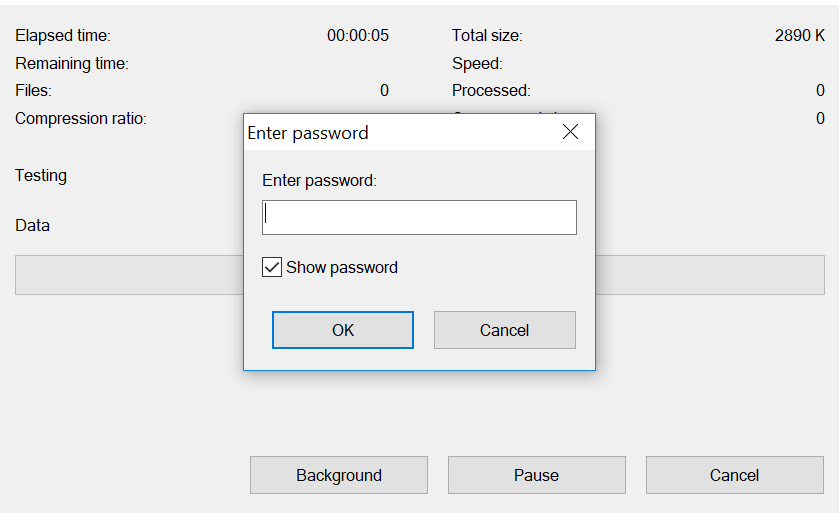 Can I have the source code to your level editor?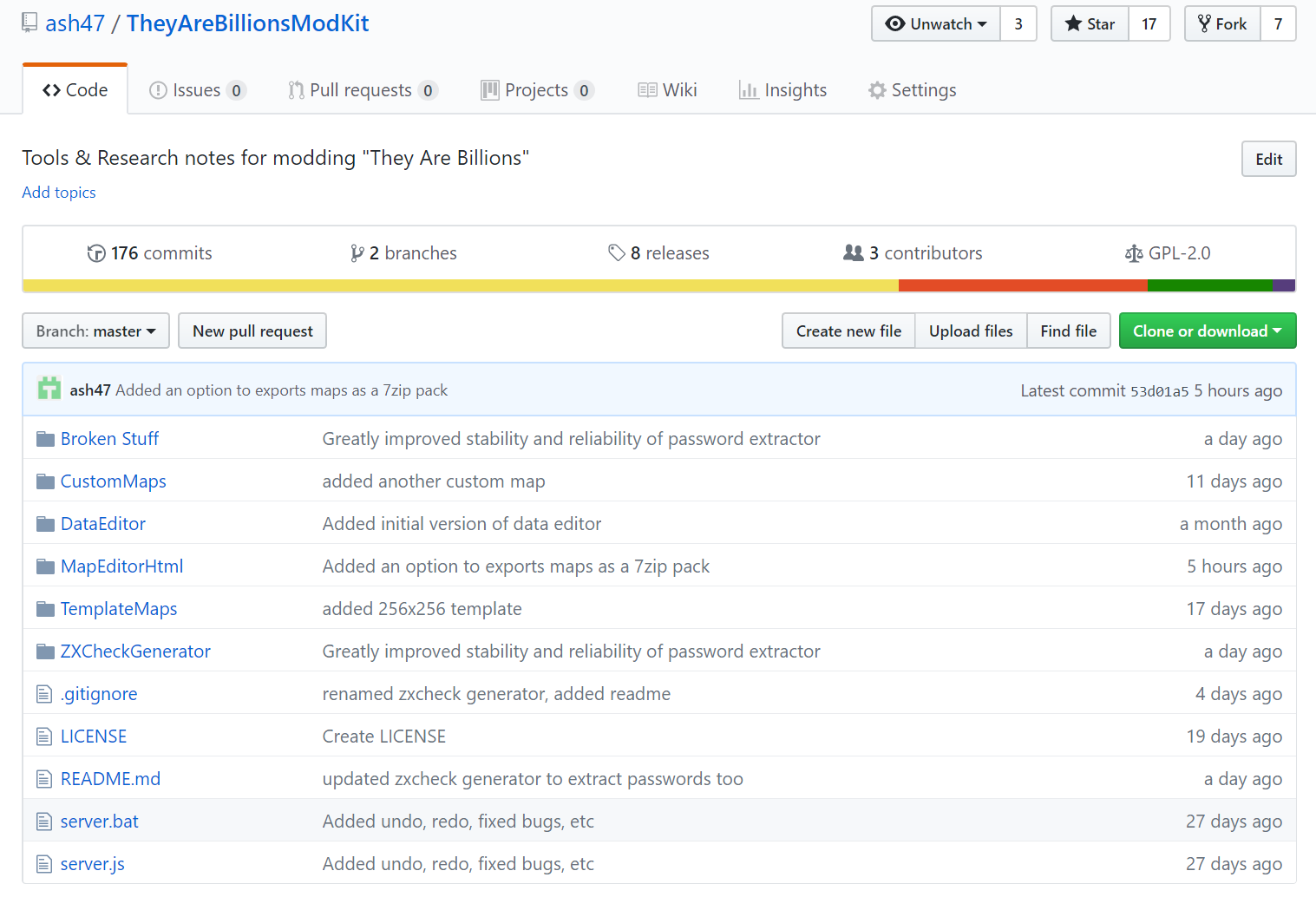 Do you have any other projects? How can I follow you or give you ideas?
We've only recently started documenting our modding (we plan to document via videos a lot more these days!), although we've been in the modding scene for years, if you'd like updates on this level editor, and want to watch us built mods for others games, and if you enjoy gaming content in general
Subscribe to AzzaFortysix on YouTube. Feel free to drop us comments, ideas, suggestions, we'll read everything you post and share with us, especially if you share directly on one of our videos on AzzaFortysix's YouTube channel.

What do you see for the future of modding in They Are Billions?
I'd love to see the modding scene really pickup, I think the game has a huge amount of potential, and hopefully the developers will come to see how much more their game could shine if they allow the community to build mods for it -- look at something like MineCraft -- modding has made that game huge -- imagine if we could do that here!
Hopefully we get an official level editor -- the main thing for me is that I've enjoyed building the level editor, been enjoying documenting and sharing the process via videos, and I've learnt so very much while building it.
What do I get for reading your whole article?
You get a a thank you -- Thanks a lot for reading this, once again, if you do have questions, suggestions or anything, feel free to reach out to us, we're happy to chat :)