The basic idea of this launcher is based on the steam updating system in which the user of the application is supplied updates. I have taken this simple idea, applied it with the most user friendly code i could possibly make to create a launcher for Mortewood, and other mods that wish to use my SourceModLauncher which will be created based off the mortewood launcher.
So basic planned features are the ability to launch the mod from this, with other features like creating a desktop shortcut for steamlaunch of the mod, or the actual launcher itself.
It will automatically update easily by following simple text commands that any mod creator can follow and change for their mod.
It will also feature a new content box, in which the best maps, addons, weapons will be displayed with information and links on the application which can to be updated and changed easily.
Other simple features include the map listing tools, that work out the mod/gamemode and gives the user the ability to add a new map, or delete old ones. I understand that some people can do this with the click of a mouse, but for novice users this is a bit overwhelming to actually browse through all the folders to get the the mods map folders then have to cut and paste the map there, when with a simple open file menu like all normal applications the map can be added.
The program will look fancy and update all the mods and supply updates (with a choice) on both the launcher and the mod.
Simple stuff like mod information, videos, pics and older DLC can be displayed so the program is not forced to have the mod, the user can get this launcher, then use it to download the mod from there.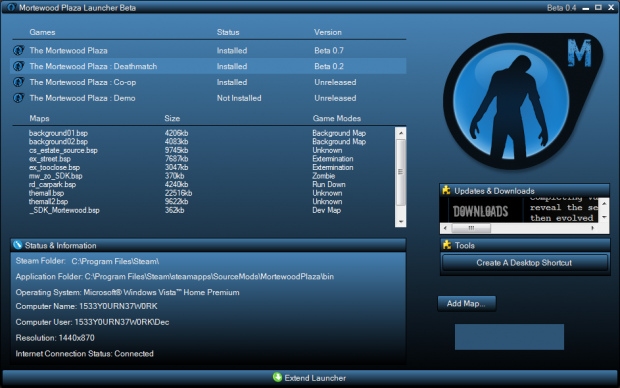 I understand that allot of people will find this useless, but im certian the select few will find use for it.
If you will find a use for it please comment, or leave a message, just so i know its worth me creating the launcher in the first place.
Also if you have any requested features i would love to hear them. All comments will be replied too.
Thanks.
(Also i need to update Mortewood information :P)