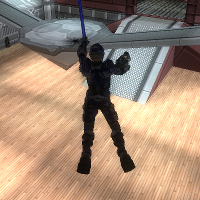 Yeah, he's a swinger.
New Update This Week: Are you a Swinger?

Smashball Labs announces new animations, bug fixes.
Smashball players will be extra rabid this weekend, after their Steam
client automatically updates their game with the new patch!
Most changes address minor bugs or exploits, such as goal-crowding
and goalie-pulling. The new patch contains a few new features, like:
New animations for hooking, carrying the ball, and the MIRV.
Streamlining of the Locker Room.
Automatic Team Balancing.
"We plan on sending our build out to Steam by tonight," said Glarg
Xuulhumper, Vice-President of Lies and Bullshit. "It may take a few
days for the patch to go live, but it should be up by Friday."
The full changelog for the patch can be found here: