Hey This is the first news for the SFAW page. Basically the old SFAW is still dead, i want you to understand that. This is the NEW SFAW. Im starting over from scratch, in order to try and weed out the bugs and what not. So the first version of SFAW 2.0 will have only 3 factions. So far they are Stargate and Star Wars and an unknown to be decided on faction.
Also with this version of SFAW im adding my new and improved skirmish starbase system (currently in the Stargate Reality mod). This means there will be a Starbase, a Heavy Shipyard and a Research Station. If i can get it to work properly, itll be setup so that when one goes boom, it will act like the ground stations, meaning theyll be rebuildable. But if u loose ur research station its back to square one of your tech tree. With these three stations i MIGHT be able to expand the factions fleets beyond there current limit of 3 fighters, 2 bombers, 12 ships and 7 heroes.
There is another reason for the reboot though. And it is, when i started SFAW i had no story to go with it. It was just a mash up for the hell of it. Since then its evolved to a point of having a story. So i will be implementing that from the word go. And that will take a long time (it wont be in the first release but it will be near the start). Also im looking for coders and modelers to help me out. Coders to help me do the ship balancing coding, and modelers to help me make a few new orbital stations.
Ok part 2 of the news is a choice for you guys to vote on the new stargate starbases system. Stargate needs a Light defense satellite, a heavy defense satellite, a ability based satellite, a Heavy Shipyard a Starbase and a Research Station...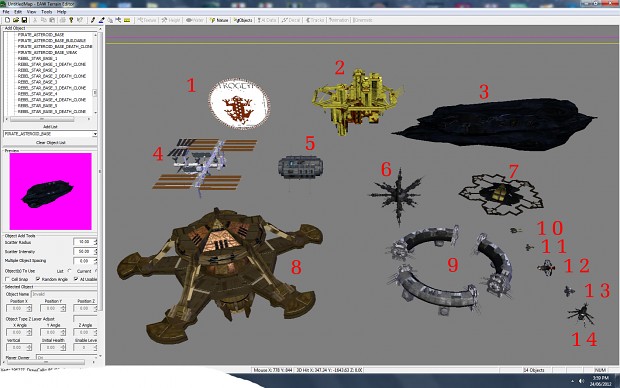 1 - Ori Supeergate
2 - Replicator Starbase
3 - Wraith Starbase
4 - Tauri Starbase Lvl 5
5 - Midway Space Station
6 - Lantian Defense Satellite
7 - Hatak Building platform
8 - Goauld Starbase Lvl 5
9 - Asgard Starbase
10 - Gaould Heavy Canon
11 - Goauld Light Canon
12 - Ori Beam Weapon
13 - AG3
14 - Lantian Sensor
Just copy the following
LS -
HS -
AS -
SB -
HB -
RB -
They are light Sat, heavy sat, ability sat, starbase, heavy shipyard, research base in that order. Just put the number next to it to cast your vote
So theres an update for u all, Keep an eye on Facebook as ill updating it more regularly than here
Facebook.com
Spino