Update 2 - Teaser and Concepts
Right, another quick update this week, we've got our work in progress teaser trailer to show off as well as our theme tune by Kevin McLoed. Later this week we will have a load of concept art to show and maybe (i'm still learning Source SDK, I'm getting better though!) the first WIP map called 'Office' where the game starts and you are introduced to the character. Also, we have been interviewed in the brand, new online magazine, GenGamer, which will be out soon as a Horror Special Debut, and you can see the pages below: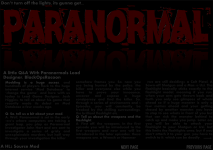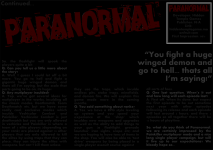 It's an exclusive interview, telling you loads of cool stuff from our game, so I hope you enjoy!
Currently, we have three team members working away, and expect the first episode sometime next year.
In the next update we will tell you abit more about the Mutiplayer, which was announced in the magazine, and we will tell you lots about our new game modes and how the multiplayer is going to be a crazed fragfest!
The UPDATED VIDEO:

Thanks for reading!
The Paranormal Team