In nature this animal is rather the hunted ... In our mod the born hunter: the "Gazelle". The "SA342H Gazela" helicopter will support the Serbian forces in the fight against German ground troops.
Just like the BO105 which we had presented you some time ago, the Gazelle has two seats. The task of the pilot is to fly the helicopter near enemy tanks and the gunner fires the guided AT3-Antitank-Missiles from the second seat.
Badscull has modled the helicopter, the skin was made by our free contributer Kampfwiesel. Codechanges and weaponsettings where made by Starforce and Nightmare from OPK.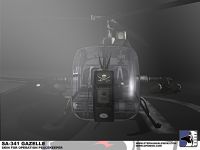 As a small service Nightmare has made a OPK 0.21 Full installer, which contains the complete 0.21 release and doesn't have to be patched.
We won't load it up to ModDB now, because we don't have the possibility to upload a file by link. We hope that ModDb will enhance the hole v4 page and wish us a faster connection to Europe / Germany, as it is very slow. Also Administrating the team is not that easy anymore.
So far for today we hope to hear from you!